A slider is one of the most important piece of kit used today in the world of video production. Regardless of whether you are delivering for the web, broadcast, events or weddings, having a decent slider can elevate your work and bring up the production value of your videos. In today's somewhat oversaturated market there are a quite a few companies out there making sliders – from established and high quality brands like Kessler Crane, Edelkrone and Cinevate, to more affordable ones from Asian manufacturers like iFootage for example, who rival the quality of the aforementioned manufacturers and do give them a run for the money.
Manfrotto is a well known brand for quality and affordable support equipment and accessories for the Photography and Video industry, and most of us who make videos for a living have at one point owned or rented a Manfrotto tripod. Recently the company announced the launch of a new line of sliders aimed at professional videographers.

The new Manfrotto video sliders are available in two lengths – a 60cm one and a longer 100cm lengths. The new sliders were developed by Manfrotto for experienced photographers and videographers, who usually work with professional equipment, shoot both indoor and outdoor and need a tool that could enhance their creativity and spontaneity.
Features
SMOOTH AND PRECISE MOVEMENTS
The new Manfrotto Sliders are completely machined and ensure an extremely smooth and accurate sliding movement thanks to their 8 high precision steel ball bearings. The coupling between the rails and the carriage can be simply and easily adjusted, as well as the friction on the carriage itself.
Moreover, the Sliders boast wheels made of an exclusively strong material (PSU – high performance polymer) used for its great fluidity and silence. The new Sliders are incredibly versatile, as its Friction System allows users to adjust the feel of the tracking shot, and represent a sturdy and incredible steady solution, thanks to their wide tracks.
VARIOUS COMBINATIONS
As part of the whole Manfrotto offer of products and accessories, the new Sliders will be also available in combination with photo and flat base video heads: indeed, multiple standard attachments will allow users to combine the sliders with a variety of accessories and products, as arms or the Digital video producer.
The new video sliders from Manfrotto are perfect for those with smaller more compact cameras like the Sony A7RII, Panasonic GH4, and Canon/Nikon DSLR's. Here are the different versions available depending on size cameras and fluid head required.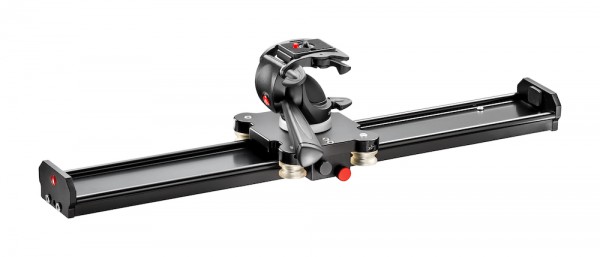 Slider system with 391RC2 head (above): – perfect for stills photographers as it allows for full advantage of the smooth movement on tilt and pan and to use the head's portrait position for vertical direction sliding.
Pricing: $450 B&H (slider only, no head 2 feet) $500 B&H (no head, 3.3 feet) / UK £399 with head (60cm) / £429 with head (100cm)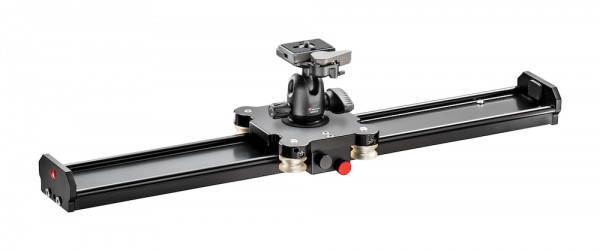 2.  Slider system with 494RC2 ball head (above): this ball head combines compactness, performance and fast set-up (quick release plate) and is perfect for users who need to have a simple head that allows fast camera position levelling combined with fast attachment (RC2) onto the slider.
Pricing: £399 (60cm) / £429 (100cm)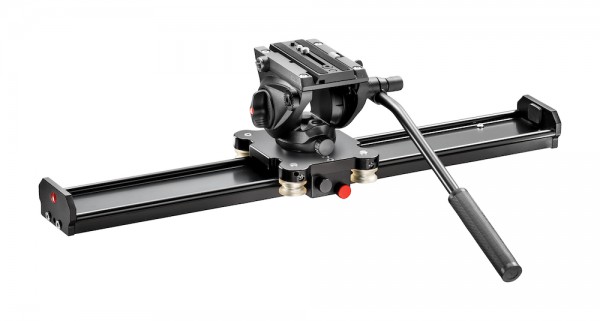 3. Slider system with 500 fluid video head (above):  this Manfrotto's video head boasts professional fluid cartridges on both tilt and pan movements, ideal for users who want to take advantage of precise and fluid movements of the camera while operating with the slider, want to counterbalance the camera and might use external accessories. Shooters with DSLRs or mirrorless cameras like the Sony RX10 II/Samsung NX1 and the digital Super 16mm BMPCC and other compact cameras can benefit from this version.
Pricing: $569 B&H / £459 (60cm) / £489 (100cm)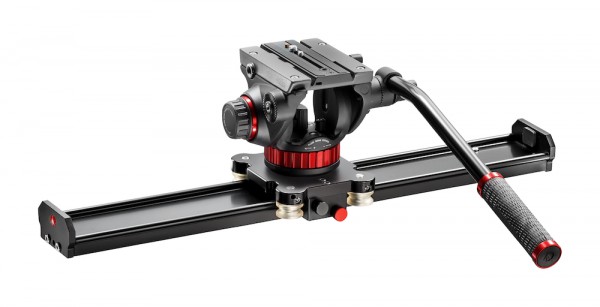 4. Slider system with 502 fluid video head: – this is the most advanced version so far of the new Manfrotto sliders, offering tilt and pan drag control and support for larger cameras like the Canon C100 Mark II or the upcoming 4K Sony PXW-FS5.
Pricing: £499 (60cm) / $680 B&H /£539 (3.3 feet/100cm) 
Claim your copy of DAVINCI RESOLVE 16 - SIMPLIFIED COURSE with 50% off! Get Instant Access!