The Sony PXW-FS5 was one of the key product announcements at this year's IBC Show in Amsterdam. The "mini FS7" as it has already been dubbed by some, sports the same 4K Super35 CMOS chip as the Sony FS7 and F5/F55 but in a much smaller form factor and different codec options than its bigger and more powerful brethren. The camera is due to start shipping later in November and with just a few weeks away from this time frame, prestigious Dutch camera accessories manufacturer Vocas recently held a 2 1/2 hour presentation by DP and Sony Independent Certified Expert Alister Chapman on the Sony PXW-FS5.
For those considering buying the Sony FS5, this 2.5 hour presentation below is well worth your time.
Use the clickable index below to jump to the section of your interest. Watch the other recorded presentation at http://www.vocas.nl/fs5 (this contains largely the same information).

1:24 Start of presentation by Alister
2:45 Introduction of Alister's work
7:12 Introduction of PXW-FS5 and it's main features
10:38 What makes the PXW-FS5 different?
13:49 What the PXW-FS5 is NOT
25:37 But what it is…..
38:11 Usage in Gimble / drone
38:40 Cooling system
39:51 Lens options
41:41 Variable ND filter
49:35 Cool tricks (center crop, clear image zoom)
55:07 Cool tricks #2 (joystick on handgrip, stream live, upload to FTP, GPS)
59:14 Picture quality (Gamma curves, Cinegamma, S-Log) — 1 HOUR OF EXCELLENT TECHNICAL INFO OVER HERE!
2:08:15 First firmware versions limitiations
2:10:51 Recording modes, codecs, XAVC vs AVCHD, recording media and card slots
2:13:54 Super Slow Motion
2:18:31 Multi interface shoe
2:20:28 Why is it a star?
2:22:30 Model variations (kits)
2:23:00 Comparison: FS5 vs FS7 vs FS700
2:24:03 Sony Professional HDD RAID short info
2:26:10 Wrap up, prize draw
2:27:38 Alister's shameless plug for Northern lights trip
2:28:47 Audience final questions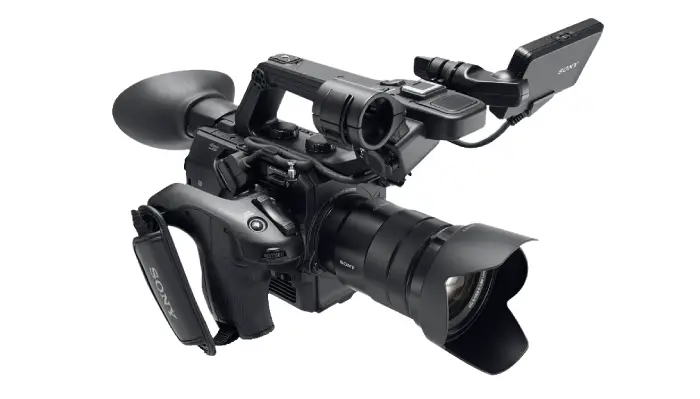 Sony FS5 Key Features
XAVC-L (UHD up to 30p, and Full HD 1080p up to 60p continuous) or AVCHD codecs – the XAVC-L codec can be used for 4K and HD recording, while AVCHD is limited to HD recording
XAVC-L (or Long GOP) is 8bit 4:2:0 in UHD, but 10bit 4:2:2 in Full HD
Slow-motion recording in Full HD up to 240fps in 10bit 4:2:2 in 8 seconds burst (80 seconds real time)
Native E-Mount – you can use your Canon, Nikon, Leica and most other lenses via adapters
The camera includes an ergonomic handgrip that Sony calls a SmartGrip, which features Zoom, Start/Stop and Assign controls. The SmartGrip facilitates camera operation with the right hand, leaving the left hand free to operate the lens. The handgrip can be positioned at different angles permitting greater flexibility.
The camera features two SD media slots that support simultaneous or relay recording. One of the two SD slots also accepts Memory Stick-type media.
All input, output connectors feature covers for dust protection; this applies even to the DC input and LANC connector. The media card slots and Multi-Terminal are likewise protected from dust by a swing away door.
The camera includes a removable top handle that incorporates a second XLR 3-pin audio input that compliments the 3-pin XLR input incorporated into the body. Both audio inputs feature a selector switch for line/mic/mic+48
The top handle allows you to attach the LCD viewfinder to the camera, providing you with a choice of using the camera's built-in EVF, or a larger LCD view screen. Audio level control is on the main body of the camera and offers automatic gain control
A built-in, electronic, variable ND system allows you to dial in anywhere from 1/4 to 1/128th ND filtration in the camera body, allowing you to eschew the use of optical ND filters. The variable ND also features four preset positions; off, 1/4, 1/16, and 1/64.
One SDI connector provides HD 10-bit 422 output. In addition, one A-type HDMI 2.0 provides 4K and HD output. Both the SDI and HDMI ports can output REC trigger and TC following Sony's established transmission method.
The PXW-FS5 records to XAVC-L QFHD 8-bit 420 (up to 30fps) and HD 10-bit 422 (up to 60fps) internally
The PXW-FS5 has Simultaneous-Recording capability with Individual Rec Trigger. Mirror or back-up recording is possible. There are two Rec s/s buttons: one on the camera grip, the other on the camera handle. The target SD card slot for each trigger is assigned in the Recording Menu.
The PXX-FS5 is capable of simultaneously recording proxy files with the same name and time code as the main recordings.
The camera has a built in Wi-Fi capabilities that enables live streaming to PCs, tablets, and smart phones. When using content Browser mobile, the user can even control the camera wirelessly. One (1) Ethernet connector located on the rear panel of the camera provides robust connections when a reliable Wi-Fi link is not available.
Recorded movie files can be transferred via network to a designated FTP server. The following file format is available for FTP:
* XAVC Proxy files
* XAVC-L recorded files (4K(QFHD) & HD)
* AVCHD files (only m2ts stream files)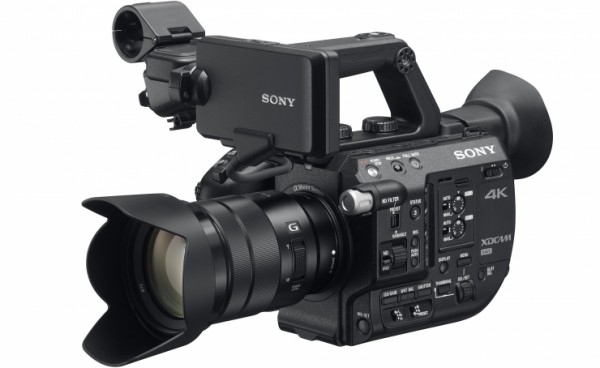 Some of the key differences that separate the Sony FS5 from the FS7 is the on-board codec choices. The Sony FS5 cannot due true 4K DCI at 4096 x 2160, but it will do UHD 3840 x 2160 at 24/25/30p in the XAVC-L (Long GOP) 8bit 420 codec on-board onto the much more affordable SDXC cards, as opposed to the XQD cards in the FS7. The Sony FS7 on the other hand does record 10bit 422 in both UHD and 4K DCI at up to 60p.
The small form factor and 8bit codec limitation also allows for the use of less power hungry processors inside the FS5. Thus the camera is able to run on a BP-U60 (high capacity battery) for almost 6 hours, and around 3 hours on the smaller BP-U30, which is supplied with the camera. The camera also features a rather unique (at leas to the FS XDCAM range so far) electronic variable ND filter going up to 1/128 (8 stops) which will help to control exposure with the native ISO 3200 in S-Log3 gamma. S-log2 is also present in the camera, but unlike the FS7 there is no CineEI mode.
Here's a good example from Sony's Alvaro Ortiz (via Twitter) showing the picture profiles on the Sony FS5, which are also customisable.
(Click the image below for full res)
I had a chance to see the FS5 at IBC 2015 in Amsterdam, and was really impressed by the small footprint. It's small and light enough to fly on the DJI Ronin M and other similar hand held gimbal stabilisers and I believe this will be a great run n' gun camera for shooters who want a compact 4K camera, which can do also some fantastic slow-motion up to 240fps in Full HD. Yes, the Slow-mo is in burst of 8 seconds max, but at least it's in the 10bit 422 Full HD, and not in AVCHD.
To get your Sony FS5 click the links below:
Sony FS5 Body Only – $5,599 (B&H)
Sony FS5K Kit with 18-105mm F4 Lens – $6,099 (B&H)
Claim your copy of DAVINCI RESOLVE - SIMPLIFIED COURSE with 50% off! Get Instant Access!