Tascam has been making some awesome field recorders for DSLR filmmakers like the DR-60D Mark II ($199.99 at B&H) and the slimmer and more portable DR-70D ($300 at B&H). I used to own a DR-100 Mark II, which was a really nice and rugged little handy recorder with 2 x XLR inputs that served me well for quite some time until I sold it looking to upgrade to the DR-70D. Good thing I didn't as Tascam Japan just posted about a brand new field recorder and from what it looks like a successor to the very affordable and successful DR-70D – the new model is called DR-701D and it includes some additional features such as HDMI in and out, as well as Timecode IN via a BNC/SDI connector, which is huge news for sound recordists and one man band filmmakers!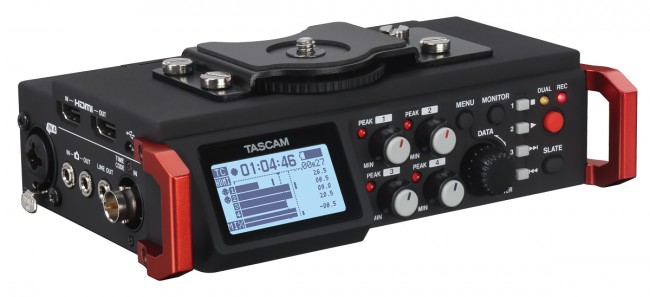 Tascam DR-701D Highlights via B&H
Record 4 Channels + Stereo Mix
4x XLR/TRS Inputs with Phantom Power
Dual Built-In Omnidirectional Mics
Stereo 3.5mm EXT In For Stereo Mic
HDMI In/Out, 3.5mm Camera In/Out
Records Up to 24-Bit/192kHz
BNC In For Sync to Timecode
Mount to DSLR or Tripod
Limiter & Low-Cut Filter
Automatic Level Control Function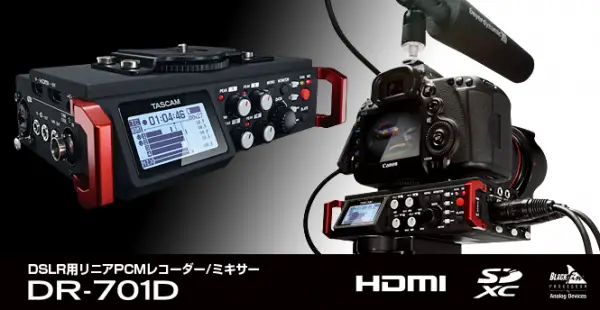 More photos below: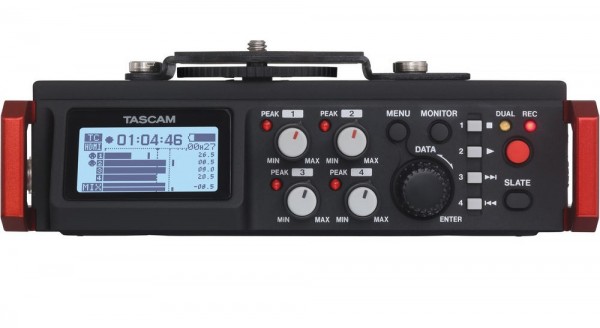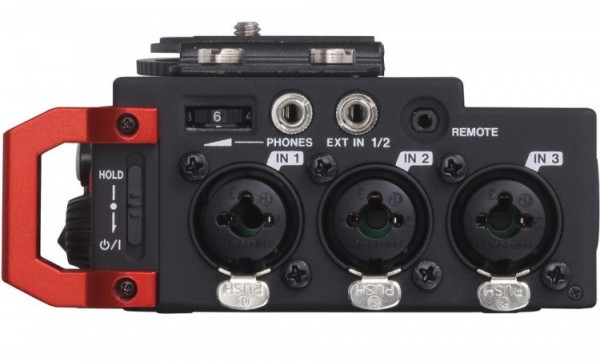 Main Features (via Google translate from the Japanese Tascam website)
6-Track Recorder (4 tracks + Stereo mix)
Video and Clock synchronization in the HDMI IN terminal, with start/stop trigger
Daisy chain multiple "DR-701D"s via HDMI
Timecode IN terminal (BNC)
Housing made of Magnesium alloy – for lightweight and robust design
High-quality sound HDDA microphone pre-amplifier 
4 x XLR / TRS combo jacks
+ 4dBu line level / phantom power supply (24 / 48V) corresponding XLR / TRS input
Multi-band limiter that automatically adjusts the excessive input (stereo linkable)
5 stages of the low-cut filter (50/80/120/180 / 220Hz) installed
Built-in microphone stereo mics
Clock generator of high precision
CAMERA OUT terminal that can output a sound that is mixed with "DR-701D" for DSLR camera
The insertion position of the slate tone can be selected (recording start / during recording the start and the end, when the slate AUTO function is used)
Plug-in power microphone, high-output microphone corresponding (EXT IN 1/2)
CAMERA IN terminal let's you monitor the sound of the DSLR and send audio to the camera, no syncing needed in post.
Equipped with a time code generator (RTC), you can record recording start time to file even if there is no time code input
It can be output audio signal of the "DR-701D" in HDMI OUT terminal to an external recorder
Records onto SD/SDHC/SDXC card
Recording Formats: 16/24bit, 44.1k/48k/96k/192k Hz (WAV / BWF) ※ 192kHz only when the 2-track recording
Dual recording function can perform simultaneous recording of two systems at different levels (varying in the range of -1dB ~ -12dB)
PAN, level adjustment, built-capable mixer solo monitor, to be output mix four channels
Equipped with a delay that can distance correction between the microphone (+/- 150ms)
The MS decoding function that allows use of the MS stereo microphone
Headphone jack with a maximum output of 50mW + 50mW
Tripod mounting hole (bottom) and detachable screw attachment (top panel), equipped with a shoe mount (top surface)
Transport buttons, adopted the hard rubber buttons that sound is output at the time of operation in SLATE button
The DR-701D is powered by 4 x AA batteries, or an optional dedicated external battery pack (sold separately) or a Micro USB power pack. The chassis is made out of magnesium allow for light, but durable design. The slim profile of the unit has been carried over from the predecessor allowing it to sit below your camera, this providing additional stability for your rig when on a tripod or even hand held.

B&H have the DR-701D listed at $599, which is twice the price of its predecessor, however the added functions may very well be worth it. Even at $600 the new DR-701D at least on paper, looks like a very good deal with the addition of HDMI In/out for Timecode, and TC in for sync from external sources via BNC. The screen also looks like to have been improved, although not as colourful as the one on the Zoom F8 or Zoom H6, but still at least from the video better than the old one on the DR-70D.
The new Tascam DR-701D multi-track recorder is expected to be available next week. You can order yours and other models from the links below.
B&H Links:
Tascam DR-701D Multi Track Recorder – $599
Tascam DR-70D 4-Ch Audio Recorder – $299.99 
Tascam DR-60D MK II DSLR recorder – $199.99
Tascam DR-100 MKII Handheld Recorder – $299.99
Claim your copy of DAVINCI RESOLVE - SIMPLIFIED COURSE with 50% off! Get Instant Access!