To be honest, I've seen many weird gadgets over the years, but this one in particular definitely goes way beyond my imagination. In essence, Splat is a flexible table top tripod that adjusts to any surface and can hold a wide range of compact cameras and even heavier DSLRs in countless positions. Depending on the version you get it comes with three or five extremely durable legs that can be twisted and adjusted to hold not only a wide range of compact cameras but even some third-party accessories such as small LED panels, flashes and other units with a similar form factor and weight.
The tripod is extremely flexible and efficient in terms of possibilities it provides to hold and attach your camera. The secret sauce of this unit is the three(five)-legged structure that is made of 80% rubber and 20% stainless steel, making it both flexible and sturdy as it can hold more than 2.6 lbs (the DSLR version).
The non-slip dots at the end of each leg  that are giving the Splat extra stability are another nice feature. At the same time the Splat is extremely lightweight, so you can carry it on the go fastened onto purse straps, belt loops or wherever you feel comfortable with. You can even fold it on your camera and thrown into your bag back.
Furthermore, the Splat has a 1/4″ 20 thumb screw to lock your camera directly or attach a standard baseplate on top. The one thing that definitely stands out for this tripod is the flexibility it provides compared to other similar products on the market. The tool-less design and the ability to twist the legs of the tripod effortlessly is an extremely powerful feature that many other products in this segment simply lack.
As seen in the video above, if the weight is distributed correctly, the Splat could even hold camera/lens combos that weigh as twice as more than what is officially stated by the manufacturer. In the test conducted in the video above we can see that the Splat Flexible Tripod for DSLRs which is the heaviest duty version of Splat could hold even an 11lbs combo under certain circumstances.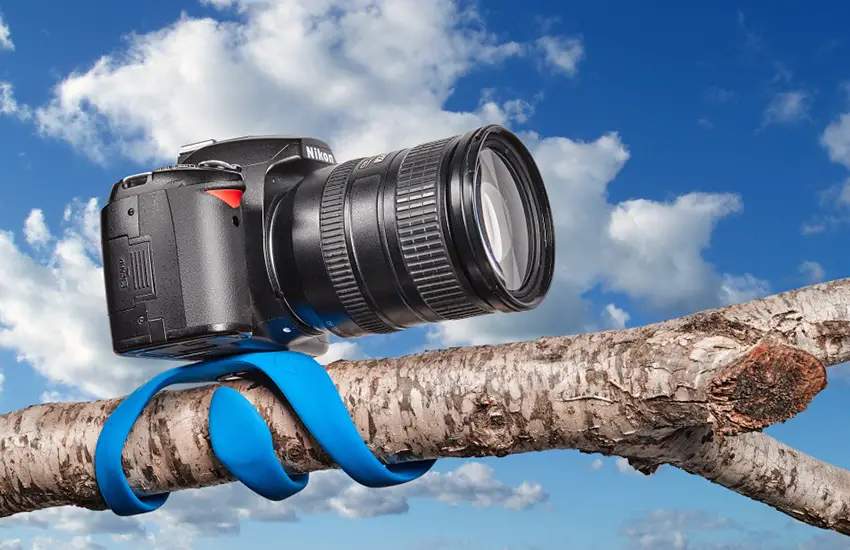 In terms of pricing each of the versions of Splat will set you back anywhere between $20 to $25 depending on the type of the camera, you are using. As mentioned earlier, currently there are three main versions of Splat – Splat Flexible Tripod for DSLRs, Splat Flexible Tripod for Go Pro and Action cameras and Splat Flexible Tripod for P&S and Mirrorless Cameras.
To learn more about this inexpensive accessory visit the Miggo's official website.
[via: PVC, source: Miggo, Lensvid]
Claim your copy of DAVINCI RESOLVE - SIMPLIFIED COURSE with 50% off! Get Instant Access!