If you are in the market for a new handheld support system for your Sony A7S II, Panasonic GH4 or BMPCC you may want to consider the MOZA Cage by Gudsen as a viable option. After the successful launch of their own gimbal stabilizers MOZA Pro, MOZA Lite and MOZA Mini, wireless lens control system and HD wireless video transmitter/receiver, the innovative Chinese manufacturer continues to develop high-quality products by investing in cutting-edge technologies to make video shooting more creative, affordable and reliable. The MOZA Cage is the latest entry in Gudsen's portfolio and another exciting product that's worth noting.
MOZA Cage Key Features:
Fully compatible with the Sony a7/a7II series, Panasonic GH4, BMPCC
Fast assembling and disassembling;
Wooden handgrip gives extremely comfortable griping
Remotely control camera recording, shutter and focus
In-handgrip battery supplies power to the camera
Completely compatible with Manfrotto 5 Series
Adjustable rod riser to change distance between the camera lens and focal tube
Price: $399
The great thing about the MOZA Cage is that it's compatible with a wide range of compact mirrorless cameras, it comes with a sturdy wooden handgrip, provides additional power supply and it's designed with a variety of options for mounting points. There is a handful of 1/4″ and two 3/8″ allowing for easy connections of accessories like EVF, lights, mics, audio recorders and external monitors, and the camera body itself.
Furthermore, the wooden handgrip works not only as a holding platform and a battery container but also acts as an incredible control system. Without directly touching the camera, you have access control over recording, shutter and focus of your camera just by tapping the buttons on the grip. The unit comes with in-handgrip lithium battery with a capacity of 4800mAh that continuously supplies additional power to the camera, thus significantly lengthening its working time.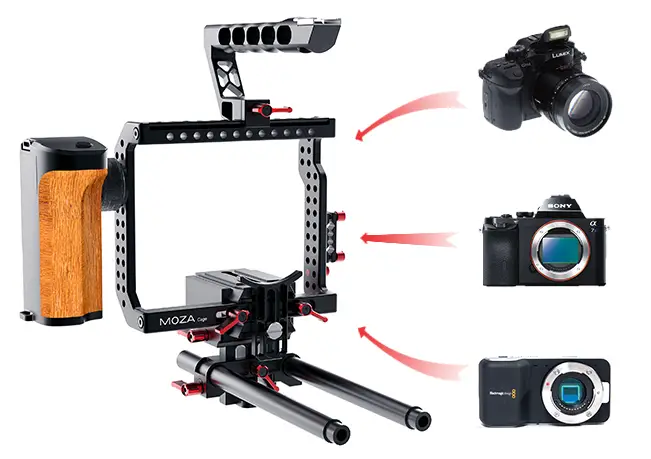 At last but not least, the MOZA Cage features a removable mounting plate at the bottom allowing the camera to be attached and detached in seconds and also lets users mount the cage to other shooting platforms such as tripods, sliders and even some gimbals.
The mounting plate is completely compatible with the Manfrotto 5 Series quick release system so if you are owning any of Manfrotto's tripods this cage should work with any of these seamlessly and flawlessly. Currently, you can save $100 by purchasing the MOZA Cage directly from the Gudsen's official website for a retail price of $399 as part of the company's special Christmas Offer.
[source: Gudsen]
B&H Order Links:
Sony Alpha a7S II Mirrorless Digital Camera (Body Only)
Lumix DMC-GH4 Mirrorless Micro Four Thirds Digital Camera (Body Only)
Blackmagic Design Pocket Cinema Camera
Claim your copy of DAVINCI RESOLVE - SIMPLIFIED COURSE with 50% off! Get Instant Access!