Since Fotodiox introduced their ND Throttle adapter for mirrorless cameras, a really neat adapter with integrated variable ND filter behind the lens, shooters have been asking for a version, which would allow for electronic communication between the camera and the lens so users can control AF and aperture control.
The ND Throttle is a really interesting concept as it mimic "built-in" ND's which naturally are located behind the lens thus minimizing flares, reflections and other unwanted artefacts, sometimes present with front ND filters. Just recently, Fotodiox have updated their ND Throttle adapter to include a new "Smart" version of the adapter for Canon EF and EF-S lenses to Sony E mount bodies allowing for electronic aperture control and Autofocus support of such lenses on Sony NEX and other E-mont cameras.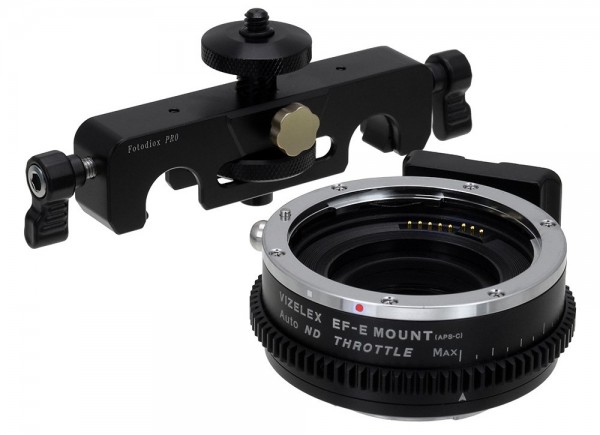 The Variable ND's control ring is geared for either manual control, or it'll mesh with a follow focus for even more control options. Package includes a lens mounting yoke to support longer Canon lenses with a rail system.
You can see the video below for more details on the ND Throttle system (note the video below is for the older, "dumb" non-electronic version of this adapter, but it gives you a good idea of what this adapter can do).
Features:
Premium Grade Fotodiox "Pro" Adapter
Infinity Focus Guaranteed
Built-In 10-Stop Variable ND Filter ND2 – ND1000 (1 – 10 Stops)
Full Communication on Most Lenses Allowing Automatic Focus and Control from Camera
All-Metal Design; Brass with Stainless Steel Finish
Removable Tripod Mount
2 Year Manufacturer Warranty
The geared dial on the adapter is a built-in 10-stop variable ND filter which allows you to control the amount of light coming in from the lens with a quick twist of the dial. This is great for video as you are able to shoot in bright daylight with a shallow depth of field, also allows you to move from bright to dim locations and adjust the light on the fly via the adapter. The gearing on this adapter and the included lens yoke make it a great pairing with a follow focus and rail system .
Compatible Cameras
Sony Alpha E-mount Cameras (Including, but not limited to):
Sony Alpha α3000, α5000, α6000, α3500, α5100, αQX1, Sony PXW-FS7 and Sony PXW-FS5
Sony NEX-3, NEX-5, NEX-C3, NEX-5N, NEX-7, NEX-F3, NEX-5R, ,NEX-6
Sony NEX-VG10, NEX-VG20, NEX-VG30, NEX-VG900, NEX-FS100, NEX-FS700, NEX-EA50
Although this adapter would technically mount on any E-mount Sony camera, for full-frame Sony A7s, A7RII owners out there it is worth to note that you may see a slight vignette unless used in APS-C crop mode. However, for Super 35 chip cameras like the Sony FS5 and FS7 this adapter should work just fine and be a cost effective and compact solutions for run'n gun situations.
The Fotodiox Vizelex ND Throttle "Smart" Adapter for Canon EF/EF-S to Sony E mount is available in limited quantities and retails for $199.95 directly from Fotodiox.
Specifications:
| | |
| --- | --- |
| Adapter Type | Vizelex ND Throttle Auto Adapter – Lens Mount Adapter with Built-In Variable ND Filter (ND2-ND1000) AND Full Automated Functions |
| Lens Mount | Canon EOS EF/EF-s Lenses |
| Camera Mount | Sony NEX APS-C E-Mount Cameras |
| Infinity Focus | Yes |
| Variable Density Range | ND2 – ND1000 (1 – 10 stops) |
| Metering | Automatic |
| Material of Construction | Brass with Stainless Steel Finish |
| Tripod Mount | Yes – Removeable |
| Manufacture | Fotodiox Inc. |
| Warranty | 24 Months |
Disclaimer: As an Amazon Associate partner and participant in B&H and Adorama Affiliate programmes, we earn a small comission from each purchase made through the affiliate links listed above at no additional cost to you.
Claim your copy of DAVINCI RESOLVE - SIMPLIFIED COURSE with 50% off! Get Instant Access!