We teamed up with Alex from FilmSimplified for an Exclusive ONE TIME 80% OFF FLASH SALE on a Special Bundle of his amazing DaVinci Resolve Grading & Editing Courses (Plus 200 Stylistic LUTs) for just $99! These courses would otherwise cost $577 to buy separately! We all know that DaVinci Resolve is an extremely powerful filmmaking tool, but unfortunately it can be quite overwhelming at first, especially for novices, however Alex's courses make it very simple & quick to learn!
The best part of it is that you Get Lifetime Access & there is No Prior Knowledge of Resolve or Grading required!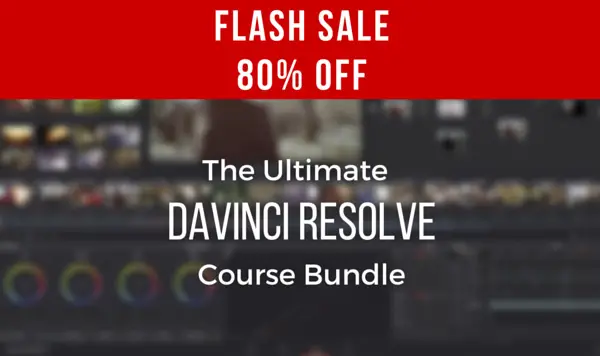 The DaVinci Resolve FLASH SALE Bundle for $99 includes:
Join more than 3,200 fellow filmmakers in the easiest and fastest DaVinci Resolve online Course. This course is designed with the absolute beginner in mind. No prior knowledge of DaVinci Resolve or color grading is required.
Learn how to edit your footage without having to round-trip or pay for an NLE.
Download raw and graded ProRes files. Your job is to try and match them. Then, watch the actual grading sessions and compare that to your approach.
More than 200 LUTs that utilize FilmSimplified's unique modular approach, allowing you to stack LUTs on top of each other to achieve advanced looks, in no time.
The Ultimate DaVinci Resolve Bundle is available for $99 for ONLY the next 24 hours starting today March 7th at 8:00 am EST until March 8th at 7:59 am EST.
GET the DaVinci Resolve Bundle for $99 HERE!
We are not planning on making this deal available again, so if you ever wanted to get these courses, but were holding off – now is the best time to get them and save a ton of money!
Claim your copy of DAVINCI RESOLVE - SIMPLIFIED COURSE with 50% off! Get Instant Access!