Atomos just announced a couple of mind-blowing new 4K recorder/monitors with HDR monitoring capabilities, 10bit colour, and 1500 nits brightness for strong daylight conditions. The brand new Flame Series of monitor/recorders features two models at this stage – the Shogun Flame (SDI and HDMI) and the Ninja Flame (HDMI). While sporting the same yellow and red colour palette reminiscent of predecessor Shogun and Ninja Assassin models, the new Flame Series are far from just a cosmetic upgrade. The Flame Series feature a re-designed rugged exterior with rubberised bumper edges that seem more robust than the design of their predecessors in addition to a 7-inch 1920 x 1200 325ppi IPS touch screen display with 1500 nits brightness equipped with the AtomHDR engine, enabling 10bit HDR monitoring that will transform the way  you shoot LOG.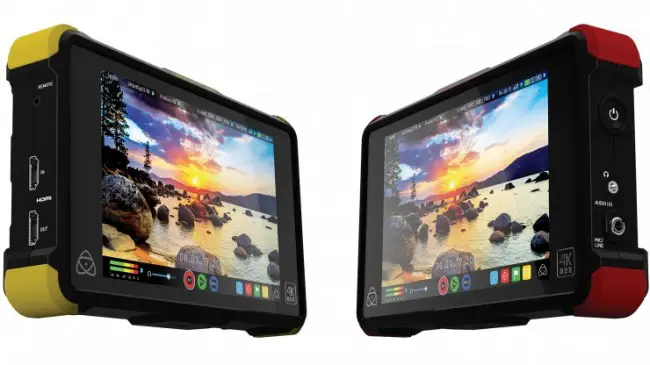 This means that the usual complications of exposing Log signals on a washed out image are eliminated – with AtomHDR you simply frame, expose, focus and shoot. All major camera makers log formats are supported – Sony, Canon, Panansonic, Arri, Red and JVC.
Now, HDR is a lot more than just increased brightness, but that's a whole another post. In essence, the main fascinating aspect of the new Flame series monitor/recorders is the massively increased detail in the shadows and highlights that when monitored on a Rec.709 monitor would simply not be there or would be clipped. Rec.709 is a dinosaur of a standard that has been around for donkeys years, and as we move towards a fully fledged 4K workflow and Rec.2020, monitoring what we record with a proper tool is paramount.
With the AtomHDR engine in the Atomos Shogun Flame and Ninja Flame you can now see up to 10 stops luminance compared to the 5-6 stops in Rec.709 hence why your LOG images out of your Sony A7sII for example would look absolutely stunning on the new Atomos Flame series.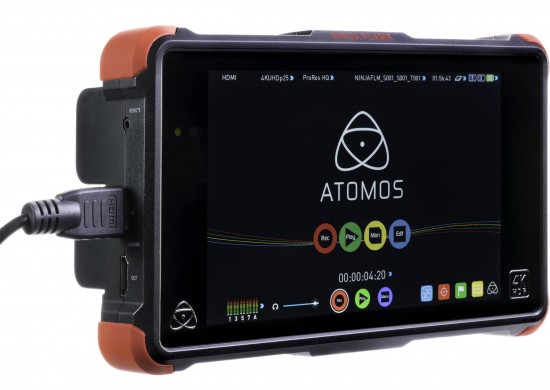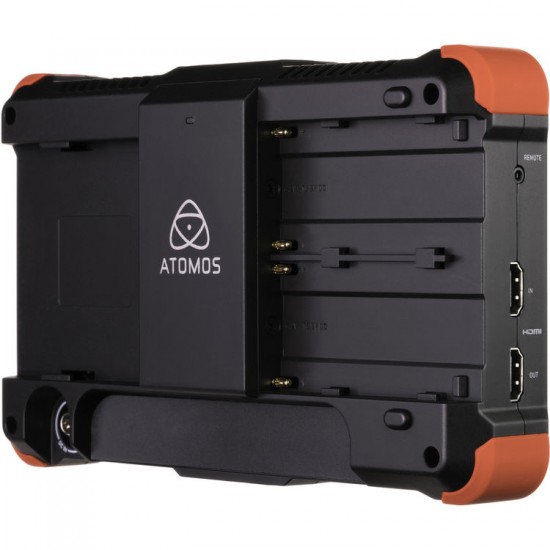 The Shogun Flame retains the ability to record 4K Raw from cameras like the Sony FS700, Sony FS7, (possibly future Sony FS5) and Canon C300 Mark II/C500 as well as 12G/6G/3.5G SDI and HDMI connectivity plus the additional XLR breakout cable for audio, while the Ninja Flame gets only HDMI I/O and no Raw recording capabilities.
Both monitors can record 4K up to 30p and 1080 up to 120fps (providing the camera is capable of such frame rate) in either 10bit ProRes or Avid DNxHD (or 4K DNxHR). The Flame series now also have dual Sony NP-F battery slots, which are hot-swappable allowing  you to shoot in the field for prolonged periods of time.
Atomos Shogun Flame Highlights:
1920 x1200 Touchscreen Display
10-Bit FRC Monitor Processing
4K HDMI and 12G-SDI Inputs/Outputs
1500 cd/m² Brightness
HDR Mode with 10 Stop Dynamic Range
High Bright Mode for Rec. 709 Viewing
UHD 4K up to 30p / 1080p up to 120 fps
10-Bit 4:2:2 ProRes & DNxHR Encoding
Records to 2.5″ SSD/HDD Media
Dual Sony L-Series Battery Slots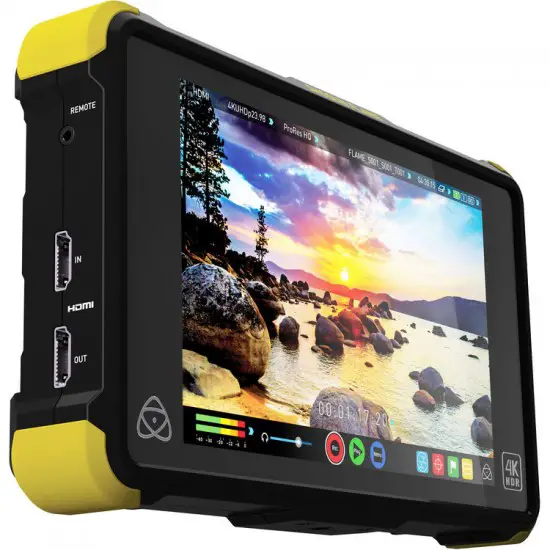 Whats included in the box:
Sun Hood
2 x NP-F750 Batteries
Battery Charger
XLR Breakout Cable
Control Cable (2.5mm Female to 2x 2.5mm Male)
USB 3.0 Docking Station
Coiled D-Tap to DC Power Cable
5 x Master Caddy
2 x AC Power Adapter
HPRC Hard Case (Yellow)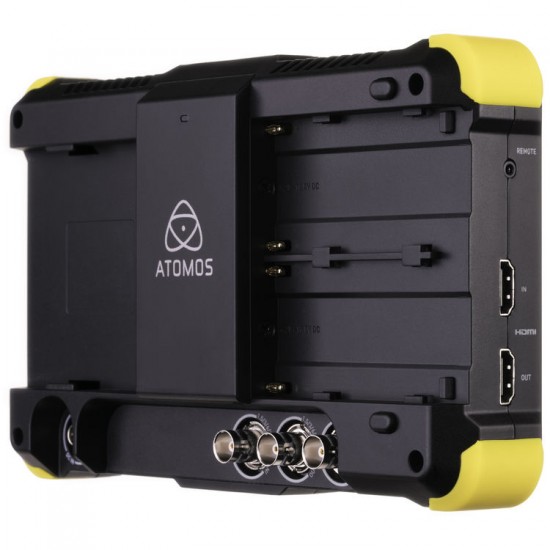 "HDR is simply amazing, it's the next revolution for filmmaking, once again Atomos are first with the technical solution to make it quicker, easier and more affordable for filmmakers" said Atomos CEO and co-founder Jeromy Young, "Anyone that sees HDR, from content creators to consumers are immediately sold, – more life like shots and real world detail. Our job is to open up HDR to all filmmakers by removing the technical and affordability hurdles that might slow its progress."
To learn more about the new Atomos Flame Series HDR monitor/recorders, check out the walkthrough video by Atomos boss Jeremy Young below:
Atomos Shogun/Ninja Flame Key Features:
With a Dynamic range to match that of a 10-bit camera LOG footage, AtomHDR monitors deliver the detail in highlights and shadows usually clipped on traditional monitors.
A highly advanced field monitor even in non-HDR scenarios with 1500nits brightness for outdoor shooting, native full HD resolution and optional calibration to ensure natural LCD colour drift can be corrected over time.
Record direct from the sensor in pristine 4K UHD (up to 30p) or record high frame rate HD (up to 120p)
long with recording the high pixel density of 4K, the Ninja and Shogun Flame also record higher resolution 10-bit colour information and more precise yet efficient 4:2:2 colour encoding.
Recording to Apple ProRes and AVID DNxHR visually lossless edit-ready codecs ensure you capture full individual frames like film, providing more flexibility and creativity in post.  Can be delivered to any standard – never worry about having your footage technically rejected due to the format again.
Ready for real-word conditions with built-in armour protection, dual battery hot-swappable continuous power system to ensure you always have power and a raft of included accessories including a new fast charger and snap-fast sun hood.
Our patented hot-swappable dual battery system for continuous power is backed up with the included power accessories (2 x 4-cell batteries, D-Tap adaptor and blazingly fast battery charger)
An arsenal of creative weapons including focus and exposure tools, 3D Custom Looks, Waveforms (LUMA and RGB) and Vector Scopes ensure you set the shot up perfectly every time.
XLR audio via breakout cables for Shogun Flame or 3.5mm line level input with audio delay, level adjustment and dedicated audio meters with channel selection for Ninja Flame.
Support available for widely affordable, readily available SSDs from the world's most trusted media brands.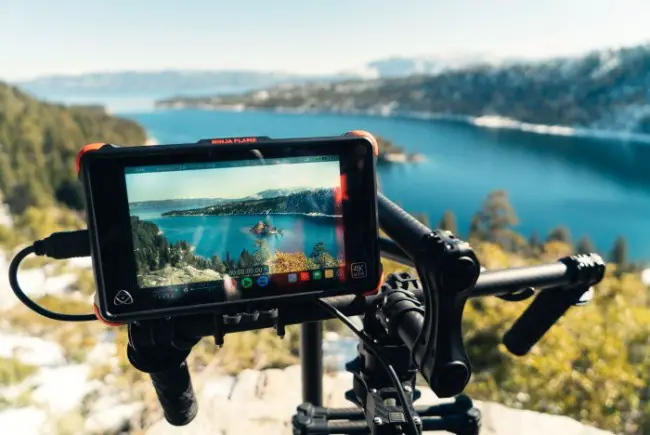 The Atomos Shogun Flame should start shipping on March 28th with the Ninja Flame following it week of April 11th at the following retail prices:
Shogun Flame 
US:   $1,695 ex. TAX
EU:   €1,695 ex. VAT
GBP: £1,295 ex. VAT
AUD: $2,695 Inc. GST
Ninja Flame
US:   $1,295 ex. TAX
EU:   €1,295 ex. VAT
GBP:  £995 ex. VAT
AUD: $2,049 Inc. GST
Order links:
Claim your copy of DAVINCI RESOLVE - SIMPLIFIED COURSE with 50% off! Get Instant Access!