When the Sony PXW-FS5 was announced last fall at IBC 2015 in Amsterdam alongside the Sony A7sII, Sony said to have a future (paid) update for the camera to be released in an undetermined date in the future that will grant external 4K Raw recording and super-slow motion in raw to compatible external recorders via the 3G-SDI port on the back of the camera. Up until now details been scarce, but many expected the Sony FS5 to follow in the footsteps of its older brother – the NEX-FS700R and have similar if not the same 4K raw and slow-motion options once the upgrade is released.
Earlier today some unconfirmed details of a major upcoming firmware update for the Sony FS5 emerged that include some juicy recording options such as 4K/60p Raw and also 240fps in 1080p via a paid upgrade plus an Auto ND feature that will assist with getting the perfect exposure all the time.
I'll treat this as a rumor at this stage, as it didn't originate from an official Sony source but a rather cleverly named Facebook account called Cine Alta that appears to have no affiliation with Sony whatsoever. Here's what was posted:
Firmware Update Information. PXW-FS5 v2.0 – Planned availability in May, 2016
AUTO ND: Electrical Variable ND filter can automatically keep the best exposure while keeping the aperture and depth of field.
GPS: GPS function is activated
Expand Zebra point can be switched swiftly.
** Paid Upgrade Option (CBKZ-FS5RIF: Available in May, 2016)
4K 60p/50p
Continuous 240fps/200fps HD Output in RAW Format
Sony's FS RAW allows user to record 4K (QFHD) 60p/50p and continuous FHD 240fps/200fps on an external recorder.
What makes me lean towards this being actually real is not just the wording, which is in line with other official firmware announcements by Sony, but also the frame rates make sense – back in the fall last year I went to an FS5 demo day in Sony's Pinewood Studios HQ in the UK I had a lengthy chat with one the main tech guys there and he pretty much "unofficially" confirmed that I could safely assume that if Sony go through with the Raw upgrade for the FS5 it will be very similar to the way it's done on the FS700.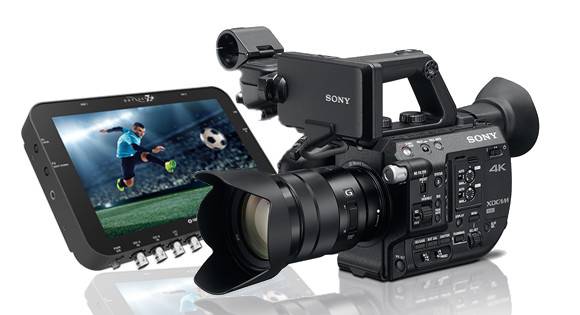 Also the naming convention of the FS5 upgrade starts with CBKZ, which is in line with the F55 and F5 upgrades that Sony have already released. The Auto ND feature should be pretty awesome I think and has the potential to change the way FS5 shooters use their camera, especially in shots where there is a drastic change in exposure like when going from indoors to a bright exterior in an uninterrupted take.
The update is said to be available in May next month, which is a lot sooner than most expected. I am guessing it will be officially announced in the run-up to NAB in the next week or so or at the show itself (NAB runs from 16 to 21st April this year).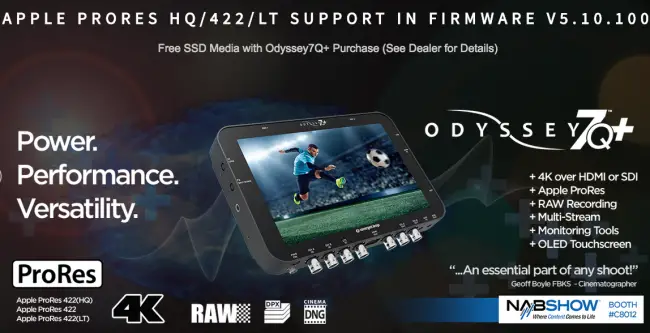 At this point Convergent Design's Odyssey7Q+ is the only 4K Raw recorder that can be used with this update from the 3rd party recorders, but I am sure there will be a way for users to use Sony's own AXS-R5 ($5,350 at B&H) or the new AXS-R7, but keep in mind that on the FS700R the setup also required the Sony HXR-IFR5 interface unit between the camera and the R5 raw recorder making this setup quite expensive compared to using a 3rd party raw recorder like the Odyssey7Q+.
Atomos are yet to release their 4K raw to CinemaDNG update for the Sony FS cameras, and the Video Devices PIX-E series recorder/monitor are limited to recording in ProRes, but both are still fantastic monitoring and recording tools, even without the raw functionality.
Convergent Design did confirm they will support the future update with 4K raw and other frame rates out of the FS5.
So, if you are an FS5 owner/op what would you need to make you FS5 spit out 4K raw?
All things considered I think that even with the extra cost of an external recorder, media and Raw licenses, the FS5 will benefit hugely as its internal 4K codec is rather weak – it's only 8bit 4:2:0 and in S-log3 will struggle significantly. Going out to a 12bit 4K raw at 50/60p is quite a different beast allowing greater flexibility in post production and making the FS5 ready for just about any production.
There are a few differences from the FS700 Raw though – the FS5 4K raw update (at least in these unofficial specs) seems to be limited to 1080p/240fps in Raw, whereas the FS700 could do it in 2K. Also the 120fps 4K raw in a 4 second burst seems to be missing. Nonetheless, this upgrade will transform the FS5 into a real 4K raw machine with 4K raw up to 60p and a crazy 240fps slow motion in 1080p, which many will use on commercials and pop promos.
Details on pricing and official announcement will probably be available soon. As always, we'll keep you guys in the loop. So – FS5 owners or future potential owners – how does the 4K Raw update seem to you (on paper at least for now)? Worth going for it?
Order links: 
Disclaimer: As an Amazon Associate partner and participant in B&H and Adorama Affiliate programmes, we earn a small comission from each purchase made through the affiliate links listed above at no additional cost to you.
Claim your copy of DAVINCI RESOLVE - SIMPLIFIED COURSE with 50% off! Get Instant Access!