The recently released Red Scarlet-W Dragon and the Panasonic Varicam LT have attracted a great deal of attention in the world of independent filmmakers and professional videographers alike. At first sight, these seem to be two entirely different beasts, although they do share similar functionality as well as some identical features. The Scarlet-W on one hand, boasts proprietary Red Dragon Super 35 CMOS sensor, interchangeable lens mounts, RedCode Raw and Apple ProRes recording simultaneously, provides a choice of different optical low-pass filters (OLPFs), in-camera 3D LUTs along with the ability to shoot 5K at 60 fps, 4K at 150 fps, or 2K at whopping 300 fps.
The Panasonic Varicam LT, on the other hand, shares the same Super 35 4K CMOS sensor as the Varicam 35, as well as the incredible Native Dual ISO 800/5000, V-Log, and 14+ stops dynamic range, a multitude of 4K/UHD/2K and HD codecs and frame rates such as Apple ProRes 4444 (up to 30p) and ProRes 422 HQ (up to 60p) in Full HD, as well as AVC-Intra LT (for 4K) and AVC-Intra 2K-LT, both designed to offer capture frame rates up to 240fps in sensor crop mode.
The Varicam LT also comes with an EF Mount, but obviously, it can be swapped to a robust PL mount as well. On top of that, the Panasonic's flagship camera features built-in ND filters and will provide a RAW output via SDI through an upcoming update. But, what about the real-world performance? The following video produced by the L.A. based cinematographer Brian Nguyen should provide some of the answers.
RED Scarlet-W Dragon vs. Panasonic VariCam LT // FULL Dynamic Range Test from Brian Nguyen on Vimeo.
It's worth mentioning that the Nguyen was invited to the Panasonic Headquarters to conduct a series of tests comparing the functionality and real-life performance of the RED Scarlet-W and Panasonic's new Varicam LT. The dynamic range was the main component that was put to the test. Brian Nguyen states that both the Scarlet-W and Varicam LT have very similar dynamic ranges when shooting in Log, both measured approximately around 15 stops. To match the Varicam's 4K UHD aspect ratio of 3840×2160 the Red 5K footage was downscaled to 4K UHD.
14 clear stops with the 15th being a bit amorphous, though I can make out slight borders for both the Scarlet-W and Varicam. Very close. Both these charts were shot at native ISOs of 800.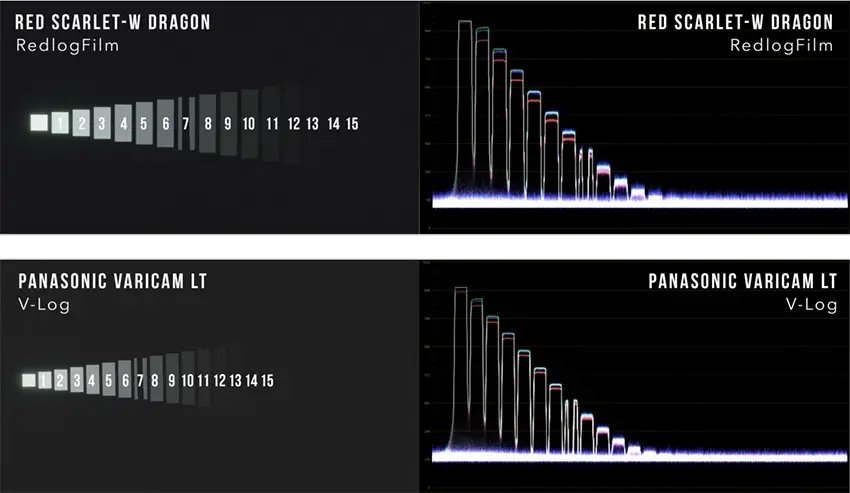 This test was comparing the Red's Standard OLPF (native 800 ISO) to the Panasonic Varicam LT (native 800 ISO). Each camera's dynamic range was tested up to 8 and a half stops over, and 8 and a half stops under in increments of half stops. All the test footage was shot with the Leica Summicron-C 29mm lens at a common stop of T/4.0 and stopped up or down a half stop to adjust for exposure changes.
Brian Nguyen also concluded that the Varicam LT was able to hold greater highlight detail when overexposed with a softer roll-off. The camera was able to retain more color and detail information in the shadows when underexposed compared to Red Scarlet-W. The US-based DP also adds that the Panasonic's V-Log profile tend to be flatter than Red's RedLogFilm gamma curve, as the former is more like Arri's Log. If you want to find more about Nguyen's thoughts and conclusions in regards to the test, head over to his personal blog where a series of posts related to the shootout will be published in the upcoming days.
[source: Brian Nguyen Blog]
B&H Order Link:
Panasonic Cinema VariCam LT 4K S35 Digital Cinema Camera (EF Mount)
Amazon US Order Link:
Panasonic Cinema VariCam LT 4K S35 Digital Cinema Camera (EF Mount)
Claim your copy of DAVINCI RESOLVE - SIMPLIFIED COURSE with 50% off! Get Instant Access!