RED just kicked off their NAB 2016 announcements with new accessories for DSMC2 bodies including Raven, Scarlet-W and Weapon, which get a newly designed Side handle, a slim REDVOLT-V battery, a Jetpack SDI module, a new Red PRO 7-inch LCD hingeless display and also a new firmware Build 6.3.6 for AVID DNXHR and DNXHD recording and a few more bits. The RED Raven recently started shipping and footage has been popping up here and there. In case you missed it we did a post on some of the first user generated footage here. See more details on each of the new RED announcements and some photos below.
RED DSMC2 Side Handle for Scarlet-W/Raven/Weapon – $950
The DSMC2 Side Handle is completely redesigned for the DSMC2 camera bodies geared towards shooters who prefer a compact handheld configuration. The new DSMC2 Side Handle offers the most ergonomic handle option attaching directly to the side of the Raven/Scarlet-W or Weapon brain without any cables or additional accessories.
The DSMC2 Side Handle features a molded rubber grip and puts primary camera controls right at your fingertips. A primary navigation wheel (front) offers direct control over lens focus, while a secondary navigation wheel (side) supports iris functions. The rotary wheel and D-Pad provide advanced control over menu options directly from the handle. 4 x customizable camera parameter buttons provide quick access to controls such as exposure, white balance, magnification toggle, and autofocus. Additionally, a stepped encoder offers additional operation customization and lets you incrementally increase or decrease the selected camera parameters.
Of course, there is also a RECORD button in bright red allowing users to start/stop recording in the most ergonomic way possible. The DSMC2 Side Handle features a MARK FRAME button, empowering you to tag frames while shooting and revisit them later in post production. Note however, that the new DSMC2 Side Handle cannot be used simultaneously with the other DSMC2 handles – the Outrigger or DSMC2 Sidekick. Element Technica will also offer wood options for the replaceable grip.
The DSMC2 Side Handle s priced at $950 and expected to ship the Fall.
REDVOLT-V Battery – a slim battery solution for DSMC2 – Pricing between $195 and $350
Standard V-Lock interface
47Wh – Almost 25% more capacity than the original REDVOLT.
Fits the profile perfectly of your DSMC2 Body.
Eliminates interference with the DSMC2 Top handle etc.
Great battery for gimbals, drones, cranes etc.
Price between $195 – $350
RED PRO Touch 7″ LCD (Hingeless) – $2,950 / Fall 2016
The RED Pro Touch 7.0″ LCD is a 1920 x 1136 resolution display compatible with both DSMC and DSMC2 camera bodies. The new monitor provides improved colour accuracy, high pixel density (at 323 ppi), and 1000:1 contrast. It comes in weighing at just over a pound (549 grams) and is also bright enough for operation in high ambient light. A robust, optically-bonded touchscreen provides the most intuitive way to navigate menus, adjust camera parameters, and review your .R3D clips directly out of the camera.
The lightweight display mounts to your camera BRAIN or other 1/4-20 mounting surface and provides a LEMO connection to connect to your camera. The RED Pro Touch 7.0″ LCD is an ideal monitoring option for gimbals, cranes, and remote (away from the camera) viewing.
DSMC2 V-Lock Battery Module – $595 / Fall 2016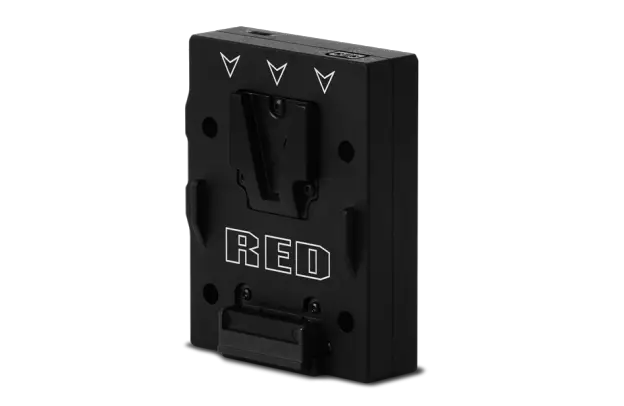 The DSMC2 V-Lock Battery Module is a low profile cable-free module that enables you to power your DSMC2 BRAIN and camera accessories using RED BRICK and third-party batteries. The V-Lock and protected release button ensure ongoing power even during mobile shoots.
This DSMC2 battery module also offers a P-Tap connector (max current of 3.0 Amps) for powering peripherals and accessories. Construction is robust aluminium alloy offering a blend of utility and power support in a lightweight and space-saving form factor.
The DSMC2 V-Lock Battery Module is an ideal power solution for use with most DSMC2 expanders. Alternatively, connect the DSMC2 V-Lock Battery Module directly to your DSMC2 BRAIN for a low-profile, battery-only power configuration.
DSMC2 Jetpack-SDI – $1,250 / Fall 2016
The RED DSMC2 Jetpack-SDI Expander is a low-profile expander solution designed for aerial, gimbal, handheld, and other lightweight/remote applications that require 3G-SDI output.
Features
DC IN power
SDI (3G-SDI) connectivity
Gigabit Ethernet (GIG-E), AUX power
SYNC and CTRL
The 3G-SDI connection provides support for providing a signal to a remote monitoring solution, while the Gigabit Ethernet connection offers increased bandwidth for streaming high-quality footage. The DSMC2 Jetpack-SDI Expander is ideal for housings and low-profile configurations that require 3G-SDI outputs or computer tethering.
The DSMC2 Jetpack-SDI Expander also features a selector switch that enables the DSMC2 BRAIN to automatically boot when power is provided via the DC IN connector on the expander. This feature allows you to use a connected DC input supply to turn the BRAIN on and off when the camera is mounted in remote or difficult to manoeuvre locations.
DSMC NAB Build 6.3.6 – AVID DNXHR and DNXHD codec support

Major changes since Build v6.2.55
Added Avid DNxHD/HR Codec support (DSMC2 only)
Added Apple ProRes playback (DSMC2 only)
Added Apple ProRes support for FF format (DSMC2 only)
Added tethered Apple ProRes (DSMC2 only w/ REDVOLT Expander or other gigabit Ethernet compatible module)
Added high speed file transfer over gigabit Ethernet (DSMC DRAGON, DSMC2)
Added 3rd party OLPF name and default calibration (DSMC2 only)
Added control for default curve in split monitoring (DSMC2 only)
Added REDCAST Module dialog notification when non-UHD format selected (DSMC only)
Added REDMOTE v9.6.23 (DSMC only)
Added RCP pass-through support
Added Lens Info tab to Lens Dialog
Added Atomos device support to HDMI output
Added Metadata tab in Lens dialog for manual entry
Added shortcut assignments to presets
Added Canon EF 70-300mm f/4-5.6 IS USM
Added Canon EF-S 18-55mm f3.5-5.6 IS II
Added Nikon 200-500mm f/5.6E ED AF-S VR
Added Nikon TC-14 III 1.4x Teleconverter
Added Sigma 120-300mm f/2.8 DG OS HSM A1 for Canon
Added Sigma 24-35mm EF for Canon
Added Sigma 70-200mm f/2.8 APO EX DG HSM OS for Canon
Added Sigma 24-105mm F/4 DG OS HSM for Canon
Added Tamron SP 15-30mm f/2.8 Di VC USD for Canon
Added Tamron SP 70-200mm f/2.8 Di VC USD for Canon
Added Tamron 28-300mm f3.5-6.3 Macro for Canon
Fixed Motion Mount settings after power cycle
Fixed Motion Mount shutter angle spinner values
Fixed Motion Mount shutter speed with Square or Soft shutter
Fixed REDMOTE lockout when SLA is displayed
Fixed time-lapse timer when frame count is larger than 1
Fixed tint value for Auto White Balance
Fixed PRO I/O Preview (PVW) abbreviation in UI (DSMC only)
Fixed distorted live audio after playback (DSMC2 only)
Fixed colour and gamma space values in QT metadata (DSMC2 only)
Removed Lens Calibration menu
Improved Nikon/Canon lens support
Improved PL Fujinon/Canon lens support
Updated in-camera help files
The new accessories especially the new Side Handle look stunning and I am sure a lot of Raven and Scarlet-W shooters would be happy to snatch them. The new slim profile V-mount REDVOLT-V seems like a no brainer as well for those planning on using their Raven and Scarlet-W on drones and handheld gimbals.
At this moment there aren't many slim V-mount batteries out there, with the exception of the Switronix Hypercore Slim RED and the Pag L90 Slim, so it's great to see RED come  up with their own version for those looking to build the lightest possible rig for their DSMC2 camera.
Disclaimer: As an Amazon Associate partner and participant in B&H and Adorama Affiliate programmes, we earn a small comission from each purchase made through the affiliate links listed above at no additional cost to you.
Claim your copy of DAVINCI RESOLVE - SIMPLIFIED COURSE with 50% off! Get Instant Access!