Canon may be slow to add 4K video recording anything other than their top Cinema EOS cameras and top end DSLR's such as their 1DC and 1D X Mark II, but when it comes to lenses, they do innovate quite a bit. Some say that Canon is about to go ahead with at least two big announcements that have to do with 4K around IBC time in September, once of which I have a hunch is the new C500 Mark II or whatever it ends up being called, and the other is possibly a full-frame mirrorless camera to go head-to-head with the competition-crushing Sony A7sII/A7RII. Canon mostly make their money off of selling lenses and other non-camera products like printers to the masses. Canon lenses sell by the millions and today the Japanese lens giant announced their newest addition – the Canon EF-M 28mm f/3.5 Macro IS STM lens, the first Canon Macro Lens specifically designed for the EOS M Camera System.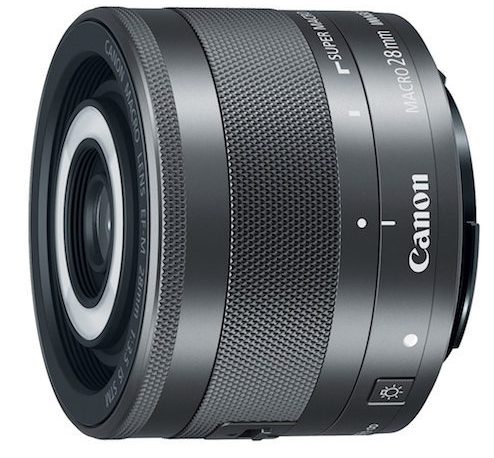 The new lens offers APS-C sensor coverage and features a pair of built-in miniature Macro Lite electronic flash units that illuminate close-up subjects as needed, helping to freeze movement, enhance colour accuracy and provide a better sense of depth and dimension.
Two curved flash units surround the front element of the lens, with the ability to illuminate both simultaneously, or one at a time. Users are also able to adjust the brightness of the Macro Lites between "bright" and "dim" settings.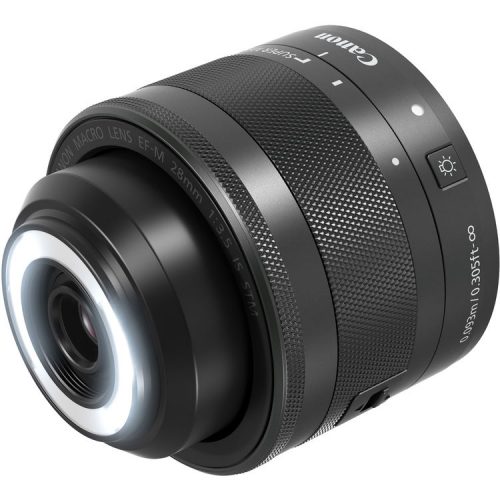 Canon EF-M 28mm f3.5 Macro IS STM Features
EF-M Mount Lens/APS-C Format
44.8mm (35mm Equivalent)
Maximum Aperture: f/3.5
One UD Element & Two Aspherical Elements
STM Stepping AF Motor
Hybrid IS Image Stabilization
Maximum Magnification: 1.2x
Super Macro Setting for 3.7″ Min. Focus
Built-In Macro Lite LED
Retractable Design for Compact Profile
The standard focusing range of the Canon EF-M 28mm f/3.5 Macro IS STM lens extends from infinity to life-size (1 time). Additionally, a Super Macro Mode allows shooting at even higher magnifications up to 1.2 times. This feature allows you to capture smaller details that really make your subjects stand out against the background.
Additional features of the Canon EF-M 28mm f/3.5 Macro IS STM lens include:
Hybrid IS, the same feature as found on Canon EF 100mm f/2.8L Macro IS USM Lens, helps reduce camera shake for handheld photography.
Stepping motor (lead screw-type STM) helps provide smooth and quiet focusing operation when taking photos, and near-silence when shooting videos.
One UD lens and two aspherical lenses help deliver outstanding image quality at all distance settings by reducing chromatic and spherical aberrations.
Angle of view similar to a 45mm standard lens (35mm equivalent) provides flexible image capture of various subjects and scenes at macro distances and beyond.
Tapered lens top shape makes it easy to capture high-quality images at close range without casting shadows.
The new 28mm STM Macro lens will be priced at $299 at launch and looks like a really awesome option for video users as well. Check out the video below to see what you can do with the new Canon Macro.
Of course, it would help if Canon announce a 4K mirrorless camera that can take this lens, as of this moment there aren't many options in terms of Canon cameras that you can use with this lens. The Canon EOS M3 (find it on Amazon.com) seems to be the only option, apart from the older and smaller M10. Hopefully we'll see a compact mirrorless camera (or two) from Canon at some stage soon.
The Canon EF-M 28mm f/3.5 Macro IS STM lens is scheduled to start shipping in June and is currently available to pre-order from places like B&H.
Pre-order links:
Claim your copy of DAVINCI RESOLVE 16 - SIMPLIFIED COURSE with 50% off! Get Instant Access!