Although the Zenmuse X3 camera of the DJI Osmo isn't the best low light performer out there, the gimbal itself has its strengths and qualities as it's already a quite popular solution among independent filmmakers and enthusiasts alike who prefer to travel light while having a portable full-fledged 3-axis gimbal in their backpack. If you already own the DJI Osmo and want to take it to the next level, here are a few helpful accessories that you might find useful. Emm from Cheesycam will walk us through his personal DJI Osmo setup by showcasing some handy add-ons along with an alternative way to power up your DJI Osmo for a whole shooting day.
We've already covered the Z-Axis Arm of the DJI Osmo that in essence provides 4-axis stabilisation and significantly reduces the vertical movements while you're walking or running with the gimbal. The Z-Axis Arm works like a mini Steadicam Arm when mounted on the DJI Osmo as well as it allows users to adjust the tension of the spring for extra stability.
Another useful accessory you can get for your DJI Osmo is the Straight Extension Arm. It can be easily attached on the handgrip of the gimbal, thus allowing you to relocate the phone holder more towards the center of the unit which provides more flexibility and is an overall better placement for your phone while operating the combo.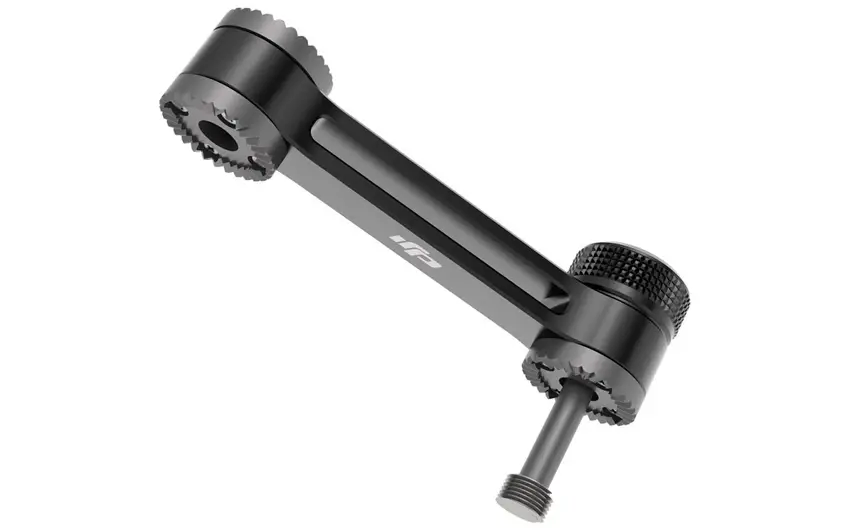 On top, you can attach the Universal Mount that comes with two cold shoes which will let you mount additional accessories such as multiple LED light panels or microphones. Due to the Z-Axis Arm, you can attach your third party accessories on the handgrip of the DJI Osmo without worrying that these units will be visible in your frame while you're panning your camera.
At last but not least, comes the new External Battery Extender. It can be an incredibly useful add-on, especially if you already own batteries from your Phantom or Inspire 1 drone and want to extend the operation time of your DJI Osmo. Keep in mind, though, you need to upgrade your DJI Osmo to the latest available firmware update so that you can utilise the additional battery power. It's claimed the most recent firmware update of the DJI Osmo extends the life of the genuine Osmo batteries up to 90 minutes. Ultimately, if you want to keep your Osmo running even longer, you have to utilise the Extended Battery Adapter.
The best part is that you can have this 4K gimbal and camera system that records decent audio right off the bat with all the bells and whistles while still keeping its relatively compact form factor (even with all these accessories on board) so that you can continue to operate it with a single hand.
[source: Cheesycam]
B&H Order Links:
DJI Osmo Handheld 4K Camera and 3-Axis Gimbal
DJI Osmo Z-Axis for Zenmuse X3 Gimbal and Camera
DJI Straight Extension Arm for Osmo
Osmo External Battery Extender
Amazon US Order Links:
DJI Osmo Handheld 4K Camera and 3-Axis Gimbal
DJI Straight Extension Arm for Osmo
Osmo External Battery Extender
Claim your copy of DAVINCI RESOLVE - SIMPLIFIED COURSE with 50% off! Get Instant Access!