First, I'd like to say that this article isn't meant to imply any conclusions regarding which one of the suggested custom build PC or the 5K Retina iMac is the better editing workstation. I'm sure all of you have personal preferences leaning toward one or the other of the two systems. The point here is to find out which computer configuration will give you better upgrade options along with more editing power for the same money. The final decision of course always will be yours. So, here is the suggested 4K video editing workstation from Roberto Blake who share his experience on building a custom PC and having an iMac at the same time. Ahead you will also find all the components you will need to build this particular editing Windows-based system on your own.
Apparently, at $1500 this PC build comes with 4 to 6 drives (both conventional spinning drives and SSDs) with upgrade capacity for more, a true high-end video card with the option of a secondary video card for even more power, and up to 32GB of Ram. According to Blake, for high-end 4K video editing, 3D artwork, motion graphics, and animation, a custom build video editing PC is just going to be more practical and cost-effective in the long run. The tech nerd is also convinced that raw power does matter, especially when it comes to editing and compositing, so having the top hardware at the proper specs is going to make a difference.
On the other hand, if you had the money, and you want to spend them on a Mac Pro or iMac Retina thus having a better user experience and more convenience while working you are free to go. Just keep in mind that for that price you won't be able to come close to that level of video editing power of the PC even if you spend twice as much money. So, the main question you need to answer yourself is which one is the more practical option for your daily workflow.Undoubtedly, either system will serve you well, but the most important thing is what would be the benefits from your personal perspective.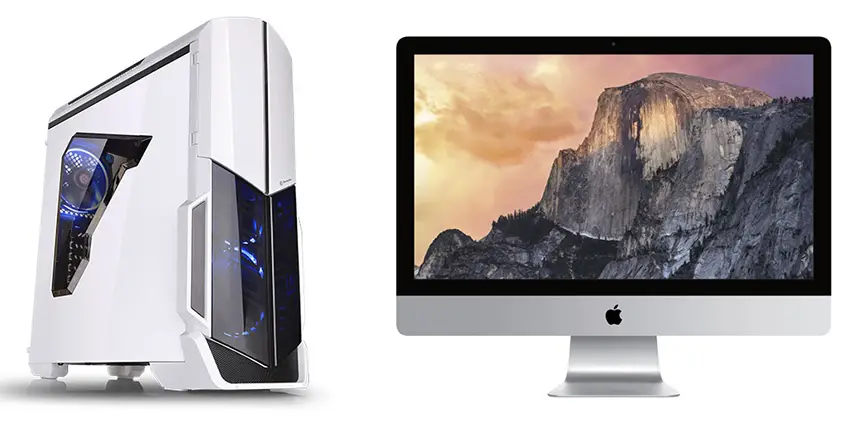 Meanwhile, if you decide to take the PC route, here are all the components you will need to build this particular PC system.
Display Options (Not Included in Pricing)
Blake concludes that as someone who uses both Mac and PC on a day-to-day basis, he finds that if he wanted to edit 4K video on the go, he would probably choose a Macbook Pro 15″ at this point for that task. But when it comes to picking a workstation for the editing bay, building what he wants to get the job done just makes the most sense.
Which one of the two systems would you pick for yourself, guys? Feel free to share in the comments below.
[source: Roberto Blake]
Claim your copy of DAVINCI RESOLVE 16 - SIMPLIFIED COURSE with 50% off! Get Instant Access!