Offloading and backing up media as quickly and flawlessly as possible is everything one filmmaker might be craving for after a long shooting day. Unfortunately, many times there's a lot of hassle and frustration involved in the process, especially when it comes to dealing with multiple drives and loads of files. Not that long ago, a talented team of Dutch filmmakers decided to deal with this tedious issue once and for all by developing a dedicated app providing seamless and lighting fast offloading process. That's how Hedge for Mac has come to life promising extremely fast workflow with no more corrupt files, incomplete copies or lost footage. In fact, the first beta version of Hedge was created in September 2015, whereas its initial official iteration was publicly released on March 22nd, 2016, just three months ago. Since then, Hedge has received a few major updates as the current version you can download is Hedge for Mac 1.3.
Hedge for Mac Beta Teaser from Hedge for Mac on Vimeo.
The app comes with a quite simple, minimalistic interface where the left panel shows your source media, the middle accommodates the progress bars, while the right holds the target disk and backup volumes. On top, Hedge guarantees errorless transfers and complete backups through a checksum verification of all the copied and transferred files.
There's also a real-time log panel showing the progress of the current tasks. Once you access the preferences of the app, you'll be able to set variables based disk names with customizable incremental numbering. Hedge is capable of importing files while verifying others, fully utilizing the bandwidth and system resources of your computer. The app functionality can also be extended through AppleScript in case you need to sort, transcode or rename your content.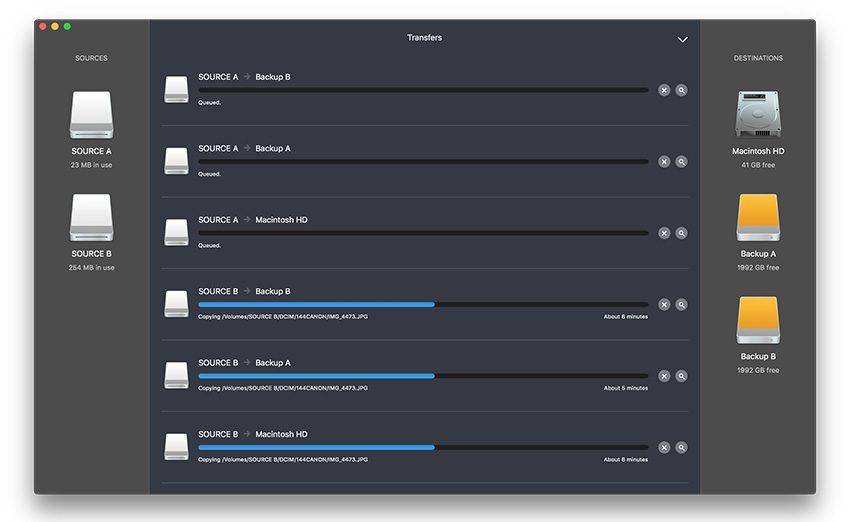 Furthermore, Hedge has both a free and a premium version. Keep in mind, though, the free version is limited to only two simultaneous transfers. The premium one, on the other hand, will set you back $99, but for the price it comes with the proprietary Fast Lane transfer engine that not only copies files almost as fast as the Finder on your Mac, but it also provides precise "bit-for-bit" verification.
In addition, the premium version of Hedge for Mac offers unlimited concurrent transfers along with NAS, SAN and RAID support. All regular hard drives and recorders are also supported, just like REDMAGs, CFast, XQD, SxS and P2 disks. If you want to test out the free version or purchase the premium one, head over to the Hedge for Mac's official website.
[via: Redshark News, source: Hedge for Mac]
Claim your copy of DAVINCI RESOLVE 16 - SIMPLIFIED COURSE with 50% off! Get Instant Access!