Atomos just released firmware update 7.1 for their latest Flame Series HDR Monitors/Recorders – the Atomos Shogun Flame and the HDMI-based Atomos Ninja Flame. The latest firmware update adds HDR support for JVC Log, so good news for all you JVC LS300 shooters, and all current RED Digital Cinema cameras including DSMC2 cameras – the Red Raven and Red Scarlet-W. In addition to adding support for the aforementioned cameras, Atomos have implemented a new mathematical algorithm for better tonal mapping when shooting in LOG with supported cameras. Shooting in LOG and monitoring in HDR can be a bit tricky at first, so Atomos have also implemented a new simplified HDR waveform yellow line in AtomOS 7.1 to help you gauge the correct slider position for the dynamic range of the scene. Waveform Auto – is another super neat new feature that maps the actual max dynamic range of your scene, which looks super helpful.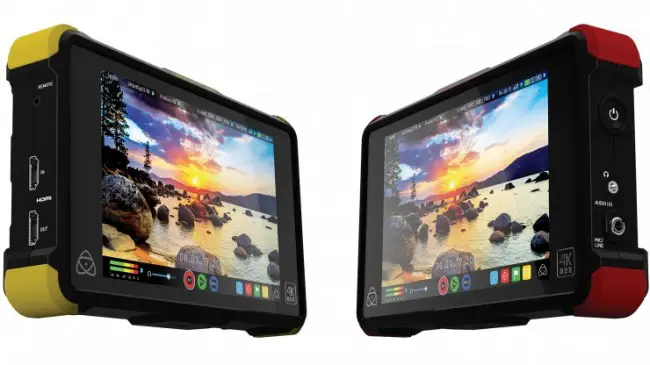 AtomOS 7.1 Firmware Update
Added HDR support for LOG video from JVC and Red cameras
Improved accuracy for the colour gamut
PQ input can now be selected for AtomHDR monitoring and grading from NLE's with ST2084 output
PQ output has been added for play-out to HDR monitors and televisions
Improvements to accuracy and resolution in blacks when using AtomHDR mode
A visual improvement has been made to the AtomHDR slider for easier access
While in AtomHDR mode, a simplified HDR waveform line has been added to easily set the correct slider position for the dynamic range of the scene
New options for AtomHDR include WFM Auto which automatically setting the HDR level for the current scene's max brightness and WFM HDR which scales the WFM to view the HDR range to the full height of the WFM
The waveform monitor will now display a percentage scale based on the input log mode
Slow motion is now available in playback mode. Pausing video playback will automatically display the slider above playback controls and give you access to forward and reverse speed adjustments
From the Battery page, there is now the option to manually override battery selection. This is designed to be used for the Atomos Power Station or other external power solutions
Bug Fixes in this release include:
Fixed an issue where some files exported from NLE's did not play audio
Fixed an issue where waveform monitor graticules were not visible with some menus on the screen
You can download AtomOS 7.1 directly from Atomos here and update your Flame monitor. Use the links below to get your Atomos Shogun or Ninja Flame.
Order links:
Amazon Links:
Claim your copy of DAVINCI RESOLVE - SIMPLIFIED COURSE with 50% off! Get Instant Access!