As we get closer and closer to the two major upcoming trade shows for the broadcast industry (IBC 2016) and photography (Photokina 2016), the rumor mill is cranking out some sensational rumors/leaks (if they truly are such remains to be seen as we wont know until the product is actually announced). Now that the Canon 5D Mark IV announcement is out of the way, all sights are on the imminent GH4 successor announcement (which some say will happen on September 19th) as earlier today there was a great disturbance in the force! According to 43rumors the upcoming Panasonic GH5 will be a 10bit 4:2:2 camera (internal!), shoot 4K/60p and also have the following specs:
20mp,
4k 4:2:2 10bit…
Dual SD slots…
no crop 4k….
4k photo stills 60fps,
6k photo mode at 30fps (what the heck that means is unclear to me)
ISO 1 stop better…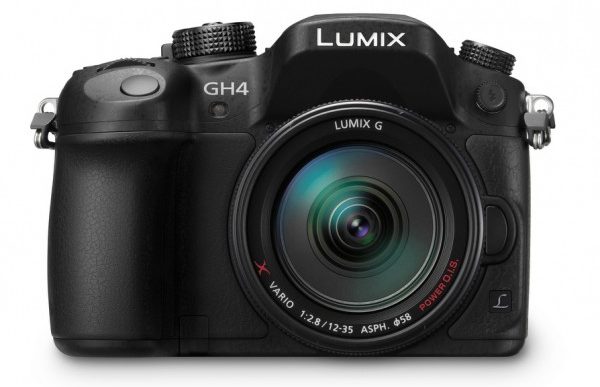 The current Panasonic GH4 is a beloved camera by many despite its shortcomings (it's not that great in low-light, its colour science trails behind Sony and Canon, and a lot of people are not fans of the 2x crop compared to full-frame), has been a very successful release for Panasonic. Interest in the camera peaked around the time it received (finally) the V-Log paid upgrade, which allowed for extra room in post for more aggressive and accurate grading.
I don't know if the above "leak" is real or not, we'll have to wait and see, but getting 4K/60p out of a 20MP sensor doesn't seem that far fetched. The 6K part seems a bit unreal to me, it definitely won't be video, more like some form of a stills capture. The 10bit 422 internal (H.265 maybe?) codec is an interesting choice, the old GH4 has the ability to output either 8bit 422 or 10bit 422 but only to compatible external recorders like the Video Devices PIX-E5 for example or Atomos Ninja Flame.
However, the camera is getting old, it was announced back in March 2014, as good as it is for some, there's plenty of folks out there waiting patiently and expecting big features from the next GH5 camera. I briefly owned a GH4 and loved the compact size, the swivel touch screen was really nice and the whole package felt well thought out. The colours didn't really work for me (this was pre- V Log, in the Cine-like D "dark ages") and me not being a natural born colourist, I quickly switched over to what I was familiar with – the Canon XC10 and that sweet, sweet Canon colour palette.
And speaking of Canon, apparently they are about to "unleash" an upgraded version of the XC10, simply called the XC15 according to CanonRumors and Digicame-Info. The "5" at the end of Canon camcorder models usually designates SDI/Genlock connectivity so that's interesting and would be quite useful in a more broadcast environment, although that's the least of the Canon XC10's worries. In this case I think that this additional input has to do with Audio (it's clearly visible on the cover on the left side on the top of the body):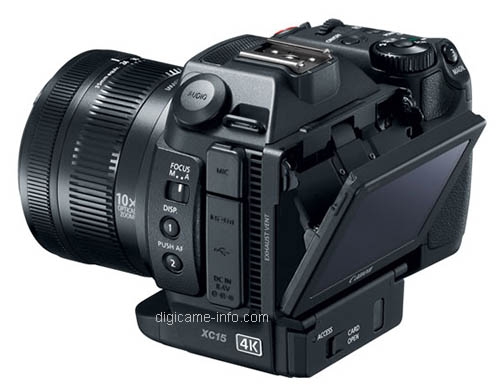 The camera's biggest weakness is the rather average lens – it's slow 2.8 to f/5.6 at the long end; in addition the lack of an XLR audio input makes it a no-go for more serious broadcast work. The codec is super strong though – an 8bit 4:2:2 in UHD at the "fat" 305 Mb/s data rate  that easily satisfies even the most stringent of broadcasters (for Full HD delivery at least).
If the additional audio port is for an XLR add-on similar to the C300/C300 II, this will fix a major issue with the original model and make it more appealing to docu-shooters and event videographers for sure.
Here are some more leaked images of the upcoming Canon XC15: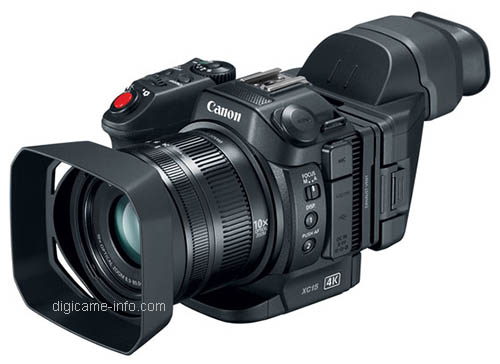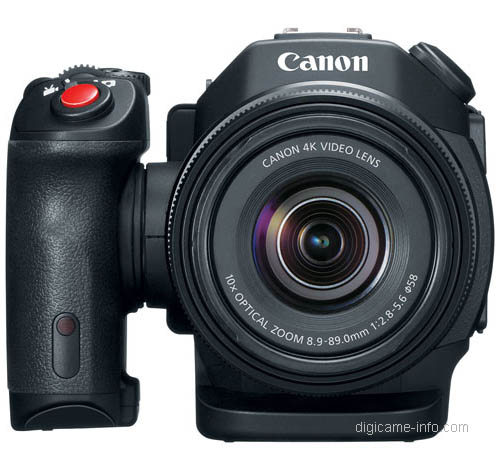 And this just in – apparently Canon may actually announce the XC15 as early as tomorrow *a full week before IBC 2016, which runs 9-13th September in Amsterdam! OMG the Internet is about to explode tomorrow, as Canon may also announced their biggest pro camera TO DATE – the behemoth C700 (it probably won't be called that). The "Big Canon" camera, according to various rumors (including this one) will be a competitor to the ARRI Amira possibly!
Not much is known about it apart from the fact that according to the latest rumor it will cost a few thousand $$$ (something in the vicinity of 30,000 USD – just don't tell your wife that).
Tomorrow is going to be a big day for the industry. We'll post the official info as soon as it's released.
Claim your copy of DAVINCI RESOLVE 16 - SIMPLIFIED COURSE with 50% off! Get Instant Access!