Announced nearly a year and a half ago before NAB 2015, ARRI are finally done fiddling with the Alexa SXT and have completed development. Now, the only sensible thing to do is for the Germans to unleash their "Super eXtended Technology" onto the world… For the "uninitiated", the ALEXA SXT represents the next evolutionary step into the ALEXA lineup (well, this was before the Alexa MINI) and will do 4K DCI/True 4K/Cine at 4096 x 2637 – more than 2160 because of the square-ish sensor size to be exact and in-camera UHD in ProRes among many other complex things. ARRI-like things such as Open Gate and 4:3 for anamorphic shooting. 16:9 are still an option of course. ARRIRAW and ProRes available as recording options on all models in the range.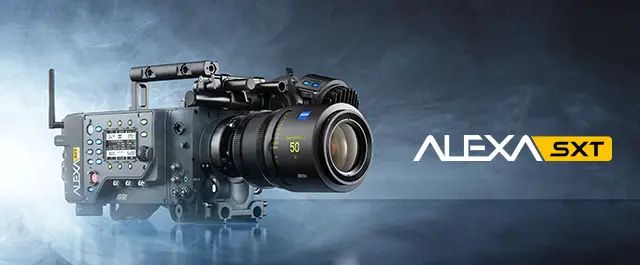 The SXT range will replace the ALEXA XT cameras (except the Alexa XT M, the Alexa Classic remains).
ALEXA SXT range includes 3 versions:
ALEXA SXT EV
ALEXA SXT Plus
ALEXA SXT Studio
ALEXA SXT features include:
Optional in-camera noise reduction & ALEXA 65 electronics.
New media – SXR Drives by Codex with SxS / CFast 2.0 adapters available – up to 2TB sizes at launch
3 x Independent HD-SDI's can carry Log-C / Rec.709 with overlays / Clean Rec.709 / 3D LUTs
Advanced Colour Management Engine from AMIRA
3D LUT's can be backed-in / ASC CDL / Rec.2020 Colour Space
Those of you attending IBC 2016 in Amsterdam can also attend the ARRI Big Screen event on Saturday, 10th from 14:00pm in the IBC Auditorium.
This from ARRI:
Whether you are a DP, director, producer, gaffer or rental house professional, there is something of interest for everybody at ARRI's IBC Big Screen presentation. ARRI product managers will introduce the company's latest products, while stunning new showreels and clips from top movies and TV series will demonstrate the exceptional images they can produce.
See why ARRI cameras offer the best overall image quality and production value for future-proof deliverables up to and including UHD and HDR. Learn how ARRI lighting fixtures such as the SkyPanel are setting new benchmarks for LED illumination.
Speakers and topics at the ARRI Big Screen will include…
Florian Ballhaus ASC – The highly regarded cinematographer shares his experiences of using ALEXA XT, ALEXA M, ALEXA 65, Master Anamorphics and the AUWZ on THE DIVERGENT SERIES.
Amazon Studio's THE GRAND TOUR – Production team members behind this hotly anticipated motoring show talk about why they chose AMIRA for UHD/HDR deliverables.
ALEXA Mini for aerial drone shots – Brad Meier of Aerial Edge and Julian Glöckner of Skynamic discuss flying the ALEXA Mini for commercials, sports shows and TV drama series such as BERLIN STATION.
AMIRA Multicam – Producer Ms. Du Yan on live broadcasting the Chinese TV talent show I AM A SINGER with 23 AMIRA cameras using the Multicam mode
Plus special guests discuss working with ARRI SkyPanel and M-Series lights
As well as coming along to the ARRI Big Screen, be sure to visit the ARRI booth at IBC to see the latest technologies, chat with the ARRI team and experience the ARRI HDR tunnel.
ARRI booth
Hall 12, booth F21
RAI Amsterdam
9 – 13 September 2016
FREE ENTRY PASS
The link and code below will get you a free entry pass even after early bird registration has closed. You will also receive a travel pass, which you can pick up from information points at the show.
PRESS RELEASE
ARRI will now make good on its promise to provide upgrades to all ALEXA XT EV, ALEXA XT Plus and ALEXA XT M cameras shipped in 2015 and 2016. In addition to the originally promised upgrade program of a free-of-charge upgrade to SXT in Munich, ARRI has equipped its service stations in London, Los Angeles, New York, Beijing, Hong Kong and Mumbai to perform the upgrade. For those who received their XT camera before 2015, a paid-for upgrade option to a full SXT is also available.
While keeping the sensor and user interface of the original ALEXA design, the capabilities of ALEXA SXT cameras (ALEXA SXT EV, ALEXA SXT Plus and ALEXA SXT Studio) have been greatly extended. Equipped with the powerful electronics and sophisticated image processing of the ALEXA 65, SXT cameras can manage more recording formats and handle more processor-intensive tasks such as calculating looks with 3D LUTs or color space conversions to Rec 2020, all in real time.
The new ARRI look management offers a wide range of unique looks while making it easy to maintain and share the cinematographer's intended look on set, in dailies and in editing. An optional mild noise reduction helps when shooting in low light.
ALEXA SXT has the most powerful and flexible monitoring features for perfect quality control on set. While all images recorded with ALEXA have been High Dynamic Range since the camera's introduction in 2010, it is now possible to also monitor in HDR. Four independent monitoring outputs (viewfinder and 3x MON OUTs) provide the right image for each crew member, and each of the MON OUTs can output to either a Rec 709 or Rec 2020 monitor.
The new media bay can accept a wide range of media, including SxS PRO cards, SxS PRO+ cards, CFast 2.0 cards, XR Capture Drives and the new, high-performance SXR Capture Drives. All that horsepower allows frame rate increases for various recording formats, and ProRes will be recorded super-safely via a RAID function.
[via ARRI]
Claim your copy of DAVINCI RESOLVE - SIMPLIFIED COURSE with 50% off! Get Instant Access!