In a pre-Photokina 2016 announcement, Zeiss just added a 4th Loxia lens – the telephoto Zeiss Loxia 85mm f2.4 joins the 21mm, 35mm f2.0 and 50mm f2.0 Loxia lenses and (almost) completes the compact prime lens set for Sony a7 cameras (and all other E-mount cameras of course like the FS700, FS5/FS7 etc.) that will surely put a smile on a lot of Sony A7sII and FS5/FS7 shooters. Just like the other Loxia lenses offers full-frame coverage, comes in the Sony E-mount, has a manual focus and aperture ring, which can be de-clicked with the help of a little tool that Zeiss are nice enough to include in order to make it easier for us video guys to adjust exposure in video mode without getting those abrupt "aperture clicks". The new 85mm Loxia features an optical design specially developed for high-resolution, full-frame sensors of the mirrorless Sony A7s II, the 42 Megapixel monster Sony A7R II, making it a very desirable lens for portrait photographers and also those who want stellar image quality at this sweet-spot of a focal length for any situation where you want to isolate a subject with a very nice bokeh around in the background.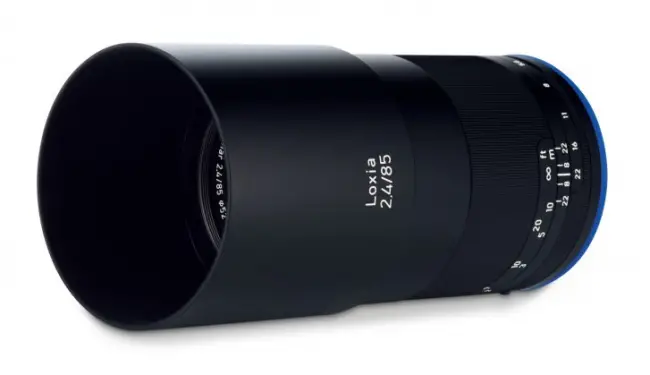 ZEISS Loxia 85mm f2.4 E-mount Lens
Sony E-Mount Lens
Covers Full-Frame 35mm (36 x 24mm sensors) and also S35/APS-C by default
Max. Aperture of f/2.4 makes it great for portraits and video interviews
Sonnar Optical Design
3 Anomalous Partial Dispersion Elements
Zeiss T* Anti-Reflective Coating
220 Degrees, Long Focus Throw – ideal for video
Close focus distance – 2.6 feet / 0.80 meters
Manual Focus and Manual Aperture, which can be De-Clicked (with a small tool that's included)
All-Metal Barrel, Engraved Scales
Weather-Resistant Rear Lens Mount Gasket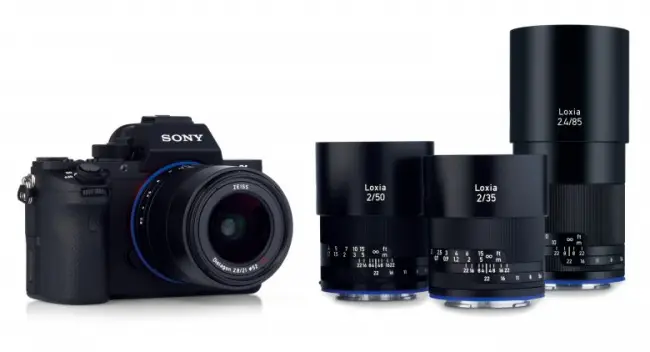 "In terms of its technology and the feel of its surface, the Loxia 2.4/85 fits perfectly with the existing focal lengths, and is particularly well suited for portrait photography," says Christophe Casenave, product manager with ZEISS Camera Lenses.
The new Zeiss Loxia 85mm's optical design features 7 optical elements in 7 groups and has been designed for digital sensors while based on an optimized ZEISS Sonnar design. The lens has a minimum focus distance of 2.6 feet or 0.80 meters and a very generous 220 degrees focus throw on the focus ring making it very useful for video applications where a longer focus throw is desirable for more precise focus.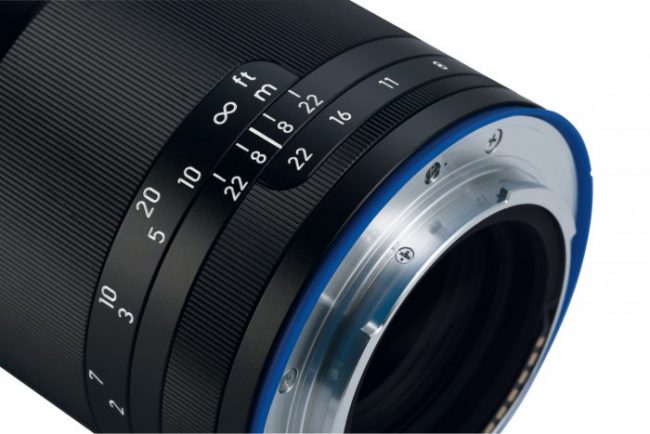 The lens features (as expected) a robust metal construction and a weather-sealed rubber ring around the lens mount protecting against dust and splash water getting in. The 85mm takes 52mm filters and is also compatible with the new ZEISS Lens Gears enabling the use of professional follow focus systems. The Lens Gear Rings in the sizes mini (62 – 69mm, 60 – 67mm with GumGum) fit the Loxia lenses.
Here's a pre-85mm announcement video that neatly explains the benefits of the Loxia's.
I really dig these compact Zeiss lenses as they help with keeping those A7sII/A7rII rigs small enough for run n' gun work and especially the 21mm Loxia makes for a great gimbal lens. Those of you who are also thinking of using this lens for photography need to bear in mind that this is an all around manual lens without AF support of any kind, so for some of you this may be a deal breaker – but for others especially filmmakers, the Loxia lenses come in quite handy.
The new Zeiss Loxia 85mm f2.4 is estimated to start shipping of December 2016 at a price of $1,399 USD. You can pre-order from B&H and Adorama here.
Claim your copy of DAVINCI RESOLVE - SIMPLIFIED COURSE with 50% off! Get Instant Access!