Ricoh announced their newest addition to the Theta 360-degree camera lineup – the RICOH Theta SC. The latest Theta SC is a more affordable options for consumers and enthusiasts who want to make the jump into the world of 360-degree video without breaking the bank. Billed as the "360-degree camera for everyone", the new Theta SC is the standard model to the Theta S, which bears quite the resemblance to the S model released back in 2015. The new RICOH Theta SC is priced at the $300 mark in the US, this time you have a choice of colours including – Beige, White, Blue, or Pink. Much like the Theta S ($347 at B&H), the new SC model still lives in Full HD 1080p land, but at least the price is not anything to bulk at. It would be nice to have a 4K/UHD recording option, but with the nature of sphere-shaped 360 degree video, I really don't know if there'd be much benefit to image quality. I do have a hunch however, that Ricoh will bring out a UHD model at some point.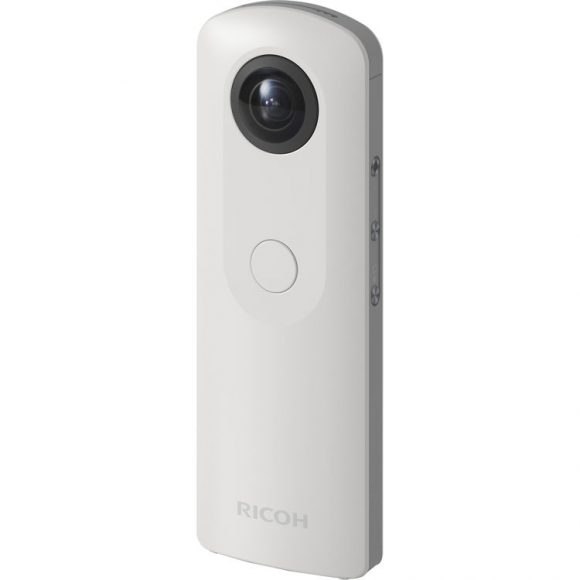 Ricoh Theta SC Features
Record 360° Spherical Photos/Videos
2 x 12MP 1/2.3″ Sensors, 14.4MP Output
Twin Lens System
F/2.0 Maximum Aperture
Full HD Video at 1080p at 30 fps
Auto, Shutter Speed & ISO Priority Modes
ISO 100-1600 & Manual Exposure up to 1 Min.
Interval Shooting and Self-Timer Setting
HDR Composite and DR Compensation
Built-In Wi-Fi for Live View and Control
8GB Internal Memory
Price: $297 US at B&H
Here is an example of a timelapse with the other Theta model – the Theta S, which by looking at the specs has the same cameras as the new SC model.
Of course, being cheaper, the new and more affordable Ricoh Theta SC does have some limitations compared to the more high-end Theta S and those are the Theta SC is limited to 5 minute takes in video and it cannot stream live. However, you can still upload your photo "spheres" to Google Maps and upload your 360 degree videos to Facebook, Twitter, Instagram, Youtube etc.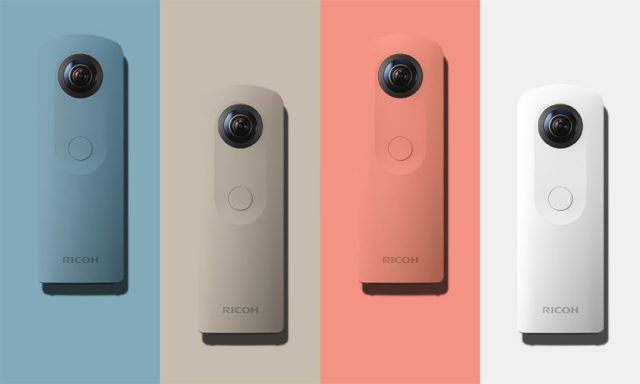 The Ricoh Theta SC as well as the other S model, still seem to be aimed at the mass consumer, to whom the 360 degree experience is much more of a "wow" factor compared to the average video quality coming off these cameras. You probably won't see them used in a professional video environment (yet), but nonetheless for $300 you could you ask for more? Plus the Theta SC can be a quirky gift choice for the adventure seekers in your family this Christmas.
Personally, I am yet to wrap my head around the whole VR and 360 degree experience. Whether they have the potential to stay long-term or quickly fade away faster than consumer 3D did,  as more and more affordable 360 enabled products make their way chances are you'll see more of these videos pop-up online.
RICOH Theta SC Tech Specs
Object distance – Approx. 10cm – ∞ (from front of lens)
Shooting mode

Still image: Auto, Shutter Priority, ISO Priority, Manual
Video: Auto

Exposure control mode – Program AE, Shutter speed priority AE, ISO sensitivity AE, Manual exposure
Exposure compensation – Still image: Manual compensation (-2.0 – +2.0EV, 1/3EV step)
ISO sensitivity (standard output sensitivity)

Still image: ISO 100 to 1600,
Video: ISO 100 to 1600

White balance mode

Still image: Auto, Outdoor, Shade, Cloudy, Incandescent light 1, Incandescent light 2, Daylight color fluorescent light, Natural white fluorescent light, White fluorescent light, Light bulb color fluorescent light
Video: Auto

Shutter speed

Still image: (Excluding Manual Mode) 1/8000 seconds to 1/8 seconds, (Manual Mode) 1/8000 seconds to 60 seconds
Video: (L) 1/8000 seconds to 1/30 seconds, (M) 1/8000 seconds to 1/15 seconds

Recording medium – Internal, approximately 8GB

Number of photos that can be recorded, time

Still image: (L) Approx. 1600 images, (M) 9000 images
Video (timer per recording): Max. 5 minutes
Video (total recording time): (L) Approx. 63minutes, (M) Approx. 171 minutes

Power source – Lithium ion battery (built in)
Battery life – Approx. 260 photos
Image file format

Still image: JPEG (Exif Ver. 2.3), DCF2.0 compliant,
Video: MP4 (Video: MPEG-4 AVC/H.264, Audio: AAC)

External interface – Micro USB terminal: USB 2.0
Remote release – CA-3-compatible
Exterior/external dimensions

45.2 mm (W) x 130.6 mm (H) x 22.9 mm (17.9 mm *4) (D)

Weight – Approx. 102g
Lens configuration – 7 elements in 6 groups
Lens Maximum Aperture F value – F2.0
Image sensor_size – 1/2.3 CMOS (x2)
Effective pixels – Approx. 12 megapixels (x2)
Output pixels – Equivalent to approx. 14 megapixels (x2)
Still image resolution – L: 5376 x 2688, M: 2048 x 1024
Video resolution/frame rate/bit rate

L: 1920 x 1080/30 fps/16 Mbps
M: 1280 x 720/15 fps/6 Mbps

Wi-Fi Communications Protocol – HTTP (Open Spherical Camera API compatible)
Operating temperature range – 0℃ – 40℃
Storage temperature range: -20℃ – 60℃
Bundled items – Soft case and USB cable
You can pre-order the RICOH Theta SC from the links below. The camera is expected to start shipping on October 28th.
Claim your copy of DAVINCI RESOLVE - SIMPLIFIED COURSE with 50% off! Get Instant Access!