Utilizing multiple cameras on a shoot could be an extremely efficient way to capture loads of footage and get decent coverage at any event. A common problem you may stumble upon later in post, though, is the inability to match those files, especially if you haven't synced up all cameras perfectly in advance. As a rule, using audio to complete the task can do the trick on most occasions, but if you throw timecode support into the mix, you should achieve frame by frame accuracy with ease. In the next video, Emm of Cheesycam showcases a simple trick that will help you to sync up multiple GH4 cameras by using the built-in timecode functionality they provide.
First and foremost, you'll need the Panasonic Image Аpp installed on your smartphone. Once you load the app, enable the WiFi connectivity on the GH4. Then in the app, click on the Geo Tagging and utilize the Time Sync function to synchronize both devices.
Make sure you also have turned the Timecode display on all GH4 cameras, set the Count Up option to Free Run, and the Timecode Value to Current Time. It's paramount to have the same settings across all devices, and always double-check your framerates. If you have done everything right and followed the whole procedure, you should get a perfect sync as a result.
It's recommended to do the synchronization regularly, but if you want to avoid any timecode inconsistencies among your cameras, probably it's best to sync up all devices on the day before the actual shoot. The best part is that even if any of your cameras runs out of power or you accidently pull a battery out, the timecode synchronization will stay intact.
Bare in mind, though, this workflow might not always be frame accurate, so if you need perfect results in post, you should utilize both audio and timecode options to sync up the captured footage. Alternatively, you can opt for a dedicated timecode generator that should provide even more precise results.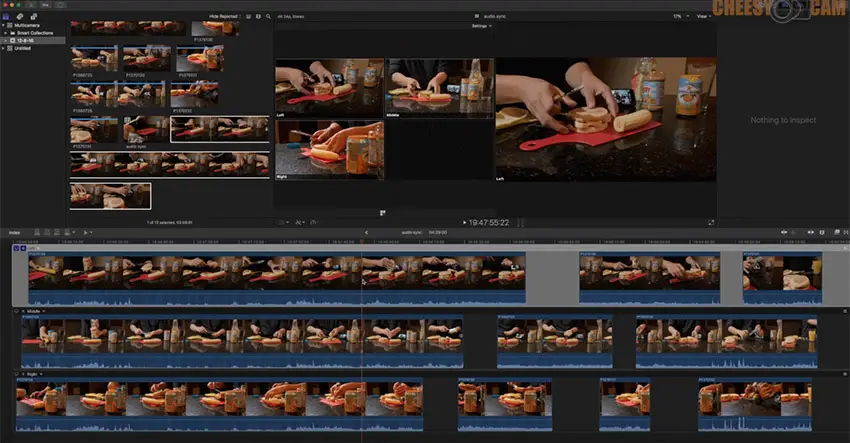 At the end of the video, Emm showcases how to sync up all those files perfectly once you throw them into a Multicam Edit in Final Cut Pro X and how to edit them in real time. Just don't forget to rename all the clips from each camera accordingly so that they match the different camera angles before you create a new Multicam clip. Remember that Final Cut Pro X allows you to sync up clips while using both timecode and audio for synchronization, so use that option whenever you want to get frame by frame accuracy right off the bat.
[source: MrCheesyCam]
Claim your copy of DAVINCI RESOLVE - SIMPLIFIED COURSE with 50% off! Get Instant Access!