There are a few weather-resistant action cameras on the market for quite some time now, but what about a splash-proof gimbal you may ask? It turns out that the Feiyu G5 is the world's first weatherproof gimbal that can handle multiple action cameras, including the latest GoPro HERO5 Black, HERO4 Black and Silver along with other counterparts of similar sizes. According to the manufacturer, the G5's internal design is completely overhauled in comparison to its predecessors. Yet, the gimbal provides the same controls as the G4, but now boasts slicker and foldable design as well as a brand new unibody motor arm. It also features a handgrip that doubles as a battery holder and has integrated gimbal and camera controls. The removable battery of the unit along with the power efficiency-optimized algorithms ensure that it can flawlessly run up to 8 hours.
Furthermore, you can attach and secure your camera utilizing a long screw fixture that allows you to install the device quickly and effortlessly. The system also comes equipped with new counterweights that ensure perfect balancing for different cameras and weights. On the handgrip, you can still find the well-known from previous iterations 4-way joystick that controls the gimbal movement along with a versatile function button to toggle different gimbal modes. In addition, there is also a dedicated self-timer button that makes shooting selfies a breeze.
You can charge the G5 with a power bank via its USB port as you don't even need backup batteries whatsoever. For further flexibility, the gimbal provides two 1/4 screw ports on the bottom to expand your reach by using multiple accessories such as tripods, selfie poles, suction mounts, and other standard camera support equipment for even more versatile angles while shooting. There is also a reverse mode available that enhances low-level filming. The unit easily fits in your backpack secured by its dedicated padded case.
Feiyu G5 Highlights
Splash-Proof Design
4-Way Joystick for Gimbal Control
Handgrip with Integrated Controls
Function and Self-Timer Buttons
Unibody Motor Arm
Brushless Motors
Removable Battery Lasts up to 8 Hours
1/4″-20 Threaded Tripod Socket
Fits GoPro HERO4 / HERO5 Black
Fits Other Similar-Sized Action Cameras
Price: $279.00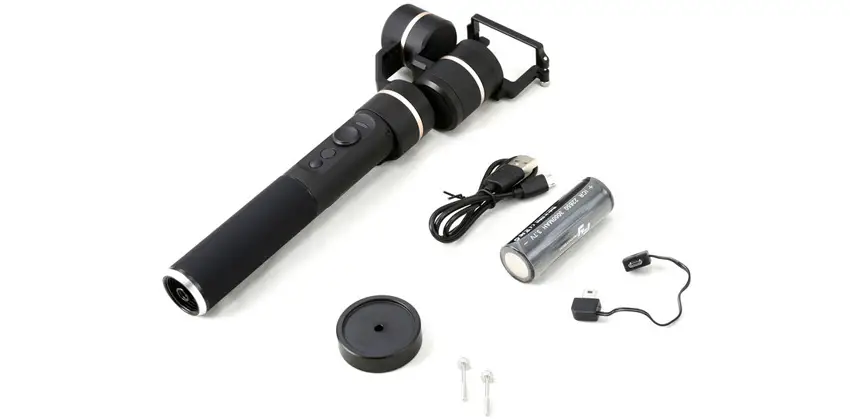 Once connected to your G5, the FY Settings App enables some extra features such as remote control, auto-calibration, gimbal configuration, firmware update and more. Currently, you can get the Feiyu G5 for $279.00 at B&H backed by limited 1-year warranty. If you want to learn more about the gimbal, head over to the official FeiyuTech website here. 
[source: FeiyuTech]
B&H Order Links:
Feiyu G5 Handheld Gimbal for GoPro HERO5 / HERO4
Feiyu G5 Gimbal for HERO5 Black / HERO4 & Extension Bar Kit
GoPro HERO5 Black & Feiyu G5 3-Axis Gimbal Kit
Claim your copy of DAVINCI RESOLVE 16 - SIMPLIFIED COURSE with 50% off! Get Instant Access!