Filmpower had a really popular single-hand pistol-grip style gimbal stabilisers for DSLR-like cameras a couple of years ago called the Nebula 4000. The model was later superseded by the more advanced 3-axis stabilized Nebula 4100, and eventually the company released a 5-axis stabilizer version called the Nebula 4200 back in September 2015. You can read our original post here in case you missed it, but in short, the original version of the Nebula 4200 features 32-bit controllers, 5-axis stabilisation, two hand operation and supports cameras up to 1.6 kgs. The price is currently $999 on B&H and as of the time/date of the writing of this article it is showing in stock in case you are eager go grab one.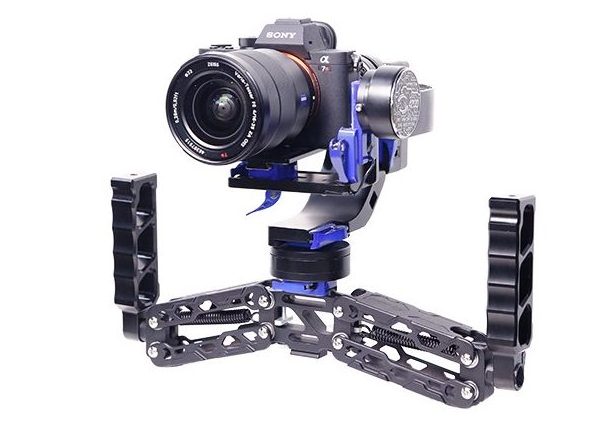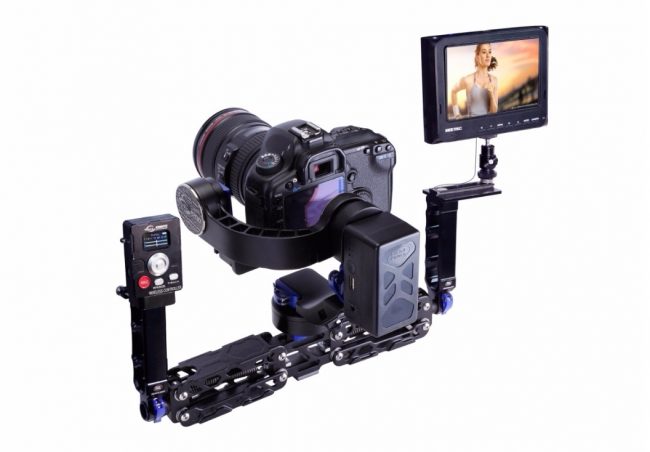 However, Filmpower have recently decided to introduce an updated version to the original Nebula 4200 – the new version of the Nebula 4200 with all metal tactical handles, as opposed to the plastic/rubbery handles on the original Nebula 4200.
The new tactical handle is CNC machined for improved rigidity and constructed from high quality aluminium alloy; there is also a single 1/4 screw hole for mounting accessories such as monitors on top of the tactical (metal) handle. The tactical handle is designed with special attention to ergonomics, making the grip easier and comfortable. It is hollowed out to help keep the stabiliser frame light and easy to carry around.
The all-metal version Nebula 4200 is rated at 5.5 lbs so a loaded Sony A7sII with a zoom shouldn't be an issue, or the upcoming Panasonic GH5 with the new 12-60mm Leica zoom; The gimbal includes the tactical spring handle and a single metal handle as well.
Single tactical handle is also available as an upgrade for Nebula 4200 Lite users at a price of $40 if you already own a Nebula 4200 Lite, or for $839 you can buy the Nebula 4200 Lite with the Single Tactical Handle.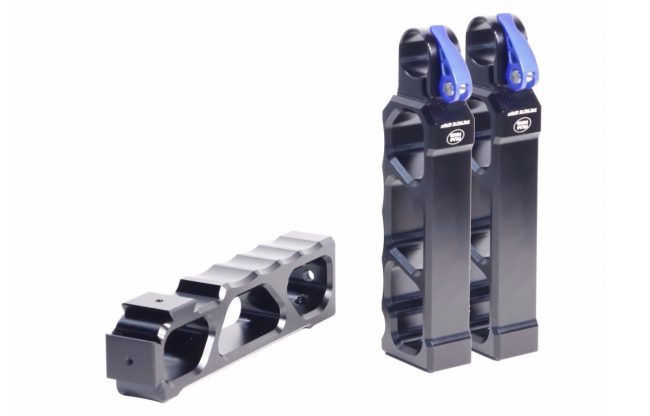 If you want to go for 2 hand operation with the spring assisted stabilization, you can get the Nebula 4200 with tactical handles for $1099. A set of 2 x side handles and 1 x top handle runs for $120 from Filmpower's website.
Nebula 4200 5-axis Tactical Grip Update Version Gyroscope Stabilizer
Stabilizer weight – 4.4lbs,
Maximum payload – 5.5lbs
32bit double sensor controller
The tactical grip can support a variety of accessories
Bluetooth tuning and parameter setting
The next generation single/double exchange operation
Supports a wide range of Mirrorless and DSLR cameras
3 minutes quick start all the tool-free adjustment
Powerful motor and silent mode
Gimbal smart battery lasts 2 hours and can be replaced
WHAT YOU GET IN THE BOX
Double handle 5-axis stabilizer
Nebula 4200 5-axis tactical grip x 2
Nebula 4200 Lite tactical grip x 1
Smart Battery
Battery charger
2 camera mounting plates
Hardcase
Here is some footage grabbed with the help of the Nebula 4200:
The new Nebula 4200 with tactical handles is available currently from Filmpower's official site.
Claim your copy of DAVINCI RESOLVE - SIMPLIFIED COURSE with 50% off! Get Instant Access!