Currently, Thunderbolt 3 is the fastest and most versatile connection in the consumer electronics world providing transfer speeds of up to 40GB/s and apparently it's the only available interface you can find on the latest 2016 MacBook Pros. But, what happens if you want to use any of your older peripheral devices that utilize some of the superseded legacy ports? Genuine dongles should be the obvious choice according to Apple, however, the creators of HyperDrive are firm believers that they have come up with a better and more practical solution. Let's find out more about their innovative product in the 9to5Mac quick overview below.
In essence, the HyperDrive is a compact USB-C hub that connects to two of your 2016 MacBook Pro's USB-C ports simultaneously while providing in return two USB-A 3.0 ports, a USB-C (gen 1) port, a Thunderbolt 3 port, HDMI output along with an SD Card and microSD card reader. Moreover, this Thunderbolt 3 hub is capable of maintaining full USB 3.0 throughput up to 5GB/sec even while sending a 4K/60Hz video signal to an external monitor at the same time.
On top of that, the Thunderbolt 3 port on HyperDrive supports up to 100W power delivery. In other words, you can charge your MacBook Pro at full speed through HyperDrive while using it, delivering the maximum 61W power to the 13″ MacBook Pro and 87W to the 15″ MacBook Pro. You can also flip HyperDrive around and use on the right or either side of the MacBook Pro.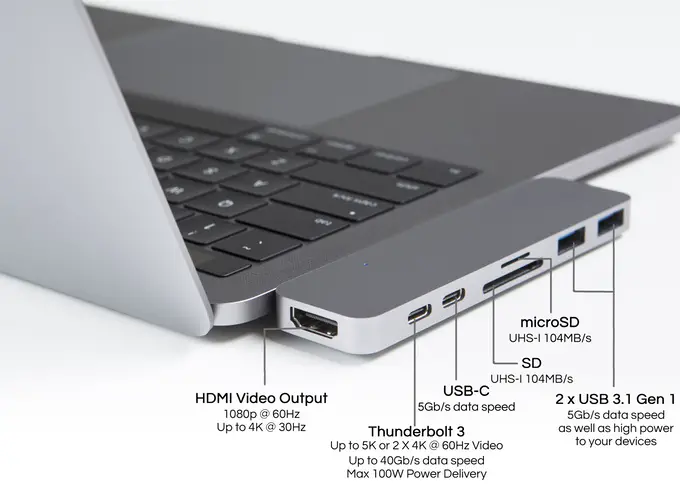 The small and compact form factor of the slick aluminum enclosure that's available in space gray and silver makes the accessory even more appealing option. When you add the high 50Gb/s speed and bandwidth required to run all 7 ports at the same time without any limitations whatsoever, you see why the HyperDrive could be an obvious choice for many current 2016 MacBook Pro owners.
Ultimately, there are many people who already own the latest MacBook Pro and don't consider the genuine Apple dongles and adapters as a viable option. The obvious practical issues that may occur while using two or three of those accessories at the same time seem to be a real deal breaker for most users whereas the HyperDrive offers a simple solution while solving all those issues right off the bat. So, if you want to support the project, you still have a chance to do so. The Hyperdrive's Kickstarter campaign has raised more than $1,550,000 with 17,000+ backers thus far which is another credible testimonial of the usefulness and potential ubiquity the hub provides.
[source: 9to5Mac]
Claim your copy of DAVINCI RESOLVE - SIMPLIFIED COURSE with 50% off! Get Instant Access!