Yeap, you read that right! And, what's more, the just announced entry-level 7-inch compact monitor by Cinemartin comes in two LT and LT S4K versions both available for the same price of $99. The LT model offers a bit brighter display and a maximum resolution of 1920 x 1080, whereas the LT S4K supports up to 3840 x 2160 at 30fps. Both monitors boast high-quality IPS panels with up to 16.7 million colors, a contrast ratio of 1200:1, and brightness of up to 600 nits. For the price, users will also get a decent amount of neat features such as False Color, Histogram, Peaking, RGB Parade, Waveform, multiple aspect ratios, markers, and more. Unlike the LT sibling, the LT S4K also includes support for anamorphic lenses.
Loyal LT 4KS Monitor Review from Richard Stine on Vimeo.
The slim and lightweight design of the two models makes them the perfect fit for a wide variety of shooting situations both in the studio and out in the field. There is also a convenient menu wheel alongside three custom function buttons located on the top of the device that allows quick and intuitive access to the main functions and all image settings.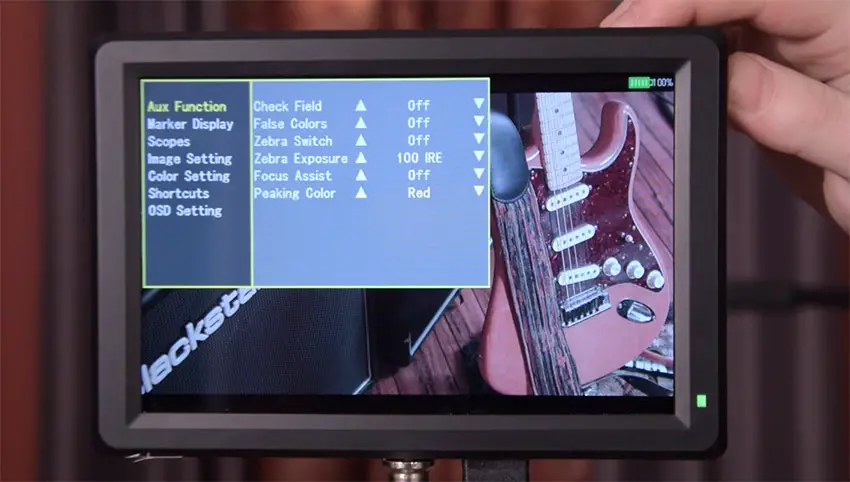 Beyond that, both models come equipped with two built-in HDMI ports offering cross-conversion along with a headphone mini-jack in combination with real-time VU meters for more precise control over the recorded audio signal. The Loyal LT and LT S4K 7-inch monitors can be either powered by AC or by using a single Sony NP-F series battery and feature two 1/4 threads (one on the bottom and one on top) for viable mounting.
Cinemartin LT and LT S4K Highlights
7-inch IPS display with up to 16.7 million colors
1920 x 1080 (LT model), 3840 x 2160 (LT S4K model)
1200:1 Contrast Ratio
600 NIT max. (cd/m2) Luminance (LT Version), 550 NIT max. (cd/m2) Luminance (LT S4K Version)
HDMI Input, HDMI Output (cross-conversion support)
Headphone Mini-Jack
1/4 Mounting Threads
Color Selectable Peaking Focus Assist
RGB Parade
False Color
Zebra
Waveform
Aspect Ratio Markers
Anamorphic De-squeeze (LT S4K version only)
12V Power Input/ Sony NP-F series battery
379 Grams (without battery plate)
Price: €99/$99
Considering the amount of professional features packed in these entry-level monitors and their extremely aggressive price tag, we certainly can't expect much more for the price. For those of you looking for a complete package, though, Cinemartin currently offers an additional shooter kit available with a Sony battery plate, mounting arm, sun hood, HDMI cable, and the monitor itself that will set you back $150. For more information regarding the brand new Loyal series monitors, head over to the Cinemartin's website.
[source: Cinemartin]
Claim your copy of DAVINCI RESOLVE - SIMPLIFIED COURSE with 50% off! Get Instant Access!