Ok, my analogy is stupid, get over it. I don't really do any fishing anyway, but to a layman like me, the Charters Pole looks like a fishing rod, or better yet a really long and flexible monopod? At first glance, it kind of looks like one of those DIY contraptions your cousin, who was both your gaffer and key grip on your no budget movie, was able to construct to get you that overhead shot you so badly wanted, but ended up not using in the edit. But the truth is – this device is a bit different.
The Charters Pole is the brain child of someone who actually knows a thing or two about shooting pretty moving images. Designed by a familiar Hollywood DP Rodney Charters, ASC ("24", "Dallas", "Nashville", "Shameless"), the Charters Pole is a lightweight, hand-holdable carbon fibre pole that offers the kind of quality any serious photographer or cinematographer would expect along with maximum versatility of use.
You can attach a GoPro Hero5, a VR 360 camera or even your DJI OSMO+ to the end of the Charters Pole and you instantly get a "bird's eye view" at an indoor event for example, without going in the air.
Ideal for stills, video or even virtual reality, it can carry a small camera, a light or a microphone up to a height of 6 meters. Attach a brushless gimbal camera for cinematic, aerial-like high shots and sweeping crane-like moves – without all the hassle and costs you would normally face.
For longer duration shots or more permanent installs it can be mounted to many professional tripods or clamped to existing bars, railings and scaffolding.
"It opens up a whole new world of seeing," says Rodney, "When you're standing on the ground all kinds of new angles become possible. At that height the world becomes quite different… The cost of that is in the thousands of dollars a day and it needs a team and the thing weighs 700 or 800 lbs. The fact you can do that with a pole that weighs 10 lbs is very attractive," he says.
Rodney says he has also found that it allowed him to get shots he would have struggled to capture otherwise, such as starting from a high angle and dipping down into a group of people very close to the camera.
"The smaller size of camera and the boom action allow you to be inside a character's personal space, physically passing by someone inches from their ears. Generally our camera systems are so large that you couldn't get that physically close to an actor"
According to Rodney, who has an extensive documentary background, the device offers a invaluable way to get outstanding b-roll and establishing shots.
"You usually struggle to get up to a high elevation to find these kind of shots. It's very easy to get your pole extended all the way up and get a series of shots," he adds.
The Charters Pole is designed for good rigidity even when fully extended, as even moderate weights can become very unstable when held at long distances. Some people have tried to jerry-rig boom and painter poles (yep, definitely, did this on my debut feature film) to accomplish these kinds of shots.
Unlike these, the Charters Pole strikes exactly the right balance between portability and rigidity. Lightweight and compact when folded, it is still stable enough to get that once-in-a-lifetime shot.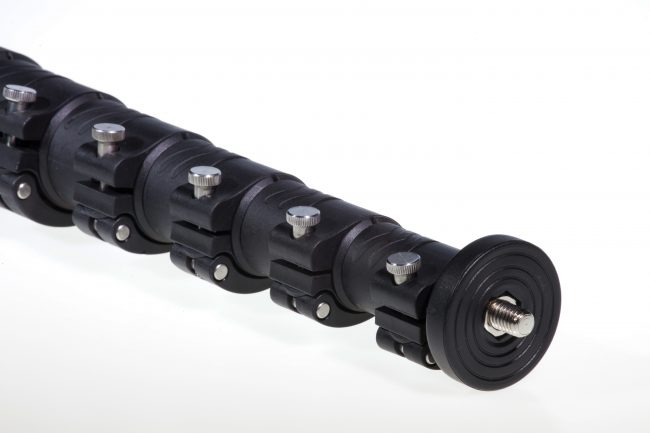 The top of the pole has interchangeable 3/8" and 1/4" 20 threads allowing users to fit a wide range of accessories securely. The pole also comes with quick release locks which can be easily tensioned, allowing faster, easier and safer extension and retraction – with no need for a tool.
There are currently 2 versions available for the Charters Pole – the Production Pole, which is extendable to 6m (1.07m long when collapsed), and the Compact Version, which is extendable to 4.35m and collapses down to just 0.79m.
Both are currently priced at $550.
Charters Pole Specs Table
 

Max Height

Production Pole

6m / 19.6ft

Compact Version

4.35m / 14.2ft

Min Height

1m / 3.3ft
0.8m / 2.6ft
Sections
8
8
Max Diameter
4.6cm / 1.8in
4.6cm / 1.8in
Min Diameter
2.3cm / 0.9in
2.3cm / 0.9in
Rod Material
High Quality Carbon Fibre
High Quality Carbon Fibre
Net Weight
1.77kg / 3.9lb
1.44kg / 3.2lb
Max Load
500g / 1.1lb
500g / 1.1lb
Temperature Range

-20°C to 50°C

-20°C to 50°C
For more info head over to Genustech.
Claim your copy of DAVINCI RESOLVE - SIMPLIFIED COURSE with 50% off! Get Instant Access!