Regardless of how powerful and fast your current video editing PC is, working with CinemaDNG files can still be a tedious and intimidating task. Of course, you can process your CinemaDNG files with applications like Adobe Camera Raw or Lightroom, but the process is relatively slow and cumbersome. Another option is utilizing Premiere Pro CC instead, yet again the de-bayer quality is far from perfect, plus there is no way to denoise those files without transcoding them in the first place. You can do so only by using the paid version of DaVinci Resolve Studio that can perform the task in real-time but only with proxies, whereas the free version doesn't provide any built-in denoisers at all. This is where Fast CinemaDNG Processor comes in.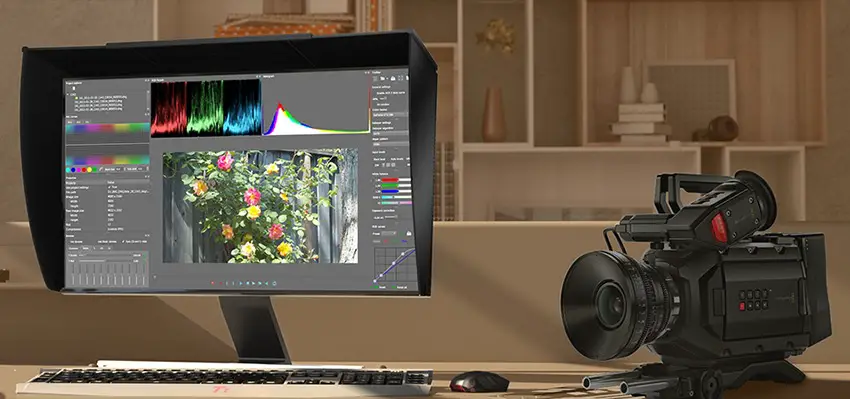 In essence, it's a dedicated high-performance Windows-based software for CinemaDNG processing entirely based on NVIDIA GPU acceleration. The application can perform a variety of CinemaDNG processing tasks such as decoding, denoising, decompressing, editing, and exporting. It can even play back smoothly the uncompressed material at full resolution in real-time with applied 3D LUT on top.
Furthermore, the software supports not only uncompressed and losslessly compressed CinemaDNG files but can also work with proprietary extensions of the CinemaDNG formats like the Blackmagic RAW 3:1 and 4:1 available on the URSA and URSA Mini cameras. The app also applies real-time denoising to the imported footage by default unless you manually disable the feature. By entirely using the provided GPU capacity, you can render 12-bit CinemaDNG footage with 2.5K resolution on NVIDIA GeForce GTX 1080 at whopping 150 fps or 4K material at 60 fps.
What's more, Fast CinemaDNG Processor supports DNG/CinemaDNG files up to 8K resolution, produced either by DNG-enabled digital cameras or by Adobe software such as Adobe DNG Converter or Adobe Lightroom according to DNG 1.4 specification. The platform can also handle 8/10/12/14/16-bit DNG and PGM images with Bayer pattern created by 3rd-party applications, including Blackmagic Design CinemaDNG RAW 3:1 and 4:1 formats.
Fast CinemaDNG Processor Highlights
Input images: 8/10/12/14/16-bit DNG/CinemaDNG
Optional input image format: Blackmagic CinemaDNG RAW 3:1 and 4:1
Highly optimized multi-threaded DNG parsing and decompression on CPU
Input video (Cinema DNG): 1080, 2K, 4K CDNG clips and more, up to 8K
Output formats for image series: JPG (24/36-bit), PPM (24/48-bit), TIFF (24/48-bit)
Output Color Space: sRGB, Rec.709, AdobeRGB, Rec.2020, BMD Film, BMD Film 4K
Colour Temperature and Tint control
Demosaicing algorithms: HQLI, DFPD, MG
RAW denoising (float workflow)
Denoise adaptive algorithm for luma and chroma (float workflow)
RGB and HSV Curves and Levels
RGB Histograms for each frame in real-time
RGB Parade monitor
3D LUTs for RGB and HSV
Resize algorithm: Lanczos (float workflow)
Sharpening with Unsharp Mask algorithm (float workflow)
Realtime smooth playback of CinemaDNG sequences via OpenGL
Just as a quick recall, here are some of the other supported cameras that use CinemaDNG as a proprietary RAW recording format that you can use in conjunction with Fast CinemaDNG Processor:
Blackmagic Design Pocket/Production 4K/Cinema, URSA and URSA Mini cameras with 4.6K resolution
Kinefinity cameras: KINEMINI 4K, KINEMAX 6K, KINERAW-MINI (Full HD),
KINERAW-S35 (Full HD)
AJA CION 4K/UHD and 2K/HD Production Camera
DJI Zenmuse X5R camera for Mavic, Phantom, Inspire, Matrice drones
Digital Bolex D16 and D16M
Atomos Ninja Shogun
Ikonoskop
Currently, you can download the Fast CinemaDNG Processor demo version for free by using the following link. If you want to learn more about the software, head over to Fast CinemaDNG processor official website here.
[source: Fast CinemaDNG]
Claim your copy of DAVINCI RESOLVE - SIMPLIFIED COURSE with 50% off! Get Instant Access!