SLR Magic have been making solid and compact lenses for the Micro 4/3 system for some time, and despite expanding into bigger (but still relatively affordable) anamorphic and Cine style PL primes, have recently announced another MFT lens. The new SLR Magic 8mm f4 ultra-wide angle lens was officially introduced during the BVE 2017 trade show in London, and I got a chance to see the lens first hand.
As a GH4 shooter, and soon-to-be Panasonic GH5 owner, finding an native ultra-wide angle lens can be a real challenge. SLR Magic also have a 10mm T2.1 HyperPrime, which is in MFT mount as well, but at $800 it is quite an investment. One of the major advantages of the Micro 4/3 system is the compact form factor, which enables manufacturers to keep both the cameras and lenses in a very compact form factor.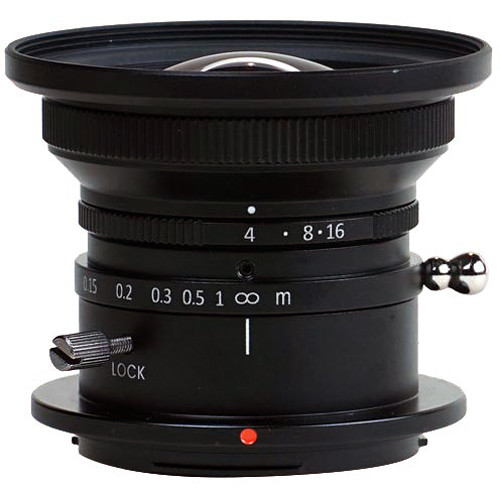 And this is where the uber compact foot print of the new SLR Magic 8mm f4.0 comes in very handy. With a field of view corresponds to a 16mm lens in 35mm format and this fast wide angle of view opens up many new creative composition opportunities, particularly in the fields of interior, architectural and landscape cinematography and photography.
Additionally, light weight and compact size of the SLR Magic 8mm F4 ideal for aerial photography as well as multi-camera setup 360 VR. The lens felt solid, although much smaller than I though initially. It is worth to keep in mind that although you can change the focus via a mechanical ring, this lens has been designed with drone operators in mind, where operators can lock the focus and ensure that it won't drift mid shot.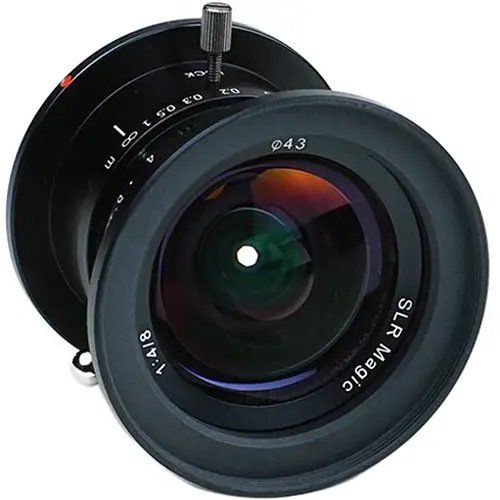 SLR Magic 8mm f/4.0 Specs
Lens Type: Ultra wide-angle lens
Compatible4Cameras:
Optical Design:
Distance Settings:

Distance range: 0.10m to ∞, combined scale meter/feet

Aperture:

Manually controlled diaphragm, 7 aperture blades , Lowest value 16

Angle of view: 140 degrees
Lens mount: Micro 4/3
Filter Mount:

Internal thread for 43mm filters;
Filter mount rotates while focusing.

Filter adapter (included) for 52mm filters
Surface Finish: Black anodised
Length to bayonet mount:

Approx. 41.4mm (approx. 1.63in)

Largest diameter:

Approx. 46.1mm (approx. 1.81in)

Weight:

Approx. 110g (approx. 3.9oz)
The SLR Magic 8mm f/4 is currently available from authorized SLR Magic dealers such as B&H for the very reasonable $299 and is currently showing in stock and shipping.
Of course you can use this lens on any MFT mount camera such as the GH5, GH4, GX85, even the Blackmagic Pocket Cinema camera, just be aware that due to its uber compact form factor and focus design, you may find it a bit difficult to use in a run-n-gun scenario. However, for a locked-off wide angle shot or even vlogging – it could definitely work.
Those of you drone ops out there flying multi copters with the DJI Xenmuse X5S camera for example may want to check out this lens.
Claim your copy of DAVINCI RESOLVE 16 - SIMPLIFIED COURSE with 50% off! Get Instant Access!