If you want to win a Movi Pro gimbal stabilizer or a Blackmagic Design URSA Mini 4.6K camera, you better enter the Rode Microphones' My RODE REEL 2017 short film competition! With a total pool of prizes exceeding the half million dollar mark, the 4th annual Rode Reel competition is set to be the biggest one yet!
The annual short film now has a total pool prize of more than $500,000 and is open for submissions until June 30th. Filmmakers from all over the world have a chance to win equipment and subscriptions from Adobe, Angelbird, Aphex, Atomos, Blackmagic Design, F&V, FilmConvert, FilmSupply, Freefly, Kessler Crane, Teradek, ZEISS, and of course RØDE Microphones.
All you have to do to enter the My RODE Reel 2017 is submit a short film not exceeding 3 minutes in length accompanied by a 3 minute max Behind the Scenes video showing off a Rode product used before the 30th June 2017.
With close to 8,000 video submissions from 89 countries, 'My RØDE Reel' has not only become the world's largest short film competition, but has also established itself as a staple amongst the global filmmaking community.
RØDE Microphones launched 'My RØDE Reel' in 2014 to huge international engagement. The competition returns in 2017 with an increased total prize pool of more than $500,000 and, yes, more awards than ever before.
From amateur to professional – all filmmakers are encouraged to take part and tell their story. To enter 'My RØDE Reel', people are required to create a short film of three minutes or less, as well as a behind-the-scenes reel that features a RØDE product being used during the production of the film.
The entry kit is FREE and available now at www.myrodereel.com.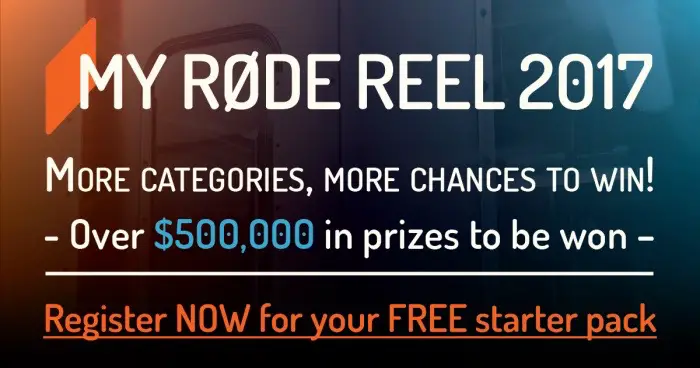 Prize Pool for 2017's competition includes:
Adobe Creative Cloud 1 Year Subscription
Angelbird AVpro CF Match Pack
Atomos Shogun Inferno, Power Station
Blackmagic Design URSA Mini (EF Mount) 4.K, Shoulder Mount Kit, URSA Viewfinder
Blastwave FX Sound Effects Bible, Location Sound Bible
Cam Caddie Scorpion EX Pro Kit, Flashenr Kits (4in, 8in, 12in)
F&V K4000S Plus 2, Softbox, Light Stand, Transport case kit
FilmConvert Bundle – All Plugins Annual Subscription
FilmSupply $500 credit
Freefly Movi Pro Handheld Bundle
JOBY GorillaPod Focus
Kessler Crane Pocket Jib Pro with Swivel Mount
Lowepro Pro Runner BackPack 450 AW II
Michael Wiese Productions Filmmaking Book Pack
Miller DS20 (1514) Solo CF Tripod System
Movcam Single Axis Wireless Follow Focus, 2 x 8″15mm Rod, Cold Shoe Block Adapter
MUSICBED $500 Credit
NiSi 4*5.65 Cinema filter Case, Nano iR ND 0.3, Nano iR ND 0.6, Nano iR ND 0.9 , Nano iR ND 1.2, Nano iR ND 1.5
Paralinx ACE SDI 1:1 Deluxe Package
RedGiant Magic Bullet Suite, Shooter Suite
RØDE Director's Club – 3 Year Subscription*
RØDE NTG3/NTG4+/NT55/Blimp/smartlav+ x 4
RØDE RØDELink Filmmaker Kit x 2
RØDE RØDELink Newsshooter Kit x 2 and a lot more RODE stuff
Shane's Inner Circle 1 Year Subscription
Soundfield ST450 Kit 3
Teradek COLR
ZEISS Milvus 1.4/50 ZE
In 2017, the previous 5 major awards featured in previous years have now become six.
Judges' Film award for the best short film
People's Choice award for the most popular short film
Young Filmmaker award for the best short film by an entrant under the age of 18
Female Filmmaker award. This award, selected by the judging panel, is designed to encourage and celebrate women in the film community.
Each of these prizes is worth over USD $40,000.
The BTS award for the best behind-the-scenes film is for the first time split into two categories:
Educational BTS Award, for the most informative behind-the-scenes, and
Entertaining BTS Award: what it says on the tin – most entertaining.
Check out some of the winners of last year's competition below:
New genre awards in 2017 include: Best Virtual Reality film (using 360-degree cameras), best 30-second TVC (for RØDE, naturally) and Best Vlog. A full list of categories can be found at www.myrodereel.com.
Claim your copy of DAVINCI RESOLVE - SIMPLIFIED COURSE with 50% off! Get Instant Access!