The premium lens maker Cooke Optics just unveiled that the company plans to launch its brand new S7/i Full Frame Plus prime lens range at the upcoming NAB 2017. Unlike the Cooke S4 and S5 lines, the S7/i primes are specifically tailored towards larger full frame cinema camera sensors covering the full sensor area (46.31mm image circle) of the RED Weapon 8K.
The new lens lineup will be available in 18, 25, 32, 40, 50, 75, 100 and 135mm and is scheduled to ship in June 2017. All Cooke S7/i Primes have a consistent T2.0 aperture throughout the whole range and cover 35/Super 35mm, Full Frame and beyond.
Cooke Optics S7/i Prime Lens Full Frame Demo Footage from Cooke Optics on Vimeo.
Furthermore, the optics are designed to give maximum performance at full aperture with superior control of flare, distortion and spherical aberration. All Cooke S7/i Primes feature a common fixed front diameter of 110mm, a nine-leaf linear module iris assembly as each lens has an average weight of approximately 3.5kg.
The entire S7/i range is also color matched to Anamorphic/i, S4/i, miniS4/i, 5/i and Pancro/i Classic lenses, plus all lenses will be able to cover the massive Arri Alexa 65 sensor when shooting in the smaller 16:9 mode. Just like all modern Cooke cine lenses for film and digital capture, the S7/i primes come equipped with the proprietary /i Technology for frame by frame digital information capture.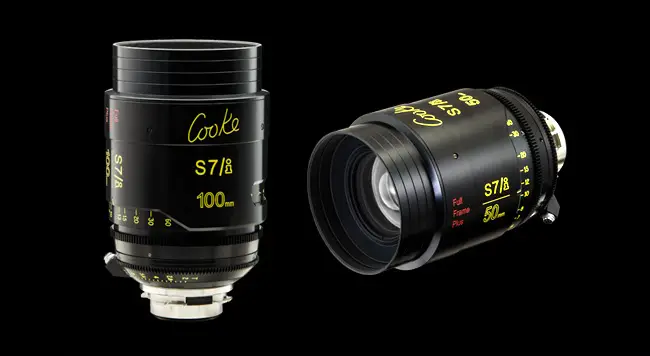 Cooke Optics S7/i Prime Lens Range
Native PL Mount
Focal lengths: 18, 25, 32, 40, 50, 75, 100 and 135mm
T2.0 – T22 linear aperture

Maximum Format Cover – 46.31mm diameter

140 teeth 0.8 metric module x 6.0mm wide 103mm from the image plane focus rings
Award-winning cam style mechanism for smooth focus adjustments
Supplied with the next generation of /i Technology for lens metadata capture
Linear iris
6.8 to 8.1lb weight range
Availability: June 2017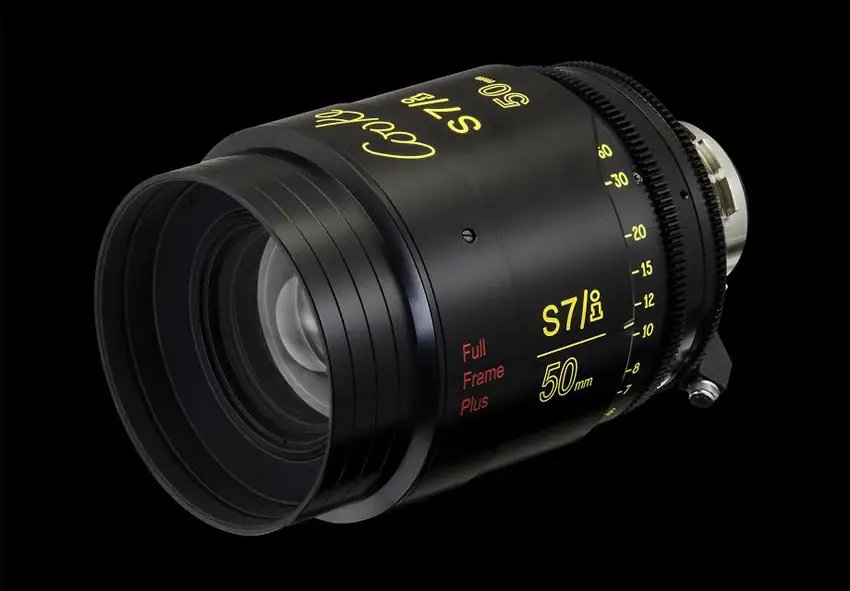 At NAB 2017 Cooke will also debut the Panchro/i Classic range and the new front Anamorphic/i zoom lens. In addition, the company will showcase its Anamorphic/i SF lens range, as well as lenses from the leading Anamorphic/i, 5/i, S4/i and miniS4/i ranges.
This year's NAB visitors will also be able to see the Sony E and micro 4/3 mounts for miniS4/i and Panchro/i Classic lenses that enable users of these cameras to benefit from the beloved 'Cooke Look'. Those of you who plan to attend the trade show in Las Vegas will be able to catch a glimpse of the S7/i Full Frame primes at the new Cooke Optics booth C5414 located near the Grand Lobby/North Hall exit.
[source: Cooke Optics]
Claim your copy of DAVINCI RESOLVE - SIMPLIFIED COURSE with 50% off! Get Instant Access!