It was just a matter of time before we officially saw a pistol grip brushless gimbal that provides a direct view of the camera display mounted on board. Generally considered as one of the major and most annoying drawbacks of the devices in this specific gimbal segment, the virtually unobstructed view of the LCD screen was a highly demanded feature and also considered as a must -have by the majority of real world shooters using those type of filmmaking tools on a daily basis.
Fortunately, Pilotfly has recently come up with a feasible solution aiming to solve the problem once and for all. At NAB 2017 the company showcased their latest C45 and H2-45 3-axis brushless gimbals offering an innovative design that places the roll axis motor at a 45-degree angle to the camera, rather than directly behind it. This makes it possible to use the device without blocking the screen of the camera while shooting.
In a nutshell, Pilofly C45 can accommodate smaller cameras like the Sony RX100 V and Panasonic DMC-LX100 weighing up to 1.7 pounds that can benefit from stabilization on the pan, tilt, and horizon axes, with full 360° rotation on the pan axis. Due to its 32-bit Alexmos controller with Triple MCU technology, the gimbal offers advanced, flexible performance allowing users to fine-tune gimbal settings on the fly via the Android mobile app.
The available 4-way joystick, on the other hand, can be utilized for precise camera movements once you enable one of the five manual control modes. Optionally, you can use the 1/4″-20 thread at the base of the handle to attach a boom-pole or other support device. The Pilotfly C45 also sports a rechargeable lithium-ion battery that's integrated into its handle delivering up to 6 hours of operating time.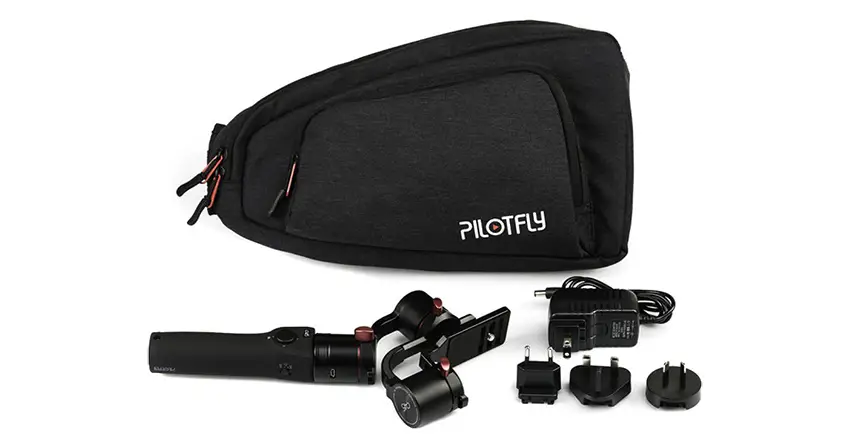 Pilotfly C45 Pistol Grip Gimbal Highlights
32bit Alexmos with Triple-MCU technology
High payload motors with integrated encoders
Tool-less design
360° Yaw (no limitation)
4-way joystick
1 x ¼" screw holes (at bottom of the handle)
5 pre-configured profiles (Follow Mode, Pitch Lock, Full Lock, Follow Roll and +/-180degree YAW rotation for selfies)
Auto-Invert-Mode (all profiles can be also used in this condition)
Integrated 4S Li-Po battery with an operation time up to 6h
Status LED for power and battery level
Integrated Bluetooth module for remote control (RM-01 remote control)
Price: $599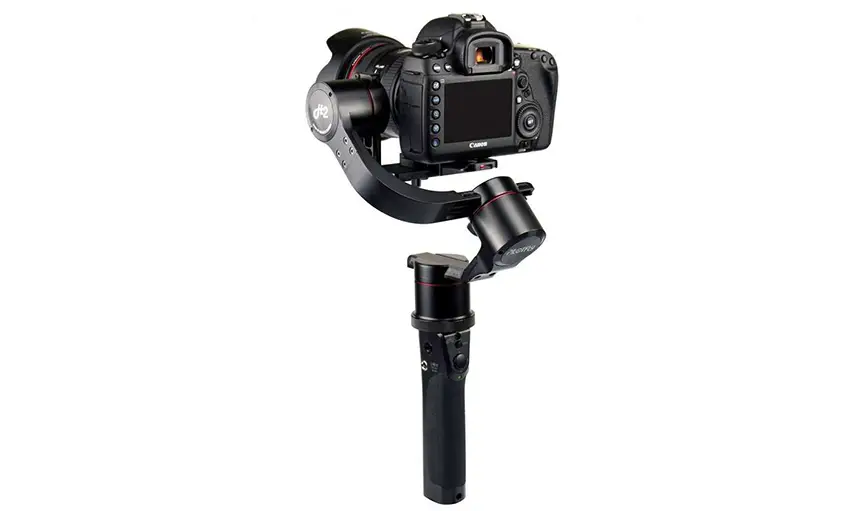 At NAB 2017, Pilotfly has also unveiled the beefed up H2-45 sibling that comes with an identical design and can handle slightly bigger cameras like the Sony A9, Sony A7S II, Panasonic GH5 and even Canon 5D Mark IV weighing up to 2.2 kg while boasting an extended battery life of up to whopping 26 hours. Just like its smaller counterpart, the H2-45 gimbal has a 4-way joystick for more precise manual control and five pre-configured modes of operation.
Additionally, the new integrated Bluetooth 4.0 module gives you the ability to control the gimbal remotely via iOS App or Pilotfly Remote Control. According to Pilotfly, the H2-45 is the most advanced gimbal the company has ever manufactured thus far.
[source: Pilotfly]
B&H Order Link:
Pilotfly C45 3-Axis Gimbal Stabilizer
Disclaimer: As an Amazon Associate partner and participant in B&H and Adorama Affiliate programmes, we earn a small comission from each purchase made through the affiliate links listed above at no additional cost to you.
Claim your copy of DAVINCI RESOLVE - SIMPLIFIED COURSE with 50% off! Get Instant Access!