With the upcoming 400Mbps firmware update for the Panasonic GH5, which will finally bring some "natively editable" 4K 10bit Intra codecs for those of us struggling with the IPB codecs at the moment, one has to think about the possibility of new SD cards capable of dealing with the new data throughput. Sure, 400Mbps is technically around 50MB per second, and currently any cards capable of such write speeds (or within the reasonable vicinity) could potential do the job, from what I was told by Panasonic reps at BVE 2017 in London is "to get some really fast cards".
Much tests are due to be made on various SD cards currently available both in the UHS-I and UHS-II standards such as the popular Sandisk Extreme Pro 95MBps, and the Lexar 64 GB UHS-II 1000x (150 MB/s), both of which currently work fine in all codecs and resolutions in firmware 1.1 on the GH5, at least in my tests. However, like many of you, I am keeping my eyes peeled for new cards on the horizon.
Recently I spotted an announcement for some new cards from ADATA Technologies. This is a company, I wasn't really familiar with, but it seems they do make DRAM modules for PCs, SSDs, and external drives in addition to USB drives. And now, they appear to have some really fast new UHS-II cards, that I may be giving a try soon.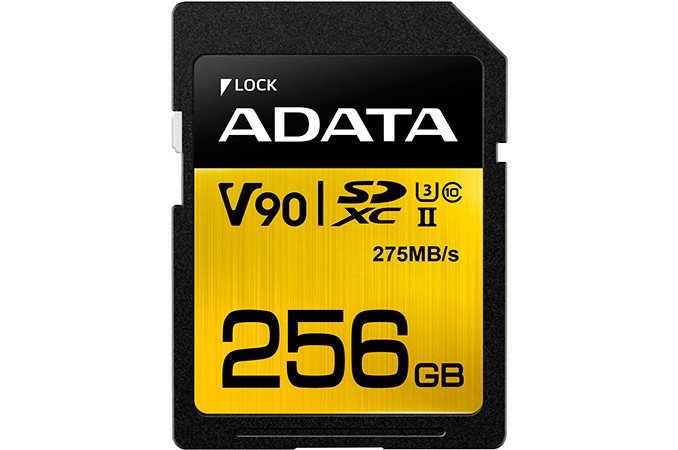 Their new Premier ONE SDXC UHS-II memory cards meet the latest standards, providing ultra-fast read up to 290MB per second (and write up to 260 MB/s on the 64 and 128GB versions), which is about three times faster compared to UHS-I SD cards.
ADATA Technologies Premier ONE SDXC UHS-II memory cards also support highest-level V90 specs, meaning they can record up to 90MB of video per second. According to the manufacturer "this is more than enough for Ultra HD 4K, 8K, 3D, VR content, and 360-degree capture, all of which are especially suitable for professional photographers".
ADATA V90 SDXC UHS-II Cards Specs
Capacity
 64GB / 128GB / 256GB
Standard
SD 4.0
Dimensions (LxWxH)
 32 x 24 x 2.1mm
Weight
 2g
Working Voltage
 2.7V-3.6V
R/W performance
up to 290MB/260MB per sec (64GB/128GB),

275/155MB per sec (256GB)

Speed class
UHS-II U3 Class 10
Compatibility
DSLR/ full HD camcorders/ 3D full HD camcorders
Operating temperature
 -25°C to 85°C
Certifications
 FCC, CE, BSMI, VCCI
Warranty
 lifetime
The new Premier ONE SDXC UHS-II SD cards from ADATA are also equipped with automatic error correcting code (ECC). Apparently these cards are pretty rugged and durable as they appear to be waterproof, shockproof, X-ray proof, and anti-static resistant making them perfect for trips in extreme conditions. The new ADATA V90 cards feature high quality MLC Flash, ensuring longevity and reliability.
No word on pricing yet, but here are the product codes:
| | | |
| --- | --- | --- |
| ASDX64GUII3CL10-C | 64GB | SDXC 64GB UHS-II U3 CLASS10 COLOR BOX |
| ASDX128GUII3CL10-C | 128GB | SDXC 128GB UHS-II U3 CLASS10 COLOR BOX |
| ASDX256GUII3CL10-C | 256GB | SDXC 256GB UHS-II U3 CLASS10 COLOR BOX |
[via Adata]
Claim your copy of DAVINCI RESOLVE - SIMPLIFIED COURSE with 50% off! Get Instant Access!