Atomos just released details of their latest firmware update version 8.3 for their top tier Atomos Shogun Inferno 4K raw recorder. The latest firmware adds Quad-Link and Dual-link support for ProRes/DNxHD recording as well as 4K Raw 100/120fps burst support for Sony FS5 and FS700 cameras.
The burst mode on the FS700 and FS5 is limited to 4 seconds, which translates to 16/20 seconds on a 24fps timebase realtime. The 7-inch Atomos Shogun Inferno also recently got an official price drop and can now be bought for $1,495 from authorized resellers such as B&H and Adorama, which represents a juicy discount of $500 from the original $1,995 price the recorder was launched at last year.
Even with this significant price drop, the Shogun Inferno still comes included with 2 x NP 750 batteries, charger, XLR breakout cable, 5 SSD caddies, and a really nice HPRC hard case.
Check out this demo footage of the 4K/100fps burst mode on the Sony FS5 + Shogun Inferno by Tim Pan:
Atomos Shogun Inferno 8.3 Details:
Quad-Link and Dual-Link cameras are now supported with ProRes/DNxHD
Sony FS Raw 4Kp100/120 burst recording mode added for Sony FS5/FS700
Secure Erase option for selected media to maximize SSD performance
This release contains all the features from AtomOS 8.21 for Shogun Inferno
The following cameras are supported with Quad-Link (Squared & 2SI):
AJA CION
Canon C700
Panasonic Varicam 35
RED DCSM1 with REDCast Module – Epic & Scarlet Dragon (Mysterium X not supported)
Sony PMW-F55
Sony PMW-F5 + CBKZ-55FX 4K expand option
Sony F65RS + CA-4000 + SKC-4065 + BPU-4000 (for studio camera configuration)
Sony HDC-4800 (4K studio camera and CCU)
Sony HDC-4300(4K studio camera and CCU)
Toshiba IK-4K
The following cameras are supported with Dual-Link:
Canon C500 2K/60p
Panasonic Varicam LT – 10bit Dual Link RAW
Secure Erase is supported on selected media for:
Sandisk Extreme Pro
Atomos branded G-Tech media
Atomos branded Angelbird media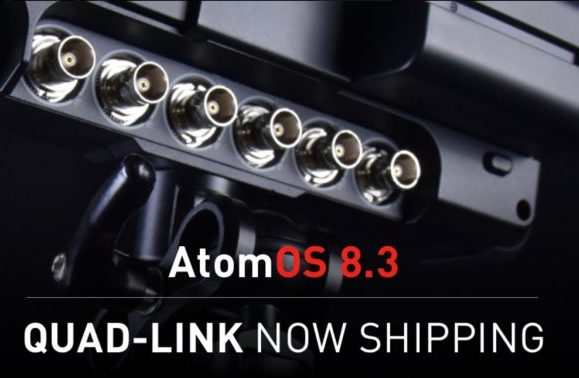 One important note about Panasonic LT users and V-Log recording on the Shogun Inferno is that currently to preserve V-Log recording in its original form, users need to apply a specially developed 3D LUT; more info from Atomos below:
Panasonic RAW to VLog Correction LUT
Atomos maintain the native Pana Raw LUT and do not convert to V-Log on the unit currently. To record V-Log the same as the camera does internally please apply the 3D LUT found here.
To download AtomOS 8.3 head over here.
The Shogun Inferno of course also offers high quality 12bit 4K and 2K Raw recording from selected cameras. To learn more about the CinemaDNG Raw workflow with the Inferno check out the Atomos video below.
I currently own a Ninja Inferno as it is more affordable at $995 and does offer 4K/60p via HDMI – the maximum I can get out of my Panasonic GH5, plus it is a really nice HDR monitor, but for those of you out there with Sony FS5's or FS700s and Canon C300 IIs, the Shogun Inferno makes more sense as it adds 12G SDI connectivity and extra Raw functionality.
To learn more about the Inferno head over to Atomos.
Claim your copy of DAVINCI RESOLVE 16 - SIMPLIFIED COURSE with 50% off! Get Instant Access!