The Chronos 1.4c high-speed camera that started as a passion project by talented Canadian engineer David Kronstein a few years ago seems to be so close to shipping now. The camera just received its final FCC Class B and CE certification which according to the camera manufacturer was one of the biggest potential sources of delay.
In the meantime, the most affordable professional high-speed camera got a massive speed boost to whopping 38,565 fps at 336×96 that will be included in all camera batches. Previously, the DIY device was capable of shooting up to 21,650fps at its lowest resolution of 640×96. Other neat features on board include a touchscreen display, HDMI connection, SD card slot, USB and SATA ports alongside the ability to save RAW video files all packed into a standard DSLR body.
The Chronos 1.4c stores recorded media on an SD card in an MP4 format, plus it can also be triggered remotely. The camera utilizes C-Mount lenses which make it an extremely versatile tool when it comes to lens choices as multiple lens adapters can be used. The unit can either be powered by a single Nikon EN-El4A battery (lasts 1.75 hours per charge) or through an external power source such as a standard 19V Laptop AC charger.
Currently, Kronstein and his team are working on the user manual, setting up some final things like production test jigs, special tools for some odd fasteners, and testing out the software build that will ship on early bird units. The Chronos 1.4c also got eight newly added M4 holes around the case, plus two new 1/4-20 (tripod) mount holes on the hand-hold side and top.
These will allow users to mount the camera sideways on a non-tilting tripod, or mount accessories to the camera body itself such as lights, cold shoe adapters, etc. In addition, the main tripod mount on the bottom was overhauled at it now uses a stainless steel Helicoil insert protecting the aluminum thread from wearing out.
Chronos 1.4c High-Speed Camera Features
1280×1024 1057fps CMOS image sensor with 1.4Gpx/s throughput

Global shutter LUX1310 image sensor –  8.45 x 6.76mm, 6.6um pixel pitch

Electronic shutter from 1/fps down to 2us (1/500,000 s)

CS and C mount lens support

Focus peaking (focus assist) and zebra exposure indicator

ISO 320-5120 (Color), 740-11840 (Monochrome)

5″ touchscreen

Machined billet aluminum case

Record time 4s (8GB) or 8s (16GB)

Continuous operation on AC adapter

1.75h runtime on field-swappable EN-EL4a battery

Gigabit Ethernet – remote control and video download

Audio IO and internal microphone

HDMI video output

Two channel 1Msa/s waveform capture

Storage: SD card, two USB host ports (flash drives/hard drives), eSATA 3G

Trigger: TTL, switch closure, image change, sound, accelerometer

Low-noise variable speed fan

​
Price: $2,999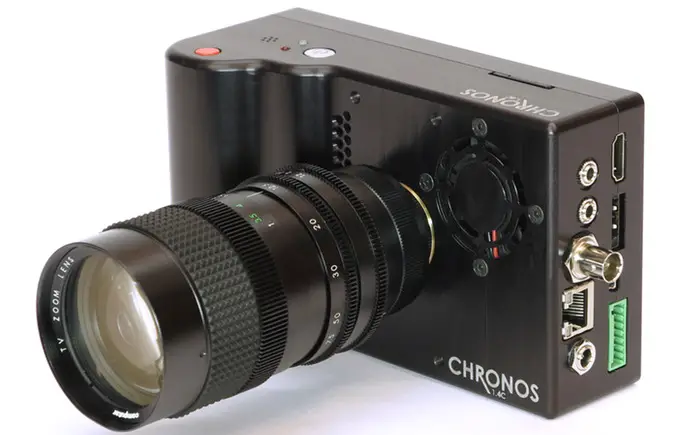 If you missed the chance to back the already successfully funded Kickstarter campaign of the project that raised almost CA$ 600,000, you can still pre-order the camera directly from Kron Technologies here.
[source: Kron Technologies]
Disclaimer: As an Amazon Associate partner and participant in B&H and Adorama Affiliate programmes, we earn a small comission from each purchase made through the affiliate links listed above at no additional cost to you.
Claim your copy of DAVINCI RESOLVE - SIMPLIFIED COURSE with 50% off! Get Instant Access!