Considering the overall similarities regarding form factor, functionality, and price, the comparison between the newcomer Canon EOS C200 and the ubiquitous URSA Mini Pro 4.6K is some kind of inevitable and expected in many ways.
Of course, there is a fair share of differences between the two cameras as well, so if you are curious to know how do these two rivals stack up against each other, the next comprehensive video produced by independent filmmaker Tom Antos should give you an insight on the topic.
Needless to say, the best option is to test out these rivals or any other camera on your own, but if you are eager to find out the outcome of this particular camera comparison, here's a great chance to get some of the answers you might be looking for in the past few days.
As Tom Antos points out, in terms of build quality and form factor, both cameras are similar in many ways and different in others at the same time. For instance, both units have similar ergonomics, comparable weight, two proper audio XLR inputs, built-in ND filters as well as plenty of dedicated control buttons located on the outside. As opposed to the URSA Mini Pro, however, the stripped-down model of the Canon C200 doesn't come with a built-in touchscreen LCD. In order to get the rotating 4″ LCD monitor, you have to spend some extra cash to buy it separately or get it as a part of the more expensive version of the camera.
The full-fledged EOS C200 camera, on the other hand, comes with an integrated EVF, something that the URSA Mini Pro lacks unless again you get it separately in addition to your main camera purchase. When it comes to connectivity options, the URSA Mini Pro 4.6K is slightly more versatile as it packs two SDI outputs, an SDI input along with a Timecode In whereas the Canon C200 offers only one SDI output alongside an HDMI Type-A interface. In a similar manner, the URSA Mini Pro 4.6K sports dual CFast 2.0 and SD card slots, while the Canon C200 features only one CFast 2.0 and two SD card slots.
As a rule, the available recording formats and codecs are probably the most controversial aspect of any camera comparison. Again, this particular case isn't an exception. Both cameras are capable of shooting 4K DCI 12-bit Raw internally, but when it comes to compressed codecs, things start to differentiate.
The Canon C200 is currently limited to heavily compressed 8-bit 4:2:0 Long GOP codec regardless of whether you are shooting in 4K, UHD or HD, whereas the URSA Mini 4.6K offers all flavors of industry standard and edit-friendly Apple ProRes codec as recording options. Both cameras are capable of shooting slow motion up to 60p in 4K and 120p in HD with the only difference being that the URSA Mini Pro uses a crop mode when shooting at 120fps.
The URSA Mini Pro also has extremely limited ISO range that can only go up to ISO 1,600, whereas the Canon C200 is a much better low-light performer with its impressive 25,600 ISO that's expandable to whopping ISO 102, 400. Plus, the EOS C200 has one of the best AF systems in the industry at the moment while the URSA Mini Pro 4.6K provides just a basic AF.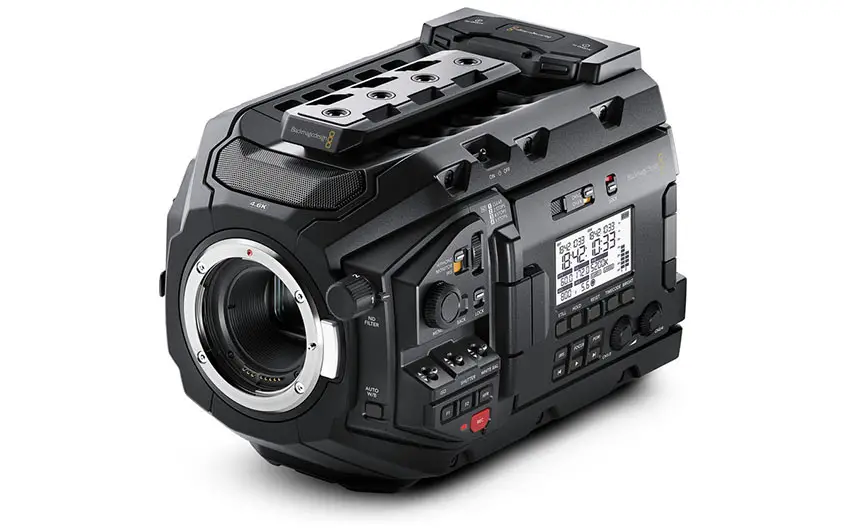 All in all, if you need a camera for multiple run-and-gun situations where the lack of broadcast-ready 10bit internal codec isn't a deal breaker for you and that is an excellent low light performer while providing one of the best auto-focus systems on the market, then the C200 is the obvious choice of the two.
On the other hand, if you prefer the flexibility of ProRes and you need an overall more broadcast and film production-friendly camera that needs proper lighting in most of the time (as it can easily run out of light due to its ISO limitations), then the URSA Mini Pro 4.6K probably would serve you better. Again, it all comes to your personal preferences and requirements and which one of the two cameras would fit your daily workflow and style of shooting better.
[source: Tom Antos]
B&H Order Links:
Canon EOS C200B EF Cinema Camera
Canon EOS C200 EF Cinema Camera
URSA Mini Pro 4.6K Digital Cinema Camera
Disclaimer: As an Amazon Associate partner and participant in B&H and Adorama Affiliate programmes, we earn a small comission from each purchase made through the affiliate links listed above at no additional cost to you.
Claim your copy of DAVINCI RESOLVE - SIMPLIFIED COURSE with 50% off! Get Instant Access!