This is just one last reminder that The Complete Video Creators Bundle 2017 sale is coming to an end over at 5DayDeal in less than 12 hours!
At 12:00 PM (noon) PST today (that's 8:00PM GMT or 9:00 CET, a bit less than 12 hours from now), it will be gone for good, and the products included at this massive discount will NEVER return again (at these prices or part of this bundle). These products will never again be offered through 5DayDeal and you won't see this collection again… ever.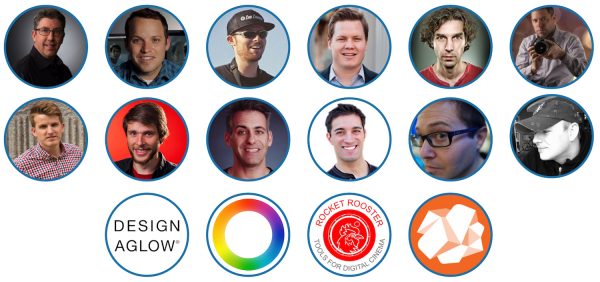 The opportunity to save 95+% on these resources is really amazing (it would cost you otherwise $2000+ to get the individually!) – I hope you've checked it out and/or shared it with your friends. But don't take it just from me, check out some of the amazing feedback received from fellow filmmakers, who've already purchased last years bundle:
Been working in the LA film industry for 11 years, going on 12 now, and this bundle is by far one of the best online packages I've ever seen. It offers wholly unique courses in cinematography, directing, editing, you name it. The bundle also includes a helpful package of tools and apps for beginning filmmakers. I definitely recommend buying it." – Truman Fritz | United States

"The value is exceptional. The 1st series I'm watching, Muse Storytelling, has already provided a ton of great tips I can use… I'm very impressed with the quality—and I still have many more products to check out." – Dave Grice | Canada
Here's what's included in this year's edition:
Illumination Workshop Module One: Key Light [ LAUNCH EXCLUSIVE ]by Shane Hurlbut, ASC – $99
Introduction to Aerial Video & Photography Drone Course [ LAUNCH EXCLUSIVE ] by Chris Newman – $200
Teaching Photographers about Video [ LAUNCH EXCLUSIVE ] by Lee Herbet – $150
How to Make Professional Movies with Your Smartphone [ LAUNCH EXCLUSIVE ] by Alex Koloskov – $195
DSLR Cinematography for Beginners [ LAUNCH EXCLUSIVE ] by Jordy Vandeput – $65
LUT Gallery for DaVinci Resolve and FCP X Bundle by Denver Riddle – $109
ASCEND LUTs – 30 Creative "Looks" by Denver Riddle – $199
Color Finale Pro by Denver Riddle – $149.00
Story Simplified by Mark Wonderlin – $397.00
CrumplePop LUTPro by CrumplePop – $99.00
Time-Lapse Master Class by Serge Ramelli – $97.00
Essential Cinematography Workflow by Lena Hyde – $95.00
Sell Your Movie by Jason Brubaker -$97.00
Adobe After Effects for Beginners by Uri Soglowek – $97.00
Normally the above resources would cost about $2,048 to buy separate, but right now you can get more than 95% discount by getting the Complete Video Creators Bundle 2017 via our link for just $97!
Claim your copy of DAVINCI RESOLVE - SIMPLIFIED COURSE with 50% off! Get Instant Access!