Popular lens adapter and LED lights manufacturer Fotodiox recently introduced their latest DLX Stretch Series lens  adapters for popular mirrorless camera systems such as Sony E mount, Micro Four Thirds, and Fuji X. Cameras such as the Panasonic GH5 and Sony A7s II are extremely popular for video and it's not like there is a shortage of lens adapters for them out there. Ranging from $300-$700 Smart adapters and Speed Boosters to cheaper $50 lens adapters, there is a significant number of options out here, however Fotodiox are doing a few things different with their new DLX Stretch Series adapters.
They call their DLX Stretch adapters – 3 into 1 since they not only adapt a Canon EF, FD, Leica R, Contax/Yashica and other manual/vintage or electronic lenses to your mirrorless camera, but also drop in ND filters at the back and also make your primes function as macro lenses.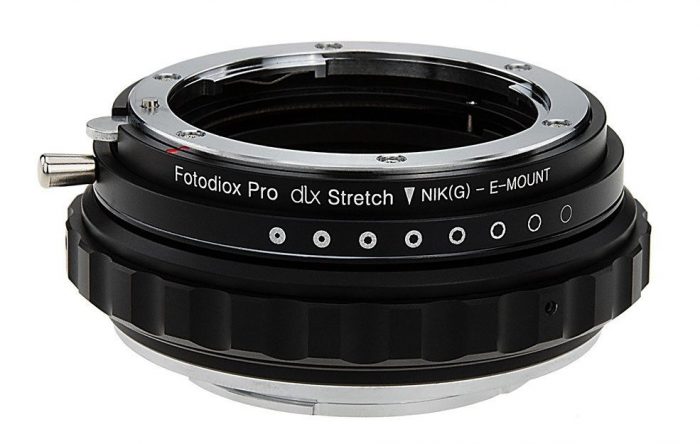 You can adapt the following lenses mounts to either Sony E mount, Micro Four Thirds or Fuji X mount.
Canon EOS EF
Canon FD
Contax/Yashica
Leica R
Minolta MD
Nikon F
Olympus Zuiko
Pentax K
A Nikon lens mounted to a Sony A7s II below, via the Fotodiox DLX Stretch lens adapter.
Check out the Fotodiox video below to see how it all works.
Fotodiox DXL Stretch Series Lens Adapter Features
Mounts Canon EOS (EF / EF-S) DSLR Lenses to Sony E-mount cameras
Supports Infinity focus or beyond
Built-in focusing helicoid provides macro focus for any lens as well as correction for back focus
Includes three magnetic drop-in filters
Precise fit and solid connection; lens has no play, gap or wiggling when mounted on adapter and no adjustments required
Precision all-metal construction with chrome plated brass mounts for secure and solid fit
24-Month Fotodiox warranty
List of Compatible Cameras
Sony a7, a7R, a7s, a7 II, a7R II, a7s II
Sony Alpha a3000, a5000, a6000, a3500, a5100, aQX1, PXW-FS7
Sony NEX-3, NEX-5, NEX-C3, NEX-5N, NEX-7, NEX-F3, NEX-5R, ,NEX-6
Sony NEX-VG10, NEX-VG20, NEX-VG30, NEX-VG900, NEX-FS100, NEX-FS700, NEX-EA50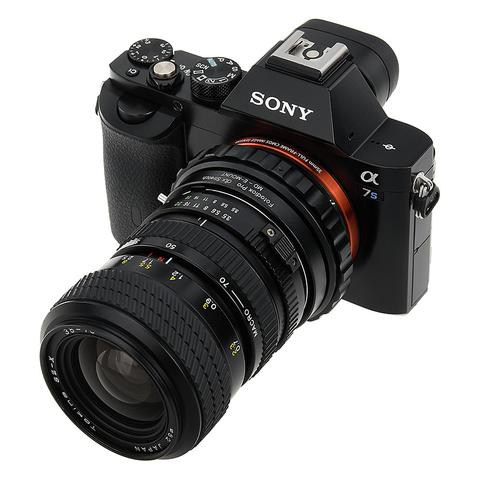 Oddly enough, the list provided by Fotodiox omits the Sony PXW-FS5, but I don't see anything preventing the DLX adapters from working with the camera as it has the same E mount as the FS7, which is listed as compatible.
It is also worth mentioning that the DLX Stretch line of adapters do not pass through electronic data, so they are best suited for using manual or vintage lenses, which have a mechanical aperture ring, or in the case of the Nikon to E mount adapter (also Nikon to MFT and Nikon to Fuji X) the adapter has a mechanical aperture ring, with which users can change aperture on Nikon lenses without a physical aperture ring.
In the case of Canon EF, these adapters in my opinion are best suited for manual lenses such as Zeiss, or Samyang/Rokinon VDSLR cine lenses, since they are quite affordable and offer mechanical aperture control via a geared ring.
The DLX Stretch adapters are priced at $130 and can be ordered via Fotodiox direct or authorised resellers such as Adorama and B&H, (who at the moment have only the Leica M to Sony E mount adapter listed, but I am sure will add the rest of the DLX Stretch shortly).
Claim your copy of DAVINCI RESOLVE - SIMPLIFIED COURSE with 50% off! Get Instant Access!