Despite the fact that sometimes this might be hard to swallow, we have all been on the receiving end of low battery devices now and then. It is not a pleasant experience especially if you are far from a power outlet. Things could get even worse when this happens with your camera, light panel or any other vital piece of equipment in the middle of shooting. So, this where a breakthrough power solution such as the Crank Juice Box may come in pretty handy aiming to tackle this annoying issue once and for all.
Being a revolutionary piece of technology at its most innovative stages, this tool could be creative professionals new best friend and for a reason. In essence, it's a lightweight power bank, that can hold a charge up to seven times longer thus significantly outperforming most counterparts in its class. In other words, you no longer need to be offline just because you are filming far from a power source.
All in all, Crank Juice Box can hold a charge up to 14 hours while still being a lightweight and portable enough. What's more, the unit comes with jumper cables for your car, USB wall charger, USB cigarette lighter charger for long days on set, three generations of apple chargers for apple laptops, eight adapters for various PC and electronic inputs, charger cable for the Crank, the four cable squid (Thunderbolt, Micro-USB, Mini USB and iPhone and iPad 30 Pin connector) and much more.
As we all know, filming equipment can be heavy at times, yet the hard travel case of the Crank Juice Box ensures that the package is still lightweight enough while providing safety even in the harshest and most challenging environmental conditions. The Crank battery capacity tops at whopping 18,000mAh making it able to charge almost any equipment you might have on set. It even has a flashlight built into it.
When being fully charged, the Crank Juice Box can power your phone for 60 hours, headphones for 40 hours, laptop for 10 hours, a tablet for 48 hours speakers for 28 hours, pro camera for 15 hours, wearable tech for over 100 hours and stabilizer for 50 hours and the list goes on.
Those charge times have either doubled or tripled typical battery's life span, which allows you the freedom to get things done. What's more, the Crank Juice Box can even jump start your car if you break down on the interstate on your way to your next location.
Crank Juice Box Specifications
3 Settings Continous, SOS, Strobe
Capacity 18,000mAh
Applicable Engine Type: <6.0 L Gasoline & <2.5L Diesel
Output Voltage At Auto Start End: 12V
Output Voltages: 8.4V/2.1A 12V/2A; 16V/3.5A; 19V/3.5A
Dual USB Outputs: 5V 2.1A • Start Current: 600A
Peak Current: 750A(<3S) Battery Type: Lithium-ion Polymer Battery Charge Mode: CC/CV 15V/1A LED Power: 1W (White) LED Light Modes: 3 (Steady-SOS-Strobe) Cycle Life: > 1000 Times
Operation Temperature Range: -20 Degrees C to 80 Degrees C
Product Size: 180x86x43 mm
N.W: 1.5 Lbs or .68 KGS
Certificate: CE ROHS FCC
UL Listed Battery Jumper Clamps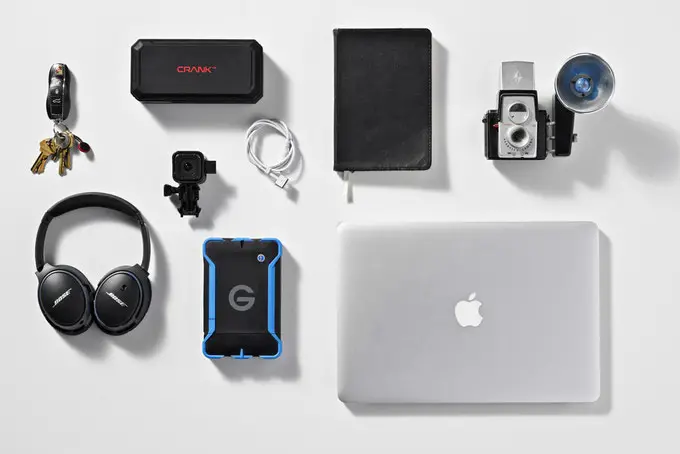 Like most creative professionals these days, you probably have a ton of gadgets, that you need to keep going. The Crank Juice Box can clearly help in that regard while keeping your devices up and running throughout an entire day of shooting. So, if you want to support the ongoing Kickstarter campaign of the product and join the rapidly-growing list of backers or simply learn more about the product, just follow this link.
[source: Kickstarter]
Claim your copy of DAVINCI RESOLVE - SIMPLIFIED COURSE with 50% off! Get Instant Access!