Legendary film and TV lighting manufacturer Kino Flo have some very sweet new FreeStyle 31 & 21 LED lights. Featuring many of the insane light and colour control functions of the SELECT LED range, the FreeStyle also makes improvements to the exterior design of the light and barn doors. At the moment there are two sizes – a two foot Kino Flo Freestyle 21, and a three footer FreeStyle 31, both of which feature a newly designed quick-release system to remove the LED panel from the plastic housing and both fixtures' mount includes the KinoGrip handle for easier adjustment.
The smaller form factor and lightweight LED panel combined with four corner bumpers add further rigging versatility. The LED panel also includes an additional mating plate so it can still be mounted on a stand.
One of the new design features of the FreeStyle LED Fixture is the twist-on removable Center Mount. When it's on, the fixture mounts easily to a light stand; when it's off, the fixture is flat and can be hand-held, or hidden in a space too small to place a stand-mounting fixture. When the mount is removed, the grommet holes along the edge of the fixture are designed to allow the fixture to be screwed onto a wall or ceiling through its eyelets.
The FreeStyle removable LED panel also has its own mating plate to accept the twist-on mount plate.  The LED panel can be hand-held with the KinoGrip mount and also has molded corners as rigging points for rope hanging, for example.

Kino Flo's new FreeStyle 31 & 21 LED's include three menu options, which give users some serious control over not only the colour (temperature) of your light, but also the ability to add popular Lee/Rosco gels without actually sticking gels to the front. It's really neat. This is all thanks to the advanced menu on the Freestyle – you get one white and two colour menus.
Those who prefer to work with white light can use the White Menu that gives the user access to Dimming, Kelvin and Green/Magenta control channels. Kelvin range is from 2700K tungsten to 6500K daylight.
When in the Colour menu, the Kelvin range is from 2500K tungsten all the way to 9900K daylight, and Kino Flo has set up a fourth channel called Gel. The Gel channel includes Kino Flo presets such as blue & green screen, sodium vapour, mercury vapour and over 100 well-known lighting gels. In addition, there is also a fifth channel called Hue Angle and sixth channel, Saturation.
These two channels behave similar to a traditional colour wheel, where you have white light in the centre, and the Hue angle determines the colour along a 360-degree range, and Saturation determines how much colour is applied. The second colour menu provides individual red, green, blue (RGB) control. The RGB menu is a great way to work with apps with predetermined RGB presets or colour wheels.
Kino Flo FreeStyle LED Features

Kelvin presets
Dial-in colour temperature control between 2700K-6500K
Extended colour palette from 2500K-9900K
Green/Magenta Control
Hue angle and Saturation adjustments
RGB control
Works with Apps with predetermined RGB presets or colour wheels
Can use preset buttons to store custom Kelvin settings
Light levels do not change when selecting Kelvin settings
No colour shift while dimming
Colour-correct with high colour rendering index (CRI 95)
Universal input 100VAC-240VAC or 24VDC
Energy efficient:

Draws 1.3A, 120VAC
7.0A, 24VDC (FreeStyle 31)

Flicker-free, dead quiet operation
Full range onboard and DMX dimming
DMX wireless link (Lumen Radio)
DMX Auto Terminate
Remote fixture with built-in barn doors
Removable LED panel with centre mount and molded corner mounts
Fixture includes removable 90° Honeycomb Louver
Honeycomb louver also available in 60° as accessory
Removable Centre Mount
KinoGrip Center Mount
Lightweight, slim profile
Mounts to stand, light enough to be hand-held
Controller mounts onto fixture or operates remotely with extension cable
Kino Flo Freestyle Photometrics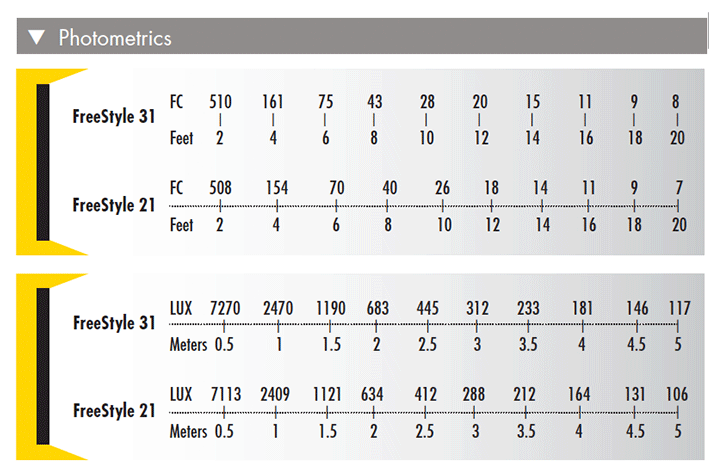 Kino Flo's new FreeStyle LED's also come with standard DMX and wireless DMX (Lumen Radio), 24VDC input, and universal voltage input 100-240VAC (1.3 Amps at 120U). Kino Flo also recently added new SnapBag Softbox and SnapGrid accessories to give you more control over your lighting.
As with all high-end lighting products, these don't come cheap, no Kino Flo is. The brand is synonymous with Hollywood and has been a standard since the late 80's. The Kino Flo Freestyle DMX (with soft case) is around $2,984 at B&H, while the three footer Freestyle 31 (with DMX controller and Soft case) comes in at around $2,945 at B&H. It is a bit strange that the longer unit is a bit cheaper, but Adorama have the same price, so that's that.
I can't afford either one of the two at the moment, but after seeing a demo of these recently (thanks to my good friend Justin from UK Distributor Cirro Lite and my favourite authorised UK dealer Visual Impact- you can browse the Kino Flo Freestyle range on their website here) I am more than impressed at the versatility and light control the new Kino Flo Freestyle 21 and 31 give you.
Getting such a top quality LED lighting kit a huge investment, and one that will potentially outlast my cameras, and I hope to be able to one day afford to get them. Expect to see the new Freestyle Kino's at your local rental houses soon too, I am hoping to get a hold of the Freestyle 21 on some upcoming jobs soon.
NOTE: The pricing on the Freestyle 21 Fixture only is $1,495 (B&H), which does include the barn door shell.  To learn more about the Freestyle 21 and 31 head over to Kino Flo. 
Claim your copy of DAVINCI RESOLVE - SIMPLIFIED COURSE with 50% off! Get Instant Access!