Adobe just spilled the beans on what's coming next to their industry-leading Adobe Creative Cloud video and audio tools and services that also will be showcased at IBC 2017. Unsurprisingly, the primary focus refers to virtual reality video creation (VR)/360, advanced animation, motion graphics, editing, collaboration and Adobe Stock.
Particularly, the new set of features and enhancements coming later this year to Adobe Creative Cloud for Premiere Pro CC include improved collaborative workflows with managed access features, new virtual reality and 360-degree video capabilities, responsive design enhancements, more intuitive Essential Graphics panel alongside a plethora of other minor tweaks and newly added features.
With Team Projects now officially out of beta, Premiere Pro CC users will be able to edit between multiple projects simultaneously, and even copy sequences or media from one project to another. Other important productivity features include access to auto-saves and prior versions directly from the menu, badging for items in each project to keep track of what other users are working on in parallel and more.
Besides that, the motion graphics workflow is now even faster and is extended to include Responsive Design controls for time and position when designing motion graphics in Premiere Pro. Additional usability improvements to the Essential Graphics panel in Adobe's NLE will allow video editors to select multiple elements in the program monitor at once, add rolls, and a redesigned font menu shows previews of fonts alongside the ability to add favorite fonts for easy access.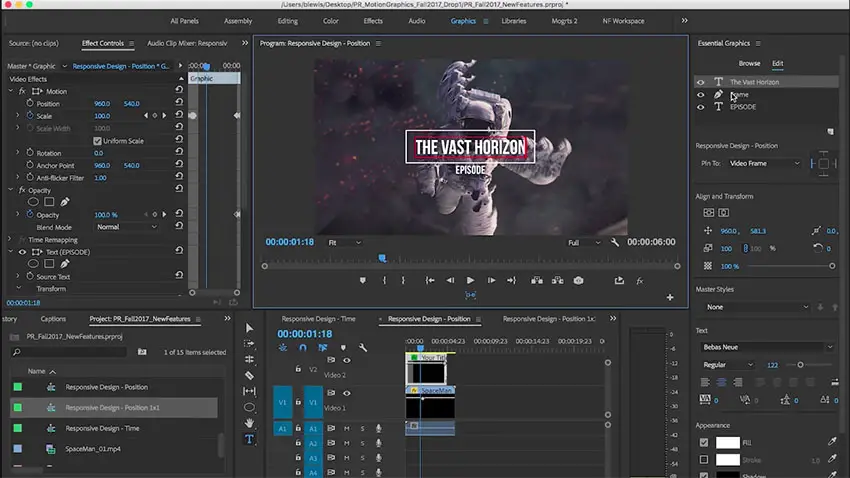 In regard to virtual reality video creation, the latest Premiere Pro CC update will bring numerous new effects specific to 360/VR workflows such as VR De-Noise, VR Blur and VR Sharpen, immersive transitions like VR Iris Wipe and VR Light Leaks as well as functionality like VR Rotate Sphere. All of these tools will be GPU accelerated and optimized for performance. Plus, the Ambisonics audio support has also been expanded to easily allow for changing the orientation when working on immersive experiences.
Meanwhile, the presets for social destinations have seen a number of significant improvements, including channel selection for YouTube and page selection for Facebook. Media Encoder, on the other hand, will notify users for missing media, fonts or plugins. There are also numerous small but powerful changes to the editing workflow in Premiere Pro CC as well.
The performance of After Effects CC has also been improved helping motion graphics designers to create sophisticated animations more quickly and easily than ever before. For instance, users will be able to import JSON data files as footage, and use them to drive infographics, build multiple versions of the same design, or visualize motion capture and sensor data.
Just like Premiere Pro CC, the latest After Effects CC takes the integrated tool set for 360/VR content creation to a whole new level providing the ability to undistort and edit stitched videos, apply seamless effects, and add titles and motion graphics to 360 videos.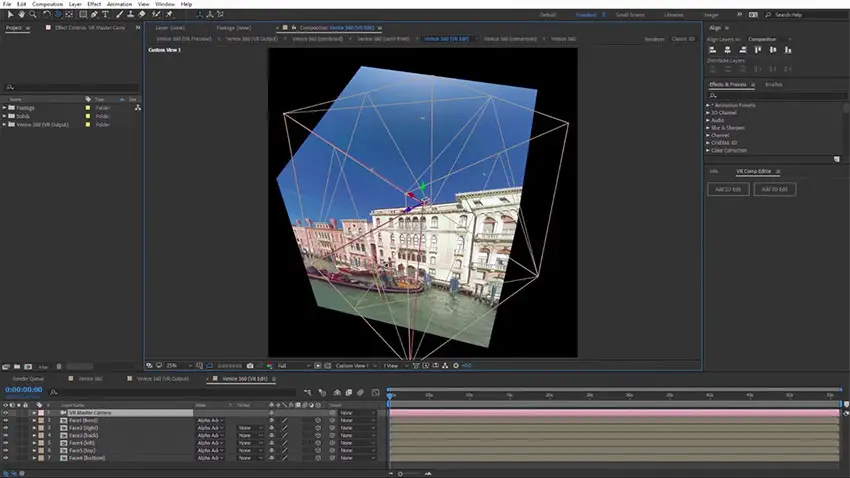 Other newly added Adobe After Effects CC features include linking mask and shape path points to other project elements without animating frame by frame, connecting layers to points, points to layers, points to points, shapes to shapes, masks to shapes, points to data, etc. Keyboard shortcut mapping has also been updated with a visual guide on custom shortcuts, alongside the new font menu and more type improvements.
Some of the noteworthy features coming to the imminent update of Adobe Audition CC include Auto-Ducking, faster mixdown performance, loads of multi-track clip enhancements alongside the ability to make changes to effects or parameters while playing through the timeline. The new Ducking option can quickly analyze dialogue, sound effects, ambiance, other music, or even unassigned clips on the timeline, and automatically generate the volume automation to match.
When working with video content, Adobe Adition CC enables Timecode overlay on the video panel with options to adjust the display, position, and even the timecode source, on the video panel or to an external monitor. Additionally, Adobe Audition CC users will be able to make quick time selections around selected clips with a single keypress and achieve even more accurate surround panning when targeting a single speaker.
Adobe will preview all these and many more of the upcoming CC advancements at Stand 7.G27 in the RAI Amsterdam Convention Center and at 140 partner booths from September 15-19 at IBC 2017.
[source: Adobe]
Claim your copy of DAVINCI RESOLVE - SIMPLIFIED COURSE with 50% off! Get Instant Access!