You may recall that recently Wooden Camera announced they are making a PL mount kit for the Panasonic EVA1. Since the EVA1 has a native Canon EF mount, due to the huge availability of EF mount lenses out there in the hands of owners and potential EVA1 owners, using different mount lenses especially cine lenses that naturally come in PL mount, becomes a bit of an issue.
Well, thanks to the good folks at Wooden Camera, if you are an EVA1 owner, you can use PL mount lenses by simply buying their PL modification kit specifically designed for the EVA1. There is also an option to buy it with a service option, which saves you the work, it costs a bit extra obviously for the labour, but at least you get it done the way it should be.
Pricing on the EVA1 PL mount kit from Wooden Camera has been set at around $500 if you opt to get it installed yourself, and around $750 if you send your camera to Texas for WC to do it.
So, if you have opted for a self-install on that PL modification kit from Wooden Camera, you may want to take a look at this step-by-step tutorial that Wooden Camera have prepared:
As stated earlier, the Wooden Camera PL Mount Modification Kit for Panasonic EVA1 allows users to convert their EVA1 camera to PL Mount through a short modification process (yes, this is not just a snap-on adapter to the front, you have to unscrew the EF mount, which does impact your Panasonic warranty – do read more on that below).
It is worth to note that Wooden Camera have included all necessary tools are included in the kit. Their PL Mount is made of aircraft grade aluminium and includes the PL port cap. Shims are provided with the kit for adjusting back focus and the appropriate shims are installed prior to shipping. Further adjustment should not be needed but can be checked using a wide angle lens and a focus chart.
The great news is that the PL modification process is not permanent and can be reversed!
Important Note: While the vast majority of lenses are compatible, due to the ND filter turret on the EVA1, lenses with a rear protrusion longer than 33.5mm, measured from the PL flange, are not compatible.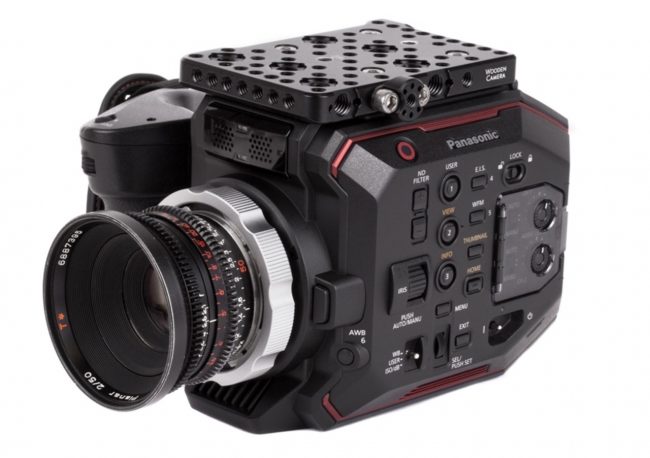 EVA1 Warranty Info regarding the Wooden Camera PL Kit
Mitch Gross, Panasonic Cinema Product Manager has stated the following with regards to this modification:
Panasonic is happy Wooden Camera is making this modification available to people. We like you to have choices. That said, if you take a screwdriver to your camera and mess something up installing this mount then that repair won't be under warranty.

But if for some reason your SDI connector fails and you send in the camera with a PL mount attached we're not going to say "Hey there's a PL mount on this thing so we're not going to cover anything."

Clearly one thing has nothing to do with the other. And if you send in a camera with a PL mount on it our service guys won't refuse to touch it, but they'll have to charge for the work.
The good news is that even if you do the WC PL mount modification to your Panasonic EVA1 you won't void the warranty in total, just be mindful that if a problem occurs because of your modification and you do send the camera to Panasonic to fix, they'll charge for it. Other areas of the camera not affected by the modification would still be covered by your camera warranty as normal.
To order the WC PL modification kit for EVA1 head over to Wooden Camera or order via B&H using this link here.
Claim your copy of DAVINCI RESOLVE - SIMPLIFIED COURSE with 50% off! Get Instant Access!