It's time to take a step back from high-end digital cinema cameras and lenses, as after all, what good are these cameras or the camera you use if you can't power it plus your accessories properly for a full day of shooting. And that's the neat thing about a trade show like BSC Expo, among the "big-boy" toys, there are plenty of stands where you can find accessories manufacturers that make important kit such as batteries and bits that go with them.
Popular British battery and accessories maker Hawk-Woods came to BSC Expo 2018 with a range of new Mini V-lok batteries, a hot-swap battery fitting and a Mini V-Lok to NP-F adapter for the Atomos Shogun Inferno/Flame monitor/recorders. The new Hawk-Woods Mini V-lok batteries are twice as small as standard V-mount batteries, offering substantial weight savings for those who prefer to use them with run-n-gun rigs, and are currently available in a 100Wh (product code VL-M100) and 150Wh (VL-M150) capacities.
The smallest of them all – the 50wh version is coming out later this month. The Mini V-Lok batteries feature a bright LED indicator for remaining charge, D-tap output for powering accessories, and are also flight safe for carry-on luggage (with volumes subject to individual airline policies).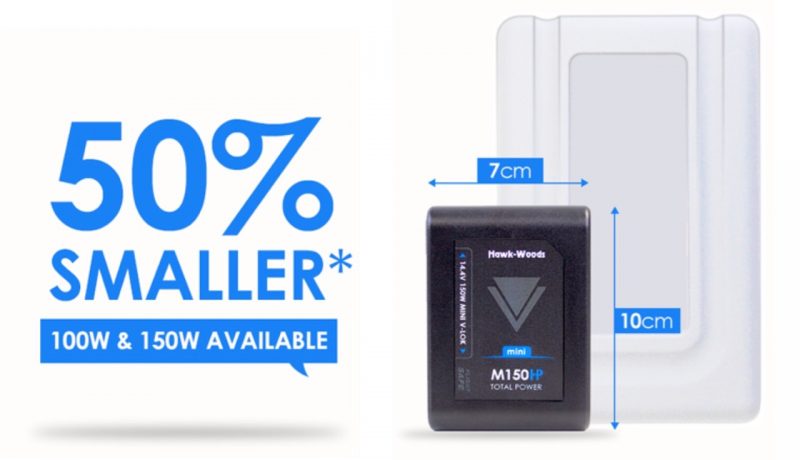 If you are rocking in the Atomos Flame series or Inferno recorder/monitors, Hawk-Woods have a really neat NP-F to mini V-lok adapter plate that allows you to use their new mini batteries and get your monitor running for a much longer time than with NP-F batteries, without adding significant weight to your rig.
The Atomos monitors are great, but especially the latest gen HDR ones eat through batteries really quickly so the new Hawk-Woods VLM-AS1 adapter plate comes in really handy. It comfortably slides into the dual NP-F slots on the back of the Inferno/Flame and has a DC cable attached that you plug into the DC port of the monitor.
Learn more about the Mini V-loks and the Atomos Shogun NP-F to Mini V-lok adapter plate in the video below:
Another new Hawk-Woods product is the VL-MCF1 plate, which lets you stack 2 x Mini V-Lok batteries and hot-swap them. This allows you to continuously power to your equipment. This adapter has been fitted with a intelligent LED system to determine battery status against the total amount of current being drawn this will give you confidence to know when your battery needs to be changed.
The LED will come on and flash at 12.7v and under meaning that your battery will soon need to be changed. The VL-MCF1 also comes equipped and fitted with 2 x D-Tap outputs (or 1 x D-Tap) for the RED camera version of this plate as the 2nd D-tap interferes with the camera design and has therefore been removed.
For more information and to see a list of dealers where you can get yourself any of these items, head over to Hawk-Woods.
Claim your copy of DAVINCI RESOLVE - SIMPLIFIED COURSE with 50% off! Get Instant Access!