My quest for affordable, compact, and flexible lights continues… BSC Expo and BVE, the two major UK film/TV/broadcast equipment trade shows may have wrapped for 2018, but walking the floor of both shows I found plenty of really neat gear that I have been wanting to get my hands on for some time and I hope those of you, who attended these shows did the same. Especially those, who braved the snowstorm and freezing weather we got last week during BVE.
For those of you not familiar, Fomex are a Korean brand, which make high-quality flexible and punchy LED panels that can be used for interviews, drama, and just about any video production looking for compact, but durable LED lights. Fomex also manufacture a range of photography oriented studio flashes and accessories, but my main focus for the purposes of this blog were their flexible LED panels – namely the FL-600 1×1 and the "newer" 2×1 FL-1200 LED.
The Fomex FL-600 has been around for more than a year now, but for me, and I am sure for some of you it is quite a new bit of kit. The flexible-ness of the actual fixtures allows it to be moulded and placed directly into obscure positions and crevices – locations where traditional lighting cannot be used. Using velcro or even gaffer tape, the LED mats can easily be adhered to walls and windows – curved or otherwise.
The Fomex FL-600 and FL-1200 are both IP64 rated for rain and dust protection making them very versatile and field-ready for operation in demanding environments. The FL-600's output matches or beats other 1'x1' lighting fixtures in its class, delivering a maximum of 2100 LUX at 1 meter.
The Fomex flexible LEDs are bi-colour units; the controller unit allows for temperature adjustment from 3200°K to 5600°K. Power is via either an Anton Bauer Gold Mount battery or V-mount, which fits on the back of the controller.
According to the manufacturer, the Fomex FL-600 also boasts impressive TLCI numbers of 98, which means that has a great colour accuracy and "the output can be considered a virtual mimic of natural light sources." 
At BSC Expo I got a chance to chat with Tony O'Connor from UK distributor Octica Professional, you can see the interview below. Apologies for not uploading earlier, just got really busy.
Note: The beginning few seconds in the interview are slightly soft, that's an operator's error on my part as I was only relying on the back LCD touchscreen – should have got my SmallHD Focus monitor with me that day, alas next time. Anyway, hope you guys find it useful. Shot on the Panasonic GH5S with Samyang 16mm T2.2 EF mount and a cheap, dumb adapter I got for £15 off eBay.
There are a few other brands on the market offering such LED lights, but what I think separates Fomex's LED lights from the rest is the build quality of their controller, the output, and the overall design of the LED light itself – it just feels so well made. I am yet to use one of these in the field, but I have already set my sights on the FL-1200 2×1 as it will perfectly compliment my TecPro Bi-Flex LED 1×1 – a similar "flex LED", but made by Dedolight, which I love to bits, I just wish they made one a bit brighter and in a 2 x 1 size.
I think a 2 x flex LED light kit with one square 1×1 and one 2×1 key, I can get myself a really compact and portable interview light kit.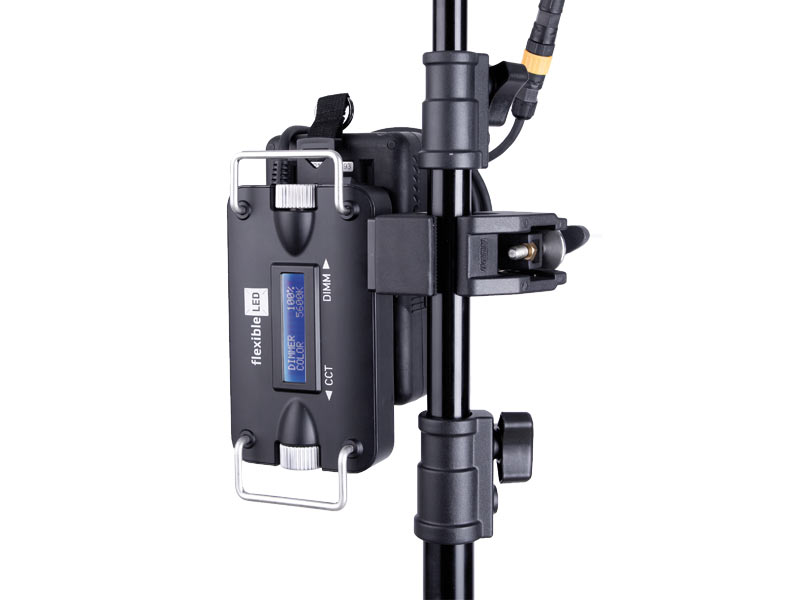 The Fomex FL-600 kit is currently priced at £686 + VAT in the UK, while the FL-1200, or 2 x 1 size, is priced at £1,395 + VAT (list). Best to check your favourite local dealer in the UK for their pricing.
The Fomex kits include:
1 x FL-600 LED Mat (or) 1 x FL-1200 LED Mat,
1 x Lighting Controller with Battery Plate,
1 x X-Mount with 16mm Female Spigot Mount,
1 x 5m Controller Extension Cable,
1 x Super Clamp Adaptor Shoe,
1 x AC Power Supply,
1 x UK IEC Cable &
1 x Kit Carry Bag
To learn more about Fomex and the various accessories available as well as to find out where you can buy some in the UK head over Octica's website here.
At the moment, I can't seem to be able to find a dealer for these lights outside the UK, so if you are in other parts of Europe, North/South America or Asia, best to get in touch with your local LED lights dealer/distributor and maybe they can point you in the right director or get in touch with Fomex via their official website here.
In the next few days, I'll also be posting some interviews with manufacturers from BVE 2018, so keep an eye out on the blog.
Claim your copy of DAVINCI RESOLVE - SIMPLIFIED COURSE with 50% off! Get Instant Access!