After the mysterious GEMINI sensor was teased by Jarred Land, the President of RED Digital Cinema, not that long ago, today RED officially introduces the brand new GEMINI 5K S35 sensor for its RED EPIC-W camera.
What's more, the sensor leverages dual sensitivity modes to provide greater flexibility for a variety of shooting environments. So, whether you opt for shooting in standard mode for well-lit conditions or low light mode for darker environments, the RED EPIC-W with GEMINI 5K S35 sensor has got you covered.
According to the official press release, the GEMINI 5K S35 sensor delivers exceptional low-light performance allowing for cleaner imagery with less noise and better shadow detail. Operators can easily switch between modes through the camera's on-screen menu with no downtime.
Plus, the dual sensitivity 5K sensor offers an increased field of view at 2K and 4K resolutions compared to the higher resolution HELIUM sensor. In addition, the sensor's 30.72 mm x 18 mm dimensions allow for greater anamorphic lens coverage than with HELIUM or RED DRAGON sensors.
"While the GEMINI sensor was developed for low-light conditions in outer space, we quickly saw there was so much more to this sensor," said Jarred Land. "In fact, we loved the potential of this sensor so much, we wanted to evolve it to make it have a broader appeal. As a result, the EPIC-W GEMINI now sports dual-sensitivity modes. It still has the low-light performance mode, but also has a default, standard mode that allows you to shoot in brighter conditions."
Built on the compact DSMC2 form factor, this new camera and sensor combination captures 5K full format motion at up to 96 fps along with incredibly fast data speeds of up to 275 MB/s. Additionally, it supports RED's IPP2 enhanced image processing pipeline in camera.
GEMINI 5K S35 SENSOR Highlights
New 15.4 Megapixel 5K S35 sensor
30.72 mm x 18 mm (Diag: 35.61 mm)
5K up to 96 fps Full Format (REDCODE Raw)
4K/120fps – REDCODE Raw
4K up to 30 fps and 2K up to 120 fps (ProRes or DNx)
Seamless switching between Standard and Low Light modes
Cinematic image quality
16.5 stops Dynamic Range
Ships with IPP2
Simultaneously record REDCODE plus ProRes or Avid
Up to 275 MB/s write speeds
Interchangeable lens mount
Future-proofed (accessories can be used with all DSMC2 cameras) and available with RED ARMOR-W
REDCODE RAW frame rates and other specs: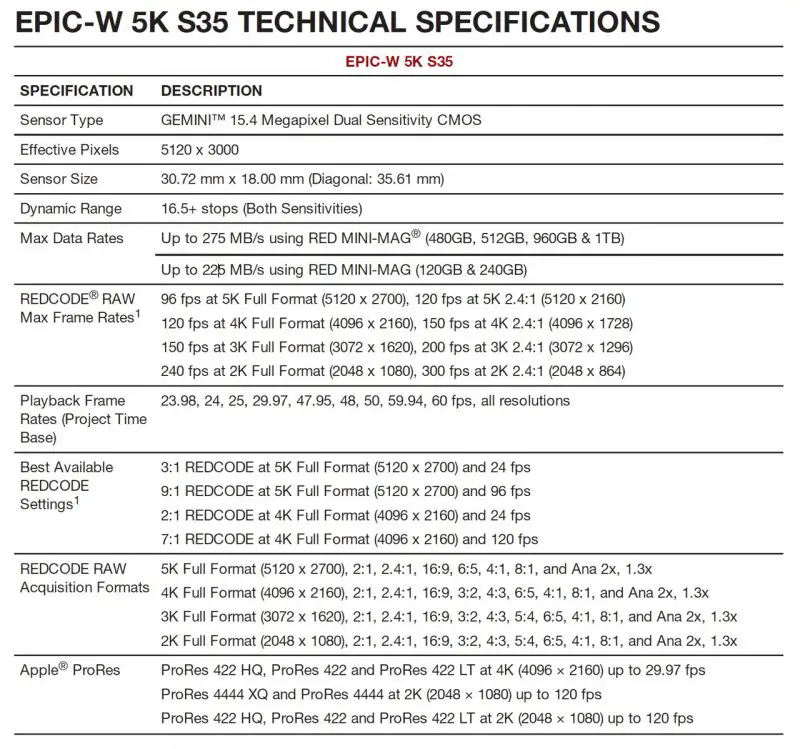 For full specifications download the RED Gemini 5K S35 ops manual via this link here.
The new RED EPIC-W with GEMINI 5K S35 sensor starts at $24,500 and it's already available for purchase at select RED Authorized Dealers globally and on RED.com. Alternatively, WEAPON Carbon Fiber and RED EPIC-W 8K customers will have the option to upgrade to the GEMINI sensor at a later date. To learn more, head over to RED's official website.
[source: RED]
Claim your copy of DAVINCI RESOLVE - SIMPLIFIED COURSE with 50% off! Get Instant Access!