At NAB 2018, Avid announces a new lineup of Media Composer products (including the latest Media Composer 2018.4 version) that provide the robust functionality and extensive set of powerful video editing features associated with the award-winning video editing software to creative professionals, production teams and media enterprises at more affordable price than ever before.
In addition, the company unveils an expansion of its Creative Tools Family –  the Avid Connect App, delivering a centralized "one-stop" experience for artists to find, connect and collaborate with each other on any laptop, iOS or Android device.
For those of you who are considering the option to try out the leading video editing software for the first time, Media Composer First offers free access to the same creative tools used by the most successful and acclaimed filmmakers and television program creators in the world.
Initially introduced at NAB 2017, Media Composer First provides users with a comprehensive yet simple-to-use editing toolset with many of the same features and efficiency that Media Composer editors rely on, in a new powerful, streamlined interface.
Media Composer First users have access to four video tracks, eight audio tracks, and a host of built-in visual effects, transitions, color correction presets and titling templates to produce captivating, professional-quality video content. The free version of the Holywood's favorite NLE also allows easy sharing, with flawless publishing to popular social media channels including YouTube, Vimeo, and Facebook.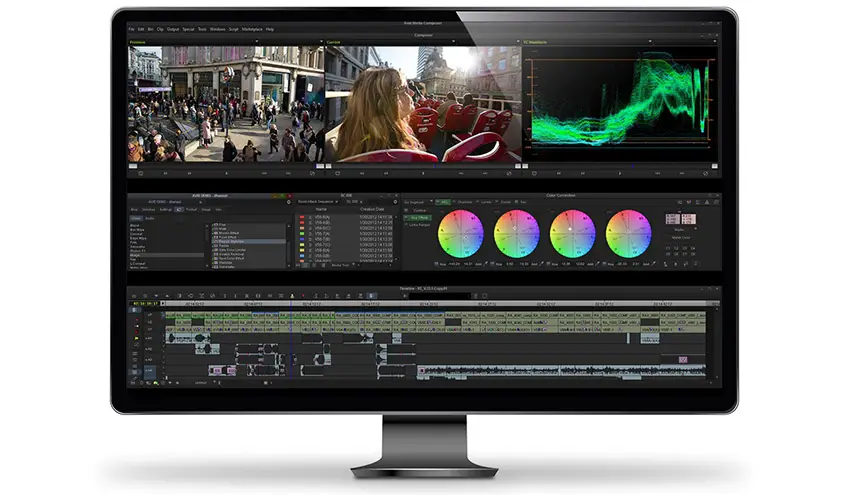 In addition to Media Composer's reliable media management, deep editing tools, and the ability to master to any resolution, content creators who wish to move up from Media Composer First to a complete version of Media Composer can now do so for as little as $19.99 (USD) per month. This way they'll get access to 24 video tracks as well as 64 audio tracks, all AVX and AAX plug-ins, unlimited bins, high-resolution mastering, and other industry-standard features.
Meanwhile, the latest version of Media Composer 2018.4 now accelerates high-res, HDR, and HD editing while eliminating time-consuming tasks. New features include timeline clip notes window updates, customized timeline views, updates to the marker window, pre-roll setting for script window and PhraseFind, color adapters listed in the Effects Editor, iMac Pro support and more.
Avid also introduces Media Composer Ultimate to empower creative teams with access to Avid's unparalleled collaborative capabilities by including game-changing tools such as ScriptSync, PhraseFind, and Symphony to accelerate the editing process even further.
Media Composer Ultimate offers an easy and cost-effective way to manage and share Media Composer projects and media, as well as integrate editing workflows with Adobe Premiere. With support for four real-time streams of XAVC-I media, Media Composer Ultimate delivers greater performance with high-res media, so that creative professionals can spend less time rendering or transcoding clips to lower resolutions.
Media Composer Ultimate can be accessed through monthly, annual, 2-year, or 3-year subscription plans alongside a perpetual license for those who prefer to own the software. Media Composer 2018.4 is now available for all customers who have a Subscription, Floating or Perpetual License with an active Upgrade and Support plan. For more information about the latest Media Composer updates, head over to AVID's official website.
[source: Avid]
Disclaimer: As an Amazon Associate partner and participant in B&H and Adorama Affiliate programmes, we earn a small comission from each purchase made through the affiliate links listed above at no additional cost to you.
Claim your copy of DAVINCI RESOLVE - SIMPLIFIED COURSE with 50% off! Get Instant Access!