Well, you've been adamant about it since 2014 – so here you go – the new Blackmagic Pocket Cinema Camera 4K has been officially unveiled at NAB 2018 in Las Vegas. Sporting a much beefier frame than its original brethren, the BMPCC 4K can now do 4K/60p and 120fps super slow motion in Full HD. The camera also features a brand new 4/3 sized sensor and has a reported dynamic range of 13 stops. An active MFT mount lets you mount native or adapted lenses. Great news for those who want to use Speed Boosters (focal reducers) as now they can "blow up" the FOV to a rough equivalent of S35-ish or thereabouts with appropriate such focal reducer adapters.
Moving on down the spec sheet – the new sensor is also capable of Dual Native ISO with a maximum ISO sensitivity of 25,600 and reported great performance in low-light environments. The camera can record either 10bit ProRes or 12bit Raw (CinemaDNG) onto either a USH-II SDXC cards or CFast 2.0 cards. There is no mention of ProRes Raw support on this camera. At least not yet. I have a feeling this may change before the release in September.
A USB-C type connector makes it even possible to record straight to external SSD drives and then plug directly into your computer for editing without transferring – this is really impressive and it seems like a neat option to have on future cameras as well.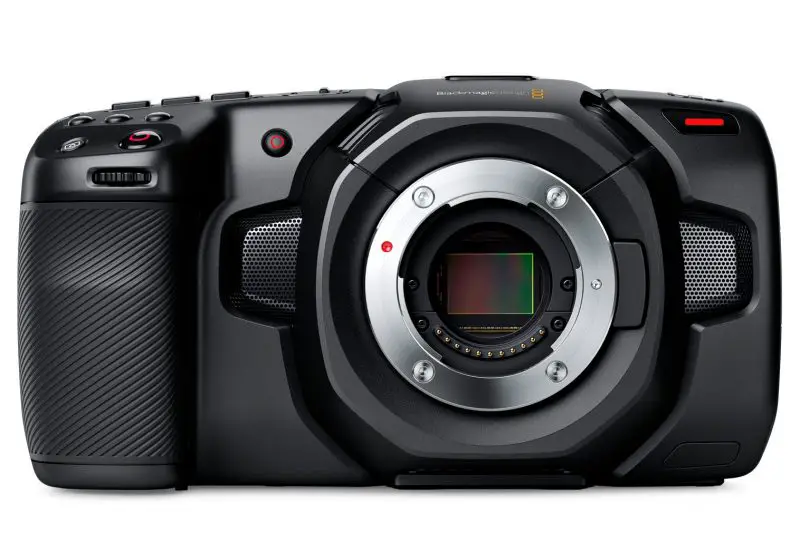 "Customers love the original Blackmagic Pocket Cinema Camera and have been asking us for a 4K version," said Grant Petty, Blackmagic Design CEO. "We've listened and built a camera that combines all of our newest ideas and customer feedback from the previous model! The new Blackmagic Pocket Cinema Camera 4K is exciting because it packs so much technology into an incredibly small design. We feel it will go well beyond what customers expected. It's perfect for anyone that needs a truly professional ultra compact digital film camera. This is not a consumer camera that's trying to do high end work, it's a true high end camera designed for high end work."
Blackmagic Pocket Cinema Camera 4K Features
Full size 4/3 sized sensor with native 4096 x 2160 resolution sized sensor.
4K/60p and windowed 120fps in Full HD
MFT mount – active – can use Speed Boosters
13 Stops DR (claimed)
Dual Native ISO /Max ISO – 25600 for enhanced low light performance.
Lightweight Carbon fibre polycarbonate composite body
Multi function grip (a la DSLR) for quick access to:

recording start/stop,
still photos,
ISO, shutter, aperture,
white balance, power and more.

Built in SD, UHS-II and CFast card recorders.
USB-C expansion port
Can Record Directly to an external SSD or flash disk.
10-bit ProRes and 12 bit Raw

No ProRes Raw (not yet at least)

Full size HDMI output for monitoring
Mini XLR input with 48 volts of phantom power
3.5mm audio jack, headphone jack, and locking DC 12 volt power connection.
Built in 5" LCD touchscreen
3D LUTs can be applied for both monitoring and recording.
Uses Canon LP-E6 batteries for improved battery performance
Blackmagic OS as used in URSA Mini and URSA Broadcast cameras.
4th generation Blackmagic Color Science.
Supports remote camera control via Bluetooth.
Includes full license for DaVinci Resolve Studio
Price: $1295 – B&H
Available: September 2018
The rear of the camera features a large bright 5 inch touchscreen that makes it easy to frame shots and accurately focus, however the screen is not tilting or rotating – and despite Blackmagic's intent on marketing this camera to Vloggers , without such a feature and no mention of AF performance, this would seem a bit of a difficult task.
The camera runs the same Blackmagic OS as URSA Mini so users can use simple tap and swipe gestures to adjust settings, add metadata and view recording status. On screen overlays make it easy to see recording parameters, status, histogram, focus and peaking indicators, and playback controls. In addition, 3D LUTs can be applied for both monitoring and recording.
For audio, the Blackmagic Pocket Cinema Camera 4K features multiple built in microphones with an extremely low noise floor, a mini XLR input with 48 volts of phantom power to connect professional lapel and boom mics, and a 3.5mm stereo audio jack for connecting different types of video camera microphones. Blackmagic Design says in the press info – "the high quality built in audio recording means customers don't have to carry around a separate recorder…" which is certainly a claim that should be put to the test.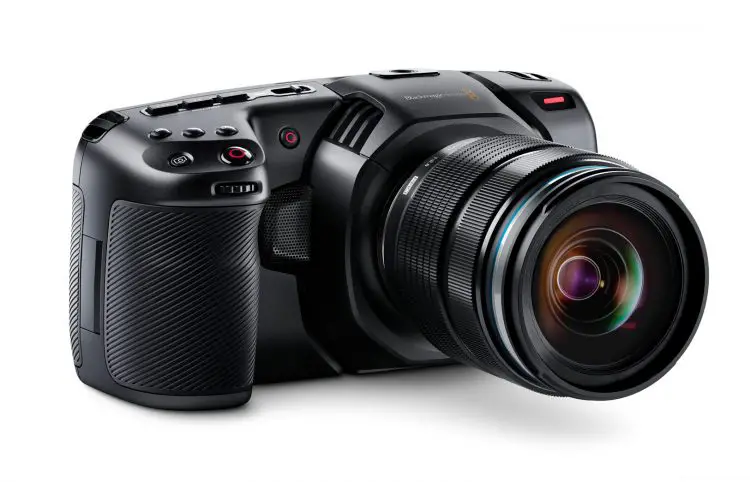 The new Blackmagic Pocket Cinema Camera 4K is scheduled to ship sometime in September and is currently priced at $1,295. This includes the full version of DaVinci Resolve 15 Studio, so it's sort of like price of the OG BMPCC of $999 + $300 for Resolve.
What's the consensus here on the new BMPCC 4K – you've been asking for it for years? For me personally – this is a great option for anyone who wants a Panasonic GH5/GH5S alternative or simply wants to upgrade from the original or Micro cinema camera.
B&H Pre-Order Link:
Blackmagic Design Pocket Cinema Camera 4K
Disclaimer: As an Amazon Associate partner and participant in B&H and Adorama Affiliate programmes, we earn a small comission from each purchase made through the affiliate links listed above at no additional cost to you.
Claim your copy of DAVINCI RESOLVE - SIMPLIFIED COURSE with 50% off! Get Instant Access!