The just-announced DaVinci Resolve 15 now boasts full-fledged Fusion integration, incredible new Fairlight audio tools and nearly a hundred enhancements focussed on speed and quality. On the newly added Fusion page, users will find a complete 3D workspace with over 250 tools for compositing, vector paint, keying, rotoscoping, text animation, tracking, stabilization, particles and more.
Fusion's node-based interface and true 3D workspace let VFX artists to composite images on top of each other to create sophisticated effects. What's more, nodes can be connected together in a flow chart style, making it easy to see the entire composition and quickly make changes, thus simplifying the creative workflow and making it much faster than hunting through stacks of confusing layers and filters.
There are also dozens of new features and improvements including a new LUT browser, shared grades, multiple playheads, Super Scale HD to 8K up-rezzing, stacked timelines, on-screen annotations, subtitle and closed captioning tools, better keyboard customization, new title templates and much more.
The new stacked timeline feature, for instance, lets video editors simultaneously open and work with multiple timelines which should make the process much more efficient and faster. Furthermore, the source viewer in DaVinci Resolve 15 now features a revolutionary audio waveform overlay that allows you to see the audio waveform and video clip at the same time.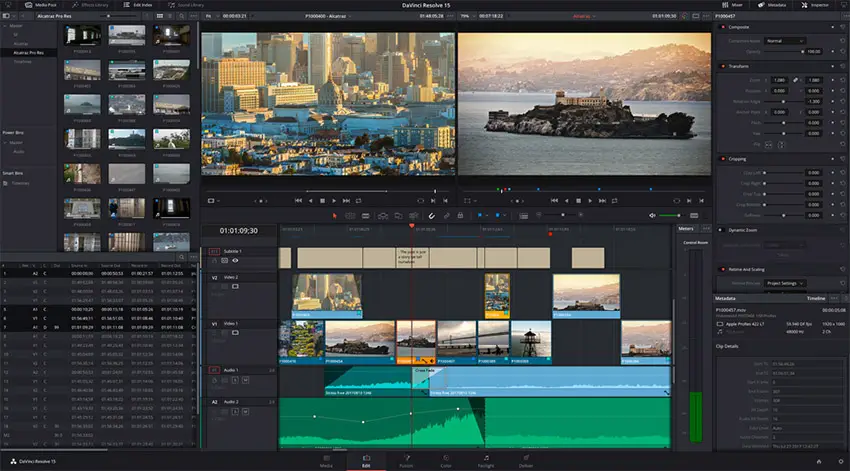 This functionality enables you quickly navigate to different parts of a clip based on spikes, silent areas or other visual cues in the audio waveform so you can mark clips and create split edits with confidence.
Video editors also get access to convenient keyframe animation and curve editor directly in the timeline. That means you can see your keyframe positions and curves directly under each clip in context with your program.
Constant or variable speed changes with dramatic ramping curves for truly dynamic effects have never been easier with Resolve 15. You get separate curves for both frame position and playback speed that allow any frame to be moved to any point in time. Users can choose optical flow, frame blending or nearest frame rendering for the highest quality results.
On top of that, Fairlight audio gets a massive upgrade with new ADR tools, audio normalization, 3D panners, audio and video scrollers, a sound library database, and built-in cross-platform plug-ins such as reverb, hum removal, vocal channel, and de-esser and much more.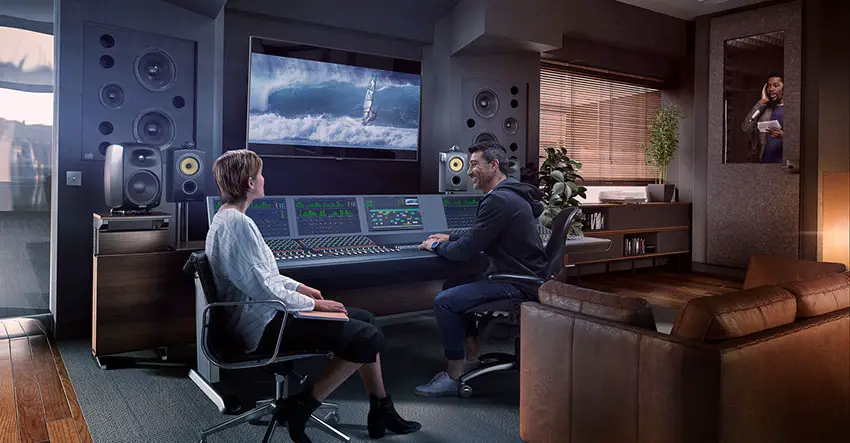 DaVinci Resolve 15 also can output timelines, parts of timelines and individual clips for mastering or sharing with other applications. Delivery presets make it fast to prep files for the web or other applications, and you can build your own from scratch. You can even create Digital Cinema Packages (DCPs) for theatrical distribution or output to tape, and the list goes on.
Best of all, content creators can try out DaVinci Resolve 15 Beta right away as the software is already available for free download on Blackmagic Design's website. Alternatively, you can purchase DaVinci Resolve 15 Studio Beta for $299.
[source: Blackmagic Design]
Disclaimer: As an Amazon Associate partner and participant in B&H and Adorama Affiliate programmes, we earn a small comission from each purchase made through the affiliate links listed above at no additional cost to you.
Claim your copy of DAVINCI RESOLVE - SIMPLIFIED COURSE with 50% off! Get Instant Access!