Typically, when it comes to field monitors, most folks would think of the expensive external panels from companies like SmallHD or Aperture. It's a common understanding that if you're looking for a professional monitor with a decent set of video assist features, 4K support, and 1080p video output, you would need to shell out close to a thousand dollars or more for a sufficient product.
Now, what if I tell you that you can get all those features, plus a swivel mount for less than $200? Yeah, that's right! Say hello to the AndyCine A6, a 5.7" field monitor that provides all of the above and much more for a fraction of the cost.
Regarding basic specifications, the A6 boasts a 5.7-inch 8-bit IPS display with 1920 x 1080 native resolution, 460nits brightness, 1400:1 contrast and excellent viewing angles. Best of all, it accepts 4K video signal via HDMI up to 30fps.
The unit also comes equipped with a 3.5 stereo headphone jack alongside 12V DC In and 8V DC out ports. The latter enables users to power their camera on the fly thus keeping their rig as compact and lightweight as possible.
The monitor itself is powered by Sony NP-F type batteries which are an excellent budget option since you can find these in varying capacities at an affordable price. With a big battery like the NP-F970, for example, the camera and monitor can last up to four hours on a single battery charge.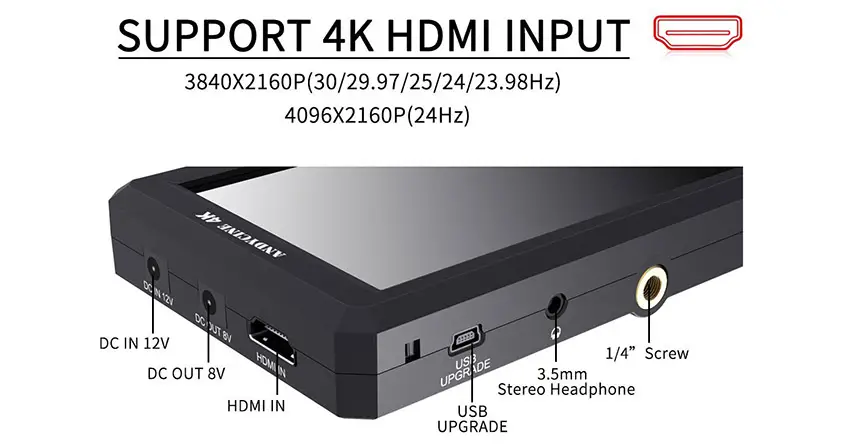 The AndyCine A6 also comes with several 1/4-20-inch mounting screws and is bundled with a swivel mount, allowing you to rotate the unit, perfect for one-man-band style shooting. Plus, a removable plastic sun hood is supplied to provide protection from glare and exposure to sunlight.
Furthermore, the A6 comes with a decent amount of video assist features that help to get the perfect shot in virtually any situation. These include a histogram, zebra exposure, false colors, orientation flip, and even anamorphic squeeze for use with anamorphic lenses.
Overall, the field monitor performs exceptionally well, especially when you consider its price of mere $180. As Caleb from DSLR Video Shooter points out, the video assist features are a pleasure to use making it easier to frame shots and nail proper focus. The native FullHD resolution of the display, on the other hand, provides accurate and sharp images for viewing either in a studio or in the field.
However, with the low price tag, you should expect a few caveats as well. For starters, the build quality of the A6 doesn't get even close to monitors like SmallHD. With its all-plastic construction, the unit seems a bit flimsy to use, so you should definitely be treating it with some extra caution.
Also, be wary of the swivel arm as the mechanism may loosen over time. In addition, while the device may have adequate battery life, it's indicator only displays the battery capacity in increments of 20, forcing you to rely on your camera's battery indicator for accurate measuring of battery life.
Nevertheless, the AndyCine A6 seems to be an excellent low-cost feature-packed field monitor with 4K support and a swivel mount that would undoubtedly give you the best bang for your buck.
[source: DSLR Video Shooter]
Amazon Order Link:
AndyCine A6 5.7-inch Field Monitor with Swivel Mount
Claim your copy of DAVINCI RESOLVE - SIMPLIFIED COURSE with 50% off! Get Instant Access!