MASV.io, the popular large-file transfer service, which offers a pay-as-you-go large file acceleration tool for post-production companies, and filmmakers recently announced a major product expansion and growth milestones. New functionality with the latest update features password-protected file transfers, branding options – such as inserting logo, background and colour when sending files to your clients, as well as a powerful multi-user MASV Teams experience.
MASV.io is a really neat service that does not require special plugins or special hardware, no application installation – it works straight from your browser. The pay-as-you-go model does not tie you into a contract, you pay about 15 cents per GB, so for 500 GB to a single recipient it is about $75, which thanks to their calculator you can show your client how much it will cost to send X amount of data and them bill them.
There's also no need to configure firewall settings; MASV supports all modern browsers on Windows, MacOS as well as Linux. All you do is enter the recipient email addresses, select the files or folders and start your upload.
With the ever-increasing data requirements for 4K, 5K, 6K and 8K Raw, another neat feature of MASV.io is that there no file size limitations or transfer speed caps, the service supports even the largest RAW video files or file sets quickly and securely.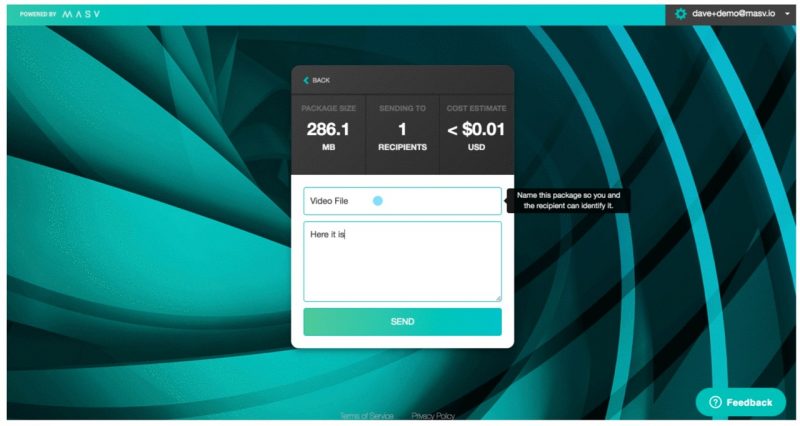 MASV.IO latest update new features:
MASV

Teams

get the same speed, flexibility, and data scalability individual

MASV

users have come to rely on, while introducing powerful multi-user capabilities well suited to teams of postproduction professionals, corporate brands, and broadcasters.

MASV

Branded Transfers

users get a completely customizable upload and download experience, allowing users to create branded pages and emails for clients and partners.
You can set a custom background, logo, and primary colour for each.

Password Protected Transfers, a hot request from

MASV

users, introduces a new level of security to

MASV

.

Set the password, and send the email; It is best to either text or send the intended recipient the password via a secure method (other than email).
The user will then be asked to enter the password before they can view or download any files.
You can always reset the password from your history section.
MASV.io accelerated file transfer service enables anyone to send enormous files (typically 20GB and higher, far beyond the limits of other popular cloud sharing services) over an accelerated cloud network, entirely within the browser. For a full list of new features and a free 400GB trial, please visit www.masv.io.
"The fundamental value of MASV.io is our ability to transfer data packages too large for conventional cloud services at lightning-fast speeds," said Dave Horne, VP of products at MASV.io. "The addition of Teams will enable you to leverage our tool across your department with the security and permission features you require."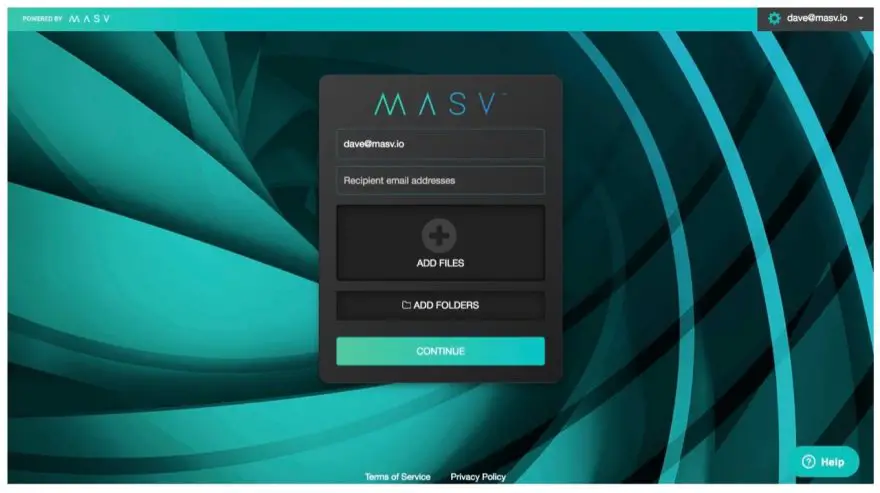 The MASV Teams update comes when the firm is seeing unprecedented growth in data transfers over its platform, having surpassed 10x growth in network traffic since the adoption of a Microsoft Azure cloud backbone in Q4 2017.
"Our shift to Azure has been a key inflection point in our growth," added Horne. "Previously, our cloud backbone's performance and quality was unpredictable, leading to late nights for us. The shift to Azure has given us to dramatically improved reliability."
If you're new to MASV, please head over to their website and start your free 14-day trial.
There's no credit card required and you get up to 400 GB of transfer data to play with. Read more about the updates in their latest blog post here.
Claim your copy of DAVINCI RESOLVE - SIMPLIFIED COURSE with 50% off! Get Instant Access!