4th of July is almost upon us and experienced colourist Alex Jordan from Learn Color Grading and FilmSimplified is offering another chance to grab his Ultimate DaVinci Resolve training plus a couple of free gifts at a hefty discount of about 85% OFF the regular price.
As filmmakers and content creators, whether you'd be vlogging or creating stunning mini documentaries and eye-grabbing corporate promos, upping your color grading game is mandatory. Today, basically all pro cameras are capable of incredible images, but to get the maximum out of them you have to know how to grade your footage, regardless of what camera you are using – whether it be a Sony a6500, a Panasonic GH5 or a RED Raven.
Many of you out there are struggling with grading LOG footage and while most NLEs offer some form of colour correction facilities, a few are more powerful and intuitive as DaVinci Resolve 15 from Blackmagic Design.
Resolve has gone from a niche colour grading software to a robust one-stop-shop for 99% of your editing and grading needs (not to mention audio and VFX in recent versions); Resolve 15 has grown over the years to become the de-facto grading tool for professionals working either as part of small to medium teams or post facilities.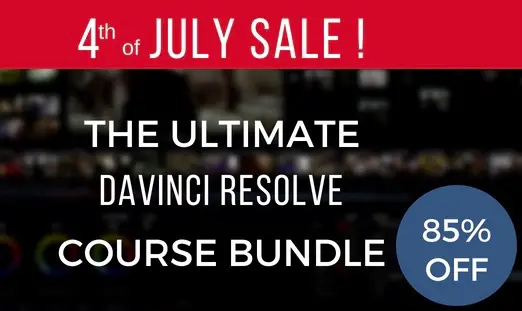 Regardless of your level of knowledge Alex's unique and approachable teaching style makes it easy to learn Resolve well and get your footage to the next level.
DaVinci Resolve is quite the amazing filmmaking tool, that is not only limited to colour grading, but also can be a substitute for your editing as well – getting all your footage into once application eliminating the need to go back and forth round tripping and all between different applications.
Whether you are new to filmmaking, or someone deep in the trenches that has never used Resolve before and feels a bit intimidated, fret not as you can now save 85% on the Ultimate DaVinci Resolve Course Bundle from FilmSimplified, that is now available from today for the next 5 days for only $97!
That's a massive 85% discount as these courses would otherwise cost you $640+ to buy separately!
The offer also includes a couple of free courses – Fairlight & Fusion Simplified plus more than 200 LUTs.
The Ultimate DaVinci Resolve 15 training Bundle includes the following courses:
Color Grading in DaVinci Resolve 15 – Simplified

This course is the easiest and fastest way to learn color grading in DaVinci Resolve
For the absolute beginner
No prior knowledge of DaVinci Resolve, or color grading, is required
Regular price $229
Editing in DaVinci Resolve 15 – Simplified

Learn how to edit your footage in Resolve
Say goodbye to round-tripping and the monthly NLE subscription
Regular price: $129
DaVinci Resolve Practice

Download raw and graded ProRes files. Your job is to try and match them
Then, watch the actual grading sessions and compare that to your approach
Regular price: $99
Color Matching – Simplified

Learning to color match, opens a whole new world of possibilities for you and your clients
It gives you the ability to match the colors of your film to the colors of major Hollywood films
Regular price: $70
VIVID PRO LUTs

Get over 200 LUTs to make your footage "pop"
Regular price: $120
FREE GIFTS:
Fusion 15 – Simplified

Fusion is the world's most advanced visual effects and compositing software, and it's been used in over 1000 major Hollywood blockbuster feature films!
You can create Fusion projects, right from your Resolve timeline, without having to round-trip. Plus Fusion is free!
Regular price: $150
Fairlight 15 – Simplified

Fairlight Audio, is the latest addition to Resolve, allowing you to mix and master audio professionally, right from within Resolve.
This course covers not only Fairlight, but also the basics of digital audio, audio effects and audio mixing.
Regular price: $69
Every year, Alex and his team at FilmSimplified update the DaVinci courses to the latest version of Resolve for free so you always stay current and of course you also get unlimited access. As Alex reassures us "Filmmakers who bought our courses back in 2014 when we first started (Resolve 9), were upgraded for free every year. And they will continue to receive updates." 
Alex Jordan is the founder of LearnColorGrading.com and FilmSimplified.com. He's a talented DP, colorist, and editor who's worked with global companies such as Mercedes, L'Oreal, and Mars. He is passionate about teaching, color grading, and filmmaking as more than 20,000+ aspiring filmmakers worldwide have joined his courses thus far.
To celebrate 4th of July, for a limited time only for the next five days (sale ends 8th July at 12pm Pacific time) you can grab the Ultimate DaVinci Resolve 15 Course Bundle for $97 and save yourself 85% off the list price of individual courses.
Follow our affiliate link here to buy the discounted bundle. Happy grading!
Claim your copy of DAVINCI RESOLVE - SIMPLIFIED COURSE with 50% off! Get Instant Access!